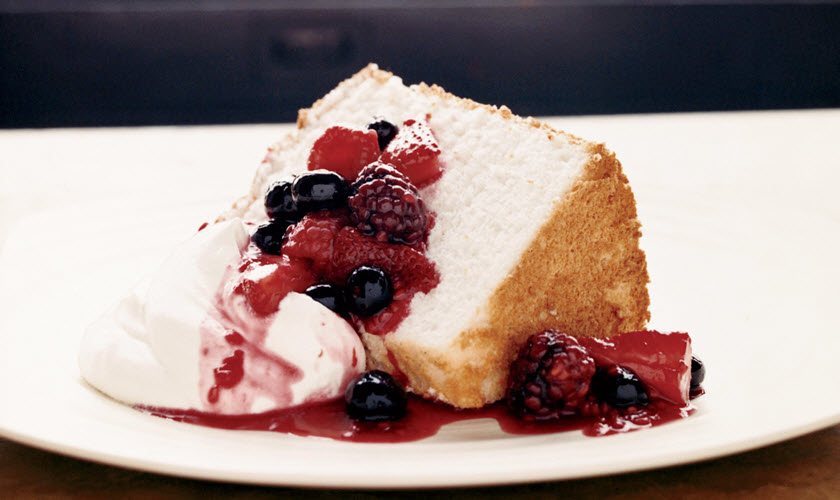 Angel Food Cake with Mixed Berry Compote
Date of Post: Apr 11, 2014
If you're looking for a simple dessert for Easter, this Angel Food Cake with Mixed Berry Compote is sure to please. It's one of Chef Drew's (Four Winds Casinos' Pastry Chef) favorites.
Angel Food Cake
You don't have to be a pastry chef to make delicious Angel Food Cake from scratch. Here is the recipe, give it a try.
Ingredients
1 1/4 C Egg Whites (About 9)
1 1/2 C Sugar - Divided
1 C Cake Flour
1 1/4 tsp Cream of Tartar
1 tsp Vanilla Extract
1/4 tsp Almond Extract
1/4 tsp Salt
Preparation
1) Place egg whites in a large bowl; let stand at room temperature for 30 minutes. Sift 1/2 cup sugar and flour together twice; set aside.
2) Place oven rack in the lowest position. Preheat oven to 350°.
3) Add cream of tartar, extracts and salt to egg whites; beat on medium speed until soft peaks form. Gradually add remaining sugar, about 2 tablespoons at a time, beating on high until stiff peaks form. Gradually fold in flour mixture, about 1/2 cup at a time.
4) Gently spoon into an ungreased 10-in. tube pan. Cut through batter with a knife to remove air pockets. Bake 35-40 minutes or until lightly browned and entire top appears dry. Immediately invert pan; cool completely, about 1 hour.
5) Run a knife around side and center tube of pan. Place cake on a serving plate.
Mixed Berry Compote
At this time of year, berries are fresh and tasty. You can use any kind of berry you would like for your compote, but for this recipe Chef Drew has chosen to use some of his favorites: Raspberries, Blueberries, and Blackberries.
Ingredients
3 Tbsp Butter
1/4 C Brown Sugar
2 Tbsp Lemon Juice
3 C mixed berries (Raspberries, Blueberries, Blackberries, etc.)
Preparation
1) Melt the butter in a pan over medium heat.
2) Stir in the brown sugar and lemon juice.
3) Add the berries and bring to a simmer to release their juice.
4) Remove from heat and serve warm or at room temperature.

Now that you've prepared everything, it's time to plate your delicious dessert. Place a slice of cake on your plate and drizzle some of your mixed berry compote over the top. If you want to share photos of your masterpiece, email them to social@fourwindscasino.com and we may feature them on our Facebook, Twitter, Instagram, Pinterest, and Google+ pages!

The Culinary Team at Four Winds Casinos is dedicated to the art of preparing and serving delectable dishes. We enjoy sharing recipes with our guests and fans because we know you love our restaurants—which are some of the finest restaurants in New Buffalo, Michigan, South Bend, Indiana and the surrounding area. Four Winds Casinos offers fine dining at Copper Rock Steakhouse, modern dining with a twist at Kankakee Grille, and our popular Timbers Fast Food & Deli.