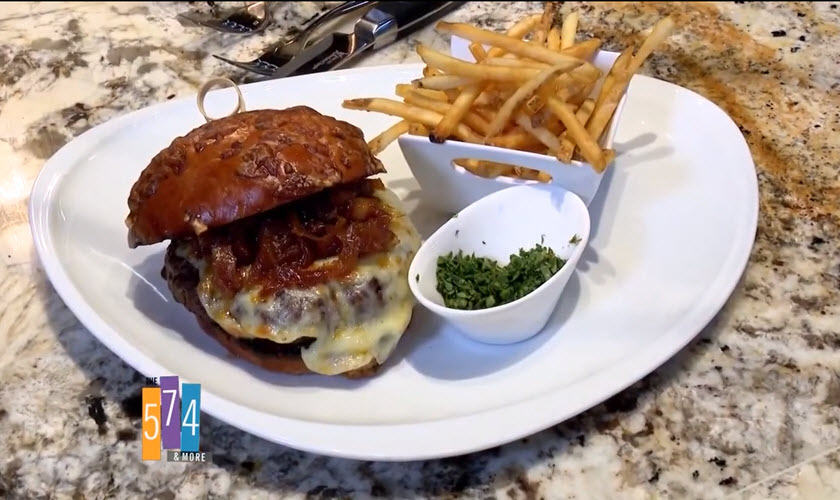 Bacon Jam
Date of Post: Aug 27, 2019
Everyday is National Bacon Day with sweet and savory bacon jam! 
Ingredients
1 lb        Thick Cut Bacon
2 C        Large Yellow Onions, Sliced
1 tsp      Kosher Salt
3 Tbsp   Light Brown Sugar
1/4 C      Apple Cider Vinegar
1 tsp       Fresh Thyme Leaves
1 pinch   Cayenne Pepper
1/2 C      Water
Salt and Pepper to Taste
Preparation
1. Line a baking sheet with foil and top it with an oven safe rack if you have one. If not, you can cook the bacon right on the foil. Lay bacon pieces in a single layer on the rack (or on the foil), and place the baking sheet in the oven. Turn the oven on to 400°F and cook for 20-30 minutes until desired crispiness. You'll want the bacon pretty crispy for the bacon jam.
2. When the bacon is cooked to your liking, carefully remove the baking sheet from the oven and transfer the bacon to a paper-towel lined plate to drain. Pat dry with a paper-towel to remove the bacon fat. Reserve the bacon fat left in the baking sheet.
3. Heat 2 tablespoons of bacon fat over medium heat in a skillet. Add the onions and stir. Allow the onions to cook for about 10 minutes.
4. While the onions are cooking, chop the bacon and set aside. After about 10 minutes, you'll notice the onions are starting to turn a light golden color. Sprinkle on 1 teaspoon of salt and stir in 3 tablespoons of light brown sugar, 1/4 cup vinegar, 1 teaspoon fresh thyme leaves, and a pinch of cayenne pepper. Stir to combine.
5. Add the chopped bacon and stir 1/2 cup water into bacon mixture. Cook until the overall color is a dark brown bacon color and has a jam consistency, about 15 minutes. Give the Bacon Jam a taste and adjust the seasonings to your liking.
6. Allow the bacon jam to cool slightly and transfer to a serving dish. Store bacon jam in an airtight container in the refrigerator up to 2 weeks.