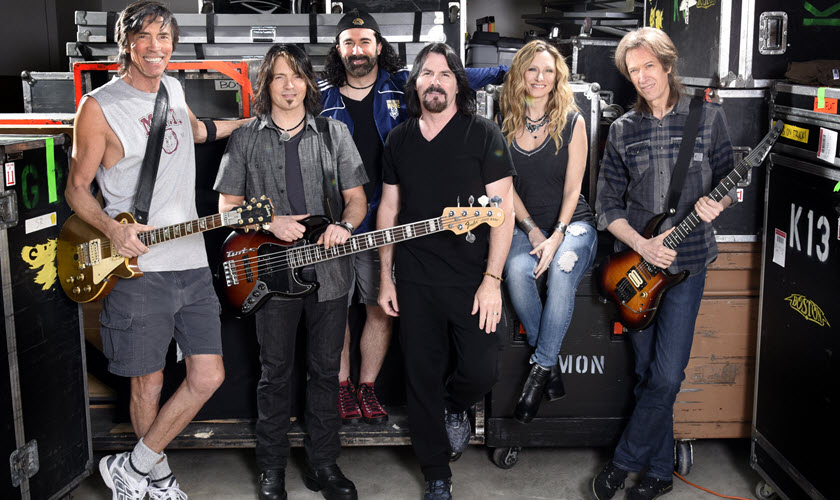 Boston Interview
Date of Post: May 16, 2016
Saturday, May 21, 2016 will be a night to remember! Why you might ask? Boston will be taking the stage at Silver Creek Event Center with a sold-out crowd waiting to hear the best hits of rock music. We were able to speak with the group to learn more about their music careers, philanthropic efforts and some of their must-haves on tour.
What is your favorite part of touring?
The positive fan response to a Band that is playing and singing real live Boston music without any behind the scenes tracks, vocals or other phony shenanigans. That's the gratification and the reward!
- Tracy Ferrie, bass player who grew up nearby in Indiana
Do you have a ritual that you all do before you go on stage?
Yes, just as we take the stage, I blow a kiss to a photograph that hangs on my microphone stand of Annie, Talia & Tommy Jr.
- Tommy DeCarlo, lead singer since 2008
Gary, what was it like to have guitar lessons from Jerry Garcia?
Taking lessons from Jerry was a great privilege. His band was still called The Warlocks at the time; they hadn't changed it to The Grateful Dead yet. My other band mates and I saw them play at a local pizza parlor. We all wanted to take lessons from him. Jerry was very professional as a teacher. He'd get right to business showing us cool riffs and styles we wanted to learn.
- Gary Pihl, guitarist since 1985
The group is very philanthropic. What is on the horizon for the group or individual band members in the charity world?
Tom Scholz and BOSTON support the promotion of the vegetarian lifestyle, and prevention of cruelty and suffering to animals. This summer, at selected BOSTON concerts, the non-profit, marine conservation organization Sea Shepherd Conservation Society will have information tables on-site.
What is a must-have backstage, other than water?
My backstage needs are pretty boring, I'm afraid. I wish I could say I need brown M&Ms or French Artesian Water but really all I need is a guitar to warm up on.
- Gary Pihl, guitarist
Boston celebrated their 40th anniversary of the release of their first self-titled album in 2016, which sold 17 million copies and became the best-selling debut album in history! The band is recognized for the technical excellence of its live productions, the outstanding performance of its talented band members on stage, and their uncanny ability to reproduce all the unique sounds of their studio albums without the use of prerecorded material – their May 21 performance was no exception. We enjoyed hearing world-renowned hits such as "More Than a Feeling," "Long Time," and "Peach of Mind."  
Boston was one of the many amazing performances at Silver Creek Event Center in 2016. For more upcoming events please visit our website.