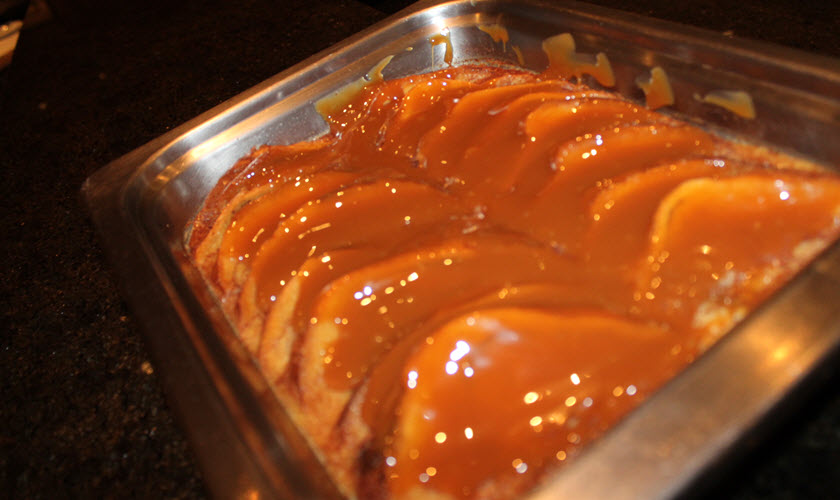 Bread Pudding Recipe
Date of Post: Oct 23, 2013
Thanks to our Facebook fans for requesting the bread pudding recipe, one of the favorites at The Buffet. It's easy to make, and we hope you enjoy it!
Ingredients
• 1 quart half and half
• ½ cup brown sugar
• ½ cup sugar
• 1 pinch salt
• ½ teaspoon cinnamon
• 1 tablespoon vanilla extract
• 2 eggs
• 8 slices cinnamon swirl bread
• 9" x 12" baking pan
Preparation
1. Combine all ingredients except for the bread with a whisk to make custard.
2. Place bread in a 9" x 12" pan, with each piece of bread overlapping one another in a "shingle" pattern. Cover with custard.
3. Bake in a conventional oven at *250˚ for approximately 60 minutes (there should be no liquid custard when pierced with a knife in the center). Serve warm or cold.
*Depending on your oven, cook time could vary. If the bread is not firm after 60 minutes, keep at 250˚ and check until bread is firm.
You can also top the bread pudding with the caramel sauce used for topping ice cream (as shown in the photo).
Give it a try and let us know what you think! If you want to share photos of your masterpiece, email them to social@fourwindscasino.com and we could feature them on Facebook!
Four Winds New Buffalo boasts some of the finest restaurants in New Buffalo, Michigan and the surrounding area. Just a short drive from Chicago and South Bend, Indiana, Four Winds New Buffalo offers fine dining at Copper Rock Steakhouse, an incomparable buffet, Southwest Michigan's only Hard Rock Cafe and our popular Timbers Fast Food & Deli.