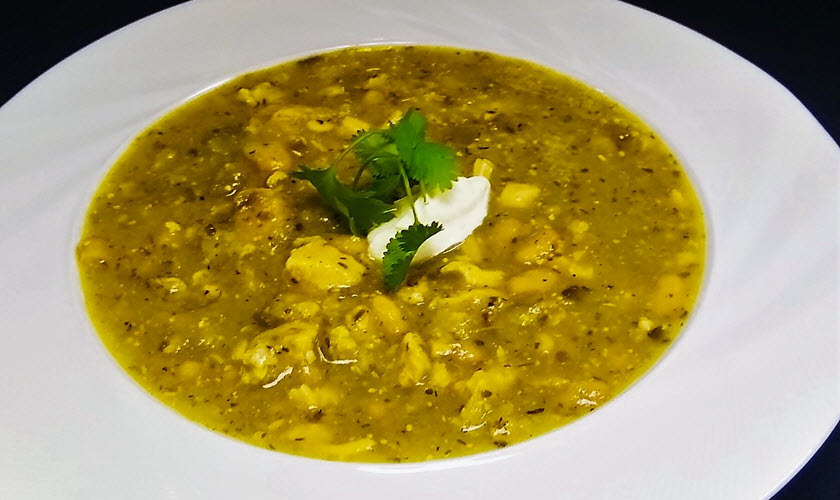 Chili Verde Soup
Date of Post: Dec 10, 2018
Perfect for tailgating on chilly afternoons or for a quick warm up after a fun day outside. Chili Verde is a rich soup full of flavor and adds just the right twist to traditional chili.   
 Ingredients
1 1/2 lbs    Chicken Breast, Boneless/Skinless
1               Poblano Pepper, Fresh
1 lb           Tomatillo
5 oz          Yellow Onion, Diced       
5 oz          Green Pepper, Diced
1               Bay Leaf
1 tsp         Thyme Leaves, Dry
1 tsp         Ground Cumin
4 oz          Chicken Base
1 tsp         Garlic, Fresh/Minced
1/2 gal       Tap Water
2 lbs          Great Northern Beans
1 oz           Cilantro, Fresh/Chopped
3 oz           Vegetable Oil    
Kosher Salt & Black Pepper to Taste                
­Preparation
1. Season and grill the chicken breast, cook half way only. Let cool, split, dice, and place in the fridge covered until needed.
2. Char the tomatillos and poblanos on the grill. Remove from heat, cover with plastic and let sit.
3. In an 8 qt. saucepan, over medium heat, add the oil. When hot add the onions and peppers and cook until translucent.
4. Add the bay leaves, thyme, basil, cumin and garlic, and sauté.
5. Add the chicken, tap water (Reserving ¼ cup), chicken base, and beans. Bring to a boil and simmer. 
6. In a blender add tomatillos, cilantro, remaining tap water, season with salt and pepper, and then, puree.
7. Add the blended products to the saucepan and simmer for 2-3 minutes.
8. Add salt & pepper to taste.
Now that all your friends have been drawn to the kitchen from the sweet aroma of cooking, grab some bowls and enjoy! Don't be surprised when there is a request for your famous chili at every event!  Share photos of your chili masterpiece on social media with #FourWindsCasino or by emailing photos to social@fourwindscasino.com. Emailed or tagged photos could be featured on our Facebook, Twitter, Instagram, Pinterest, and Google+ pages!
The Culinary Team at Four Winds Casinos is dedicated to the art of preparing and serving delectable dishes. We enjoy sharing recipes with our guests and fans because we know you love our restaurants—which are some of the finest restaurants in New Buffalo, Michigan, South Bend, Indiana and the surrounding area. Four Winds Casinos offers fine dining at Copper Rock Steakhouse, modern dining with a twist at Kankakee Grille, and our popular Timbers Fast Food & Deli.