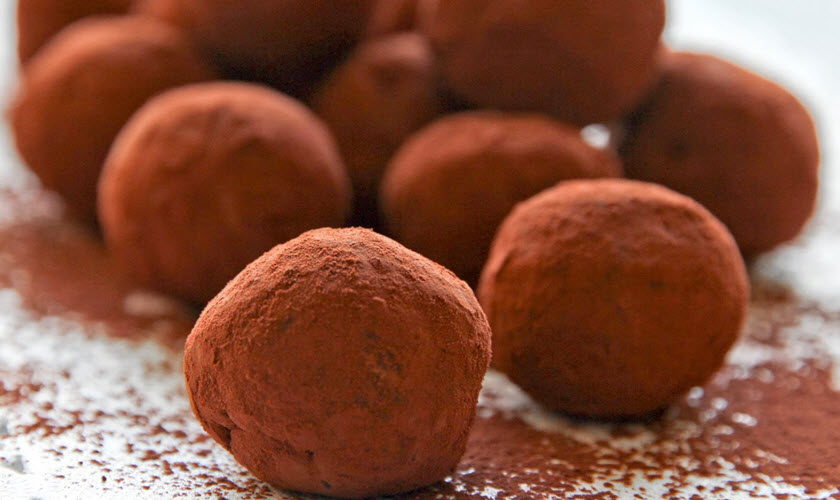 Chocolate Truffles
Date of Post: Feb 11, 2016
Try your hand at something sweet for your sweetheart this Valentine's Day.
Ingredients
1 lb Heavy Whipping Cream
2 oz Corn Syrup
4 oz Butter, Softened
3 lb Lindt 55% Semi Sweet Chocolate, Chopped into Small Pieces
8 oz Coco Powder, Sifted
­Preparation
1.) Scald cream and corn syrup. Pour over 1 lb. of chocolate pieces and whisk until smooth.
2.) Stir in butter.
3.) Place in a container, cover with plastic wrap and allow to set in refrigerator overnight.
4.) When set, scoop with very small ice-cream scooper and place on wax paper lined cookie sheet.
5.) Return scooped truffles to refrigerator to set.
6.) Melt 2 lbs of chocolate slowly on low temperature in microwave.
7.) Stir chocolate occasionally and do not allow chocolate to go over 96°F.
8.) Take truffles out of refrigerator and hand dip into melted chocolate, rolling immediately in sifted cocoa and place back on to wax paper lined cookie sheet to set a room temperature.
Now that you've made a delicious treat, share photos of your masterpiece on social media with #FourWindsCasino or by emailing photos to social@fourwindscasino.com. Emailed or tagged photos could be featured on our Facebook, Twitter, Instagram, Pinterest, and Google+ pages!

The Culinary Team at Four Winds Casinos is dedicated to the art of preparing and serving delectable dishes. We enjoy sharing recipes with our guests and fans because we know you love our restaurants—which are some of the finest restaurants in New Buffalo, Michigan, South Bend, Indiana and the surrounding area. Four Winds Casinos offers fine dining at Copper Rock Steakhouse, modern dining with a twist at Kankakee Grille, and our popular Timbers Fast Food & Deli.