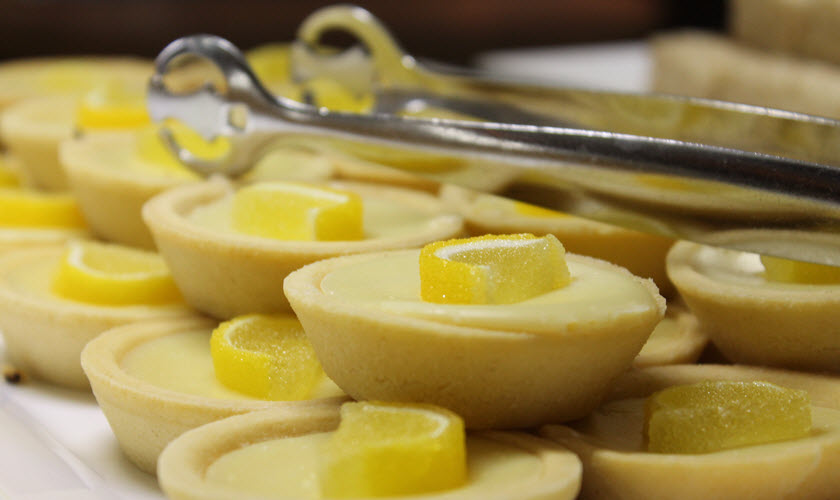 Four Winds Tarts
Date of Post: May 15, 2018
We've had many requests for our tart recipes and we thought springtime was a great time to share! From sweet to sour our Chocolate Salted Caramel and Lemon Tarts are perfect mini desserts to share or snack on at home or at the backyard BBQ!
Both easy to make and delicious, you can impress your family and friends with our step-by-step recipe!
Part 1 – Sugar Dough
Ingredients
3 C Flour
1/2 C Sugar
1 Tsp Salt
1 C Cold Unsalted Butter, Cut Into Bits
2 Egg Yolks
1-4 Tbsp Ice Water (as needed)
Preparation
1.)    Blend the flour, sugar, and salt. Cut in the cold butter with a pastry cutter or fork until the mixture resembles a coarse meal with bits of butter and is no larger than peas.
2.)    Add the egg yolks and continue blending until eggs are evenly incorporated and the mixture resembles a fine meal.
3.)    Stir in the ice water with a fork, one tablespoon at a time, until the mixture is just moistened enough to gather and mold into a smooth ball.
4.)    Divide the dough in half and flatten each portion into a smooth disc. Wrap with plastic and chill in the fridge for at least two hours or overnight if you prefer. The dough may also be frozen for up to two months.
5.)    Remove the chilled dough from the fridge and allow to rest at room temperature for 15-30 minutes. On a lightly floured surface, roll out the dough. Lift and turn the dough as you work, keeping the work surface dusted with flour to prevent sticking. Fit the dough into a tart pan and press it firmly against the sides and bottom without stretching it. Trim off any excess dough and then cover and chill in the pan for at least 30 minutes before filling and baking.
6.)    You can pre-bake the empty tart shell! Prick the dough all over with a fork, cover lightly with foil and bake at 375°F for 15 minutes. Remove the foil and continue baking until barely colored for a partially baked shell or golden brown for a fully baked shell.
Part Two – Filling Fun
For a little tart flavor, try the lemon tart filling!
Lemon Tart Filling
Ingredients
1 1/2 C Sugar
3 Eggs
1 Tbs Lemon Zest
1/2 C Lemon Juice
1/2 C Flour
Preparation
1.)    Whisk sugar, eggs, lemon zest, lemon juice and ½ cup flour in a bowl until smooth. Pour lemon filling into crusts, made in previous steps. Cover edges of crust with strips of aluminum foil to prevent burning.
2.)    Bake tart until filling is set, about 20 minutes. Cool completely and dust with confectioners' sugar.
 For the perfect blend of sweet and salty our chocolate salted caramel tart filling is just the key!
Chocolate Salted Caramel Tart Filling
Ingredients
For Caramel Filling
2 C Sugar
1/2 C Water
1/4 C Corn Syrup
1/2 C (1 stick) Unsalted Butter
1/2 C Heavy Cream
2 Tbsp Cream Fraiche (available at specialty food markets)
Pinch of Salt

For Chocolate Glaze
3 ½ Oz Extra-Bittersweet Chocolate (70% - 85%), chopped
1/2 C Heavy Cream
Sea Salt
 
Preparation
1.)    Make the caramel filling by placing sugar, water and corn syrup in a large saucepan and bring to a boil. Stir and swirl the pan occasionally, until mixture is a medium amber color, about 12 minutes. Remove from the hat. Caramel will continue to cook and darken off the heat. Carefully but quickly whisk in the butter, cream, crème fraiche and salt until smooth (Mixture will bubble up). Pour hot caramel into tarts made in prior steps. Allow to cool and set at least one hour.
2.)    Make the Chocolate glaze by placing chocolate in a heat-resistant bowl.  In a small saucepan, bring cream to a boil. Pour hot cream over chocolate and whisk until chocolate has melted and the mixture is smooth. Pour glaze over tart, tilting tart for even coverage. Refrigerate until tart is set, at least one hour, then sprinkle with a few granules of sea salt. Keep refrigerated until serving.
Now that you've mastered the sweet and sour tarts, share photos of your creations on social media with #FourWindsCasino or by emailing photos to social@fourwindscasino.com. Emailed or tagged photos could be featured on our Facebook, Twitter, Instagram, Pinterest, and Google+ pages!
The Culinary Team at Four Winds Casinos is dedicated to the art of preparing and serving delectable dishes. We enjoy sharing recipes with our guests and fans because we know you love our restaurants—which are some of the finest restaurants in New Buffalo, Michigan, South Bend, Indiana and the surrounding area. Four Winds Casinos offers fine dining at Copper Rock Steakhouse, modern dining with a twist at Kankakee Grille, and our popular Timbers Fast Food & Deli.