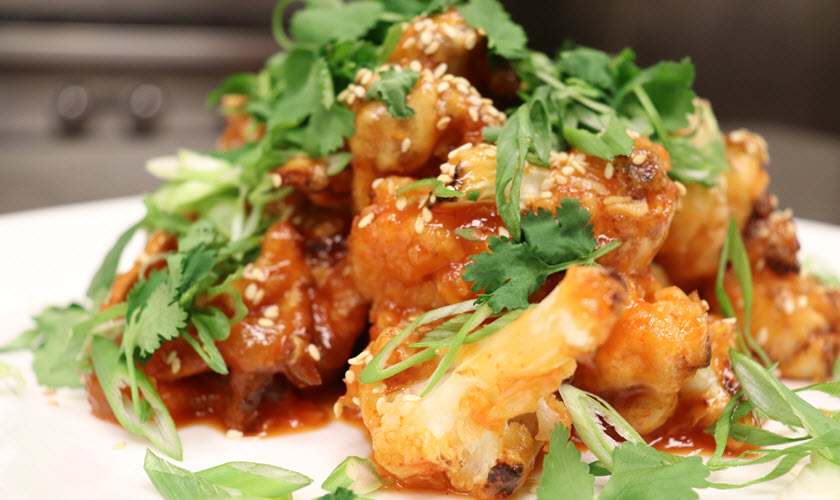 Game Time Snacks
Date of Post: Mar 15, 2018
Stand out from the crowd with these delicious game time snacks.
Candied Coaster Snacks
Makes 1 1/2 Cups
Perfect for the coffee table and the quick timeout snack these candied pecans are perfect for any gathering. Don't have time to cook before the party? You can make this snack three days before and store in an airtight container at room temperature.
Ingredients
6 1/2 oz Pecan Halves
1 1/2 oz Light Corn Syrup
1 1/2 tsp Sugar
3/4 tsp Kosher Salt
1/4 tsp Black Pepper
A pinch of Ground Cayenne
Directions
Preheat oven to 320°F. Spray baking sheet with non-stick spray.
Combine corn syrup, sugar, salt, black pepper, and cayenne pepper. Stir to blend.
Add pecans and stir gently to coat.
Transfer to a baking sheet and bake for five minutes.
Using a fork, stir pecans to coat with melted spice mixture and continue baking until pecans are golden and fully coated. (About 10 minutes)
Transfer to foil on a large work space and quickly separate with a fork.
Cool and serve.
Spicy Wings With A Twist
Serves about four
Wings are a hit no matter where you go but this recipe gives you a leg up on the snack table. These wings with a twist are the perfect dish with a healthy side. Substitute Almond Flour to be gluten and Paleo friendly!
Ingredients
1 Large Head Organic Cauliflower
1 C Water
3/4 C Blanched All Purpose Flour
1/4 C Sriracha Hot Sauce (Use more or less, depending on your desired heat level)
1/2 C Orange Marmalade
1/2 C Freshly Squeezed Orange Juice
2 Tbsp Tapioca Starch
2 Tbsp Granulated Sugar
1 Tbsp Olive Oil
1/2 tsp Sea Salt
1/2 tsp Garlic Powder
3 Cloves Garlic, finely minced
 Directions
Preheat oven to 450°F and line a baking sheet with parchment paper.
Chop cauliflower into 1.5-2 inch pieces.
Combine the flour, water, tapioca starch, garlic powder and salt and mix until smooth.
Dip cauliflower into the batter and coat each piece thoroughly.
Place battered cauliflower onto baking sheet and bake for 15 minutes, tossing halfway through.
In the meantime, add the remaining ingredients to a sauce pan on medium-high heat.
Bring to a boil and reduce the heat to medium-low. Simmer and stir constantly until the sauce reduces down and thickens a bit. (About 8-10 minutes)
Remove from heat and set aside until cauliflower is done baking.
Once the cauliflower is done, remove it from the oven and gently toss in the spicy orange Sriracha mixture and place back on the baking sheet.
Cook for an additional 10 minutes or until it becomes crispy.
Remove from oven, sprinkle with sesame seeds, fresh cilantro and chives or scallions and serve immediately.
Slam Dunk Magic Bars
Creates 1 tray
Show up with the 360 jam of desserts with this easy and delicious dessert!
Ingredients
4.37 lb. Sweetened Condensed Milk
3 lb. Graham Cracker Crumbs
2 lb. Coconut Snowflake
2 lb. Pecan Pieces
1 1/2 lb. Semi-Sweet Chocolate Chips
12 oz. Caramel Topping
Directions
Preheat oven to 285°F.
Evenly distribute graham cracker crumbs over greased and parchment lined pan and roll flat with a rolling pin and repeat with the coconut.
Evenly drizzle the sweetened condensed milk over the coconut followed by the chocolate and then pecans.
Cut five to six small slits in the bottom of the caramel bag and drizzle evenly over the top of the pan.
Bake for 1 hour. Check for doneness by splitting the center and looking for a light caramel color on the inside instead of the white of the sweetened condensed milk.
Cut up and plate for a showstopper of a presentation.
Now that you've covered the spread of party snacks, share photos of your masterpieces on social media with #FourWindsCasino or by emailing photos to social@fourwindscasino.com. Emailed or tagged photos could be featured on our Facebook, Twitter, Instagram, Pinterest, and Google+ pages!
The Culinary Team at Four Winds Casinos is dedicated to the art of preparing and serving delectable dishes. We enjoy sharing recipes with our guests and fans because we know you love our restaurants—which are some of the finest restaurants in New Buffalo, Michigan, South Bend, Indiana and the surrounding area. Four Winds Casinos offers fine dining at Copper Rock Steakhouse, modern dining with a twist at Kankakee Grille, and our popular Timbers Fast Food & Deli.