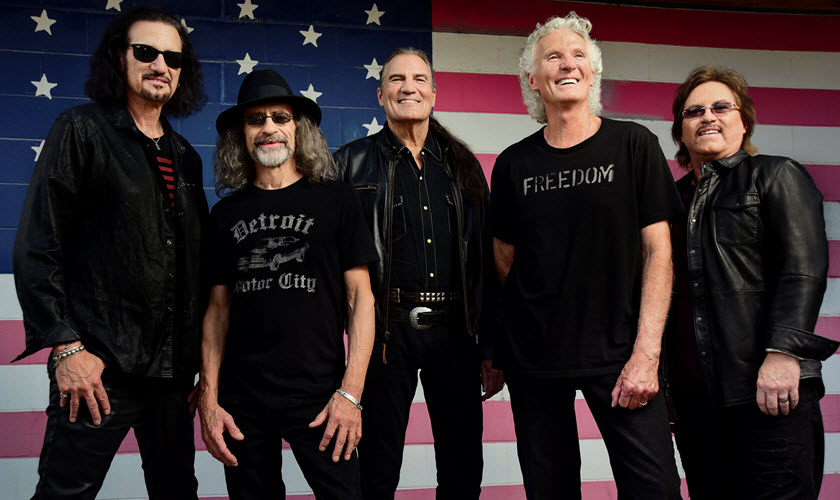 Interview with Grand Funk Railroad
Date of Post: Dec 23, 2019
About 200 miles east of New Buffalo, Michigan five men decided to go for it in the music industry and man are we glad they did. Coming together they not only created anthems that have spanned generations, but memories for all who have seen them throughout the world. Grand Funk Railroad is an iconic rock band that is celebrating 50 years of rock and roll. Founding member Don Brewer took some time to talk with us about where the band has been and how performing is today as compared to 1969.
Some say it isn't work when you love what you do every day and for Grand Funk Railroad you've been doing it for 50 years! What is it like still performing 50 years into the entertainment industry?
We are truly blessed to be able to still be playing to crowds of people all over North America 50 years after starting our band in 1969 in Flint, Michigan. It has been an incredible journey and we still love getting up in front of an audience and performing our many classic hit songs.
Rock and roll is a crazy ride. How has touring changed for the band through the years?
In the '70s we performed two tours of about 40 shows per year, recording a new album of music between each tour. Today, we perform about 40-45 shows per year, mostly weekends, and go home to our families in between.
Does it surprise you when overseas crowds – like the fans in Japan – know your songs?
In 1971 we took our first trip to Japan. We were greeted at the Tokyo airport by hundreds of screaming fans as we came off the airplane. It was a feeling like being in a Beatles movie.
Of all the chart-topping hits which one was the biggest surprise for you?
Being the singer and writer of the mega hit "We're an American Band," when it was first recorded and played for Capitol Records executive I was shocked that everyone felt it was going to be an immediate hit. I thought it was good, but I had no idea it would be such a huge success and still be played and aired some 46 years later.
We don't know if it gets better than playing your home state or over in Japan, but we're going to ask. Is there one place that you have performed that made a lasting impact on the group?
Certainly, selling out Shea Stadium faster than the Beatles and playing that show in 1971 was probably our biggest moment. 
Don, what is your favorite song to perform and why?
"Some Kind of Wonderful" always brings the crown to their feet. It is fun watching four generations of people – Grandparents, parents, kids, and grandkids – all singing along to the great song.
December 29 is coming fast. What are you most looking forward to at your performance at Silver Creek Event Center?
It's always fun playing shows in our home state of Michigan. It's great to see friends and family and visit with people that share stories about growing up and listing to The America Band, Grand Funk Railroad.
Grand Funk Railroad brings The American Band to Four Winds Casino New Buffalo on December 27, 2019. For more upcoming performances at Silver Creek Event Center please visit our website.