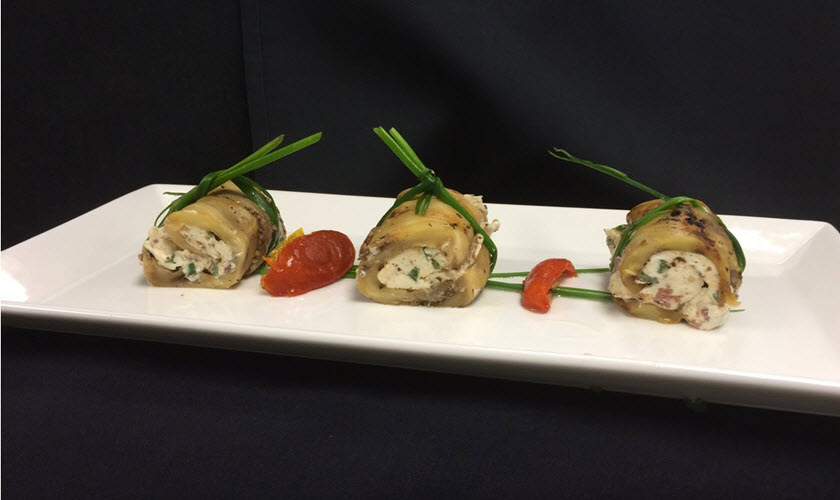 Grilled Eggplant Roulade
Date of Post: Jun 25, 2015
Surprise your friends and family at your next gathering with this delicious and beautiful appetizer! 
Ingredients
2 Large Eggplant – Peeled and Sliced Lengthwise
2 C Balsamic Vinaigrette – Favorite Recipe or Brand
1 Package Kraft Philadelphia Cream Cheese – Room Temperature
6 Pieces of Cooked, Diced Bacon
1 Jalapeno – Deseeded and Small Diced
1/4 tsp Sea Salt
1 Tbsp Roasted Garlic
1-2 Tbsp Smoked Paprika
Preparation
1.) Place the eggplant in a large bowl and dowse with dressing
2.) Allow the eggplant to marinate 1 hour in the dressing, tossing the vegetables around every 10 minutes in order to evenly absorb the marinade
3.) Arrange the eggplant on a preheated grill over a medium flame and grill evenly on both sides to thoroughly cook but not char. Allow to cool
4.) Place room temperature cream cheese in a bowl and stir in the roasted garlic and jalapenos
5.) Thoroughly fold in the bacon, slat and pepper
6.) Now spread a thin layer of the cream cheese spread on an entire slice of eggplant and roll
7.) Repeat for all eggplant and lightly sprinkle each with the paprika
8.) They are now ready to serve
Now that you've made a delicious party treat, share photos of your masterpiece on social media with #FourWindsCasino or by emailing photos to social@fourwindscasino.com. Emailed or tagged photos could be featured on our Facebook, Twitter, Instagram, Pinterest, and Google+ pages!

The Culinary Team at Four Winds Casinos is dedicated to the art of preparing and serving delectable dishes. We enjoy sharing recipes with our guests and fans because we know you love our restaurants—which are some of the finest restaurants in New Buffalo, Michigan, South Bend, Indiana and the surrounding area. Four Winds Casinos offers fine dining at Copper Rock Steakhouse, modern dining with a twist at Kankakee Grille, and our popular Timbers Fast Food & Deli.