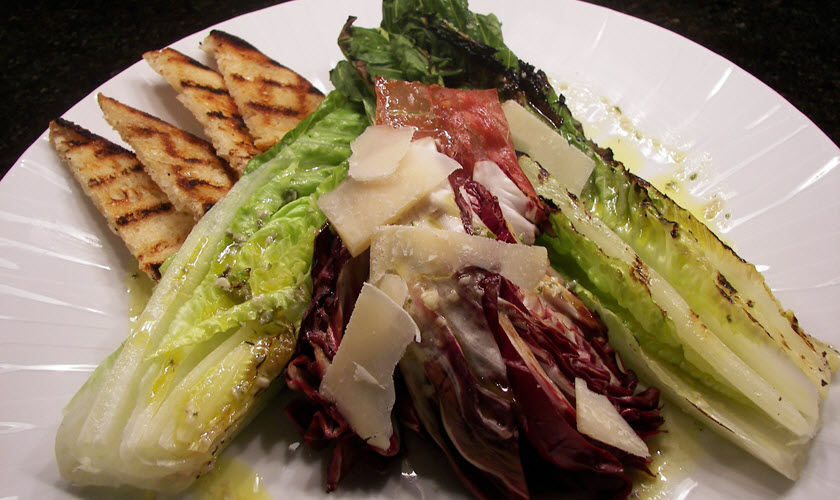 Grilled Romaine and Radicchio Salad and Caesar Vinaigrette
Date of Post: Jun 18, 2014
Here is a fresh appetizer idea for your summer events.  
Caesar Vinaigrette Dressing
Ingredients
8 oz. Fresh Lemon Juice
2 oz. Garlic Peeled Fresh and Minced Finely
2 oz. Small, White Anchovy Filet Minced Finely
4 oz. Parmigiano Cheese
24 oz. Olive Oil
Preparation
1) Combine lemon juice, garlic, anchovy, and cheese in steel mixing bowl
2) Stir combination with a wire whip and slowly add oil while whipping vigorously to form an emulsion
3) Dressing can be stored in refrigerator but should be served at room temperature
Grilled Romaine and Radicchio Salad
Ingredients
Lettuce Romaine Hearts – Cut in Half
Lettuce Radicchio – Cut Head in Quarters
1 oz. Olive Oil
1 tsp. Steak Seasoning
½ oz. Cheese Parmigiano - shaved
½ oz. Prosciutto
2.5 oz. Dressing (Caesar Vinaigrette)
3 slices Bread, Parmesan Rosemary
Preparation
Prepare Prosciutto Crisp
1) Preheat oven to 250 degrees
2) Take 2 inch by 2 inch long slices of Prosciutto and sandwich them between two silpats (non-stick liners)
3) Place silpats on a sheet pan and bake at 250 degrees with the fan on low for 15-25 minutes or until crispy like bacon
Grilling the Bread and Lettuce
1) Season the Romaine, Bread, and Radicchio with oil, salt, and pepper
2) Place seasoned, sliced bread on grill to toast on both sides
3) Place the Romaine and Radicchio on the grill, at medium to high heat, and grill until tender about 4-5 minutes
4) Plate salad like photo for serving presentation
5) Liberally drizzle the salad with the vinaigrette

Now that you've made this impressive appetizer, please enjoy and share photos of your masterpiece. You can email photos to social@fourwindscasino.com and we may feature them on our Facebook, Twitter, Instagram, Pinterest, and Google+ pages!

The culinary team at Four Winds Casinos is dedicated to the art of preparing and serving the best food. We enjoy sharing recipes with our guests and fans because we know you love our restaurants—which happen to be some of the finest restaurants in New Buffalo, Michigan and the surrounding area. Just a short drive from Chicago and South Bend, Indiana, Four Winds New Buffalo offers fine dining at Copper Rock Steakhouse, an incomparable buffet, Southwest Michigan's only Hard Rock Cafe and our popular Timbers Fast Food & Deli.