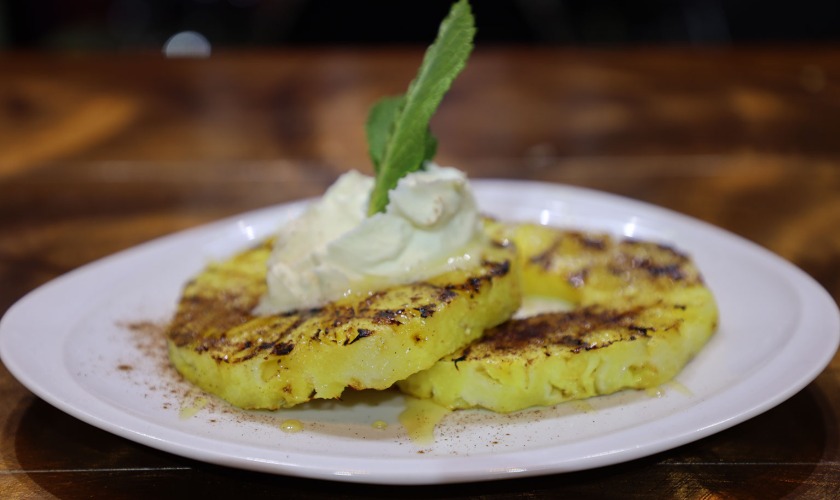 Grilled Pineapple with Mascarpone & Honey
Date of Post: Jun 15, 2021
Summer is here and so is the abundance of fresh fruit. There are so many dessert recipes using fresh fruit we could go on all day. Today however, we are going tropical with grilled pineapple!  But won't grilling dry it out? Not at all. This simple, quick recipe adds a complexity of rich flavors into a perfect sweet treat. 
Ingredients
1                             Fresh Pineapple
2 Tbsp                   Honey
1 C                         Mascarpone
1/2 tsp                  Cinnamon
Fresh Mint
Preparation
1. Preheat a grill pan or outdoor grill on high heat, and lightly grease the grate or pan with oil.
2. Prep Pineapple by peeling, coring and cutting into 1-inch rings. If you don't want to deal with the peeling and coring, you can use pre-peeled and cored slices from the store. We do not suggest you use anything canned as the flavor will not be the same due to the storage and preservation of canned fruit.
3. Grill pineapple for 2 to 3 minutes per side, or until heated through and grill marks appear.
4. Place on platter and top each pineapple slice with one tablespoon of mascarpone.
5. Add a drizzle of honey and sprinkle with cinnamon.
6. Garnish with fresh mint leaves.
There you have it, grilled pineapple. We hope you enjoy the complexity the grilling gives your pineapple dessert. Did you love it but want to try another type of cheese? Go for it! Ricotta is also a great option to give a tarter flavor as opposed to the sweetness of the mascarpone. Share photos on social media with #FourWindsCasino or by emailing photos to social@fourwindscasino.com. Tune in to more Cooking Creations with Chef Brandon on our Instagram and Facebook accounts for step by step videos.