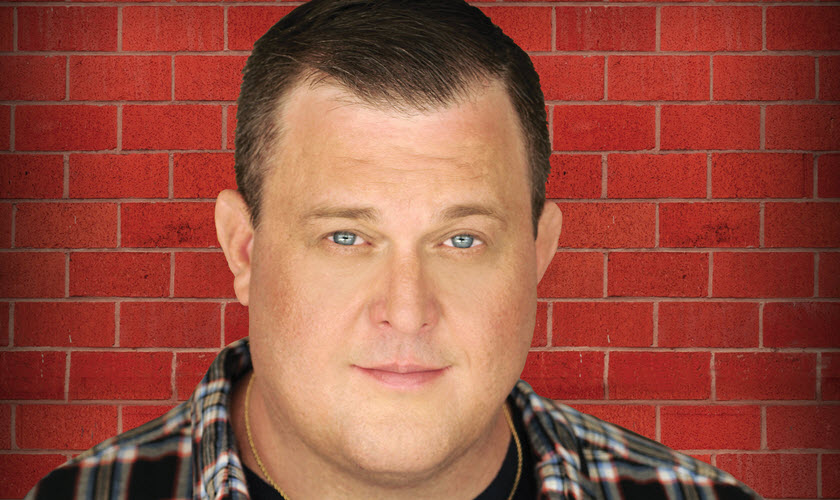 Interview with Billy Gardell
Date of Post: Apr 11, 2018
From small town pubs and military bases to comedy clubs of every scale, Billy has worked his way to Hollywood with dedication to his craft and pure determination. You've seen him on CBS's Mike & Molly as well as Yes Dear, My Name Is Earl, Bad Santa, You, Me & Dupree, and much more. His grounded, down-to-earth point of view makes him a natural on and off camera and we're excited to have him at Silver Creek event Center on May 25! Billy took a few moments to chat with us about life as a comedian and actor.
Does your family play the part of joke testers? If so, have they ever said "No way" or "Terrible" to any new jokes?
My wife hasn't laughed at me in 18 years and if she doesn't laugh I know its gold.
Where does your inspiration for stand-up comedy come from?
Being a father and being married.  And trying to survive at this weight.
Do you have a pre-show ritual? If so, can you share part of it with us?
I say a little prayer before I walk on stage that I can be of service.
Have you ever had a joke set flop? What was it like and how did you recover?
Many, many, many, many, many times.  You just have to move on to the next one like it didn't happen.
Which came first, acting or comedy dreams?
Stand-up comedy first, always.  Acting has become my favorite but I still love and respect stand-up very, very much.
Do you have a favorite character you've played? Why was that role your favorite?
My favorite character was Mike because it changed my life in so many good ways and a real close second was Colonel Parker because it was a chance to be a real dramatic actor.
How did it feel to get an Emmy nomination?
It was an absolute honor. Anytime The Academy notices something you're doing, it's an honor.
Were you always the class comedian?
Kind of, my humor comes more from an attitude then trying to be the class clown.  And that attitude is don't take yourself too seriously.
If you could star with one person in a movie or sit-com who would it be and why?
I would've loved to have worked with Jackie Gleason because he was my favorite but I would have to say that the whole cast of Mike & Molly was my favorite and I've already done that.
As a Steelers fan, how do you think the upcoming season is going to go?
I'm a little nervous about the defense but as usual I think we will be in the hunt.
For more details on upcoming concerts at Silver Creek Event Center please visit our website.