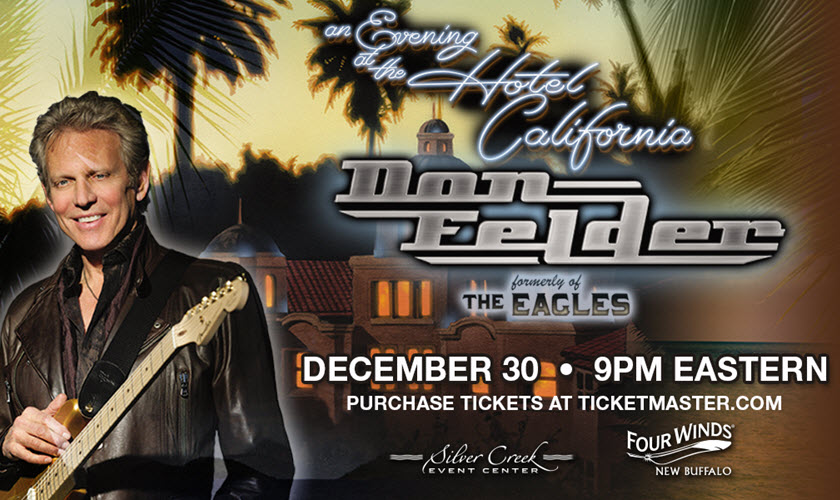 Interview with Don Felder
Date of Post: Dec 1, 2016
In 1998, Don Felder was inducted into the Rock and Roll Hall of Fame, however he has been making strides to inspire and elevate the music world long before '98. A former lead guitarist of The Eagles, Felder was also a co-writer for some of the bands largest hits like "Hotel California," Victim of Love" and "Those Shoes." Today, Don Felder is on his solo tour and will be filling Silver Creek Event Center with the sweet sounds of iconic songs and new hits on December 30, 2016! We had a chance to talk with Don about his career, touring, and what's to come.
What was your reaction when you learned that you would be inducted into the Musician's Hall of Fame?
I was both honored and astounded that I had been considered for such an honor, much less had won the "Iconic Riff Award."  When Joe Chambers from the MHOF called me to let me know I could hardly consider what he was saying.  I had been to the museum a couple of years before to induct Peter Frampton, but never in my wildest dreams thought I would one day be standing there accepting such a special award.
What is your favorite part of song writing?
My favorite part of song writing is the very first inspiration that comes through me.  It usually holds so much energy and lights me up from head to toe.  Trying to capture that first inspiration is the more difficult part of the process for me.  The details of finalizing melodies, lyrics, and chord progressions takes more concentration and focus to complete.  The first buzz is my favorite and usually lasts for a long time.
With your first book under your belt, do you plan on writing another one?
I think everyone should write about their life nearly every month.  Sit down and recount the experiences you've had and enjoyed.  I have been accumulating these "NOTES" or short stories along the way and at this point don't know if I'll publish them yet or not.  I have been working on another idea for a book but can't disclose what it's about yet.
What is it like to hear an audience sing your songs?
There is really nothing better than to be on stage and hear hundreds if not thousands of voices all singing along with a song I wrote or co-wrote.   The joy of knowing that you've created something that has made so many people happy and brought so much enjoyment is at the top of what I would call "SUCCESS."
Do you have a pre-show ritual? If so, could you share one part of that ritual?
I do have a pre-show ritual.  My band and I gather together for about 15 minutes and sing harmonies, choruses, solo lines sometimes changing the words to songs we've sung for years into something else to get a smile and a laugh before we walk out on stage.  Warming up our voices and our fun loving attitudes is key so that when we start out on stage it's all about having fun with the audience and having a great PARTY!!!!
What is your favorite song of all time to play on the guitar?
If I were to say anything other than Hotel California I would be lying.  That song demands all the concentration and focus I can muster every single time I play it.  If I take my eye off that ball for 1 second it's so easy to slip and make a mistake.  That song has to be played exactly perfect every show.  That's the challenge for the band and myself as well, to live up to what the audience has heard note for note for decades.
To see photos from the 2016 performance visit our Facebook page. For more details on upcoming concerts at Silver Creek Event Center please visit our website.