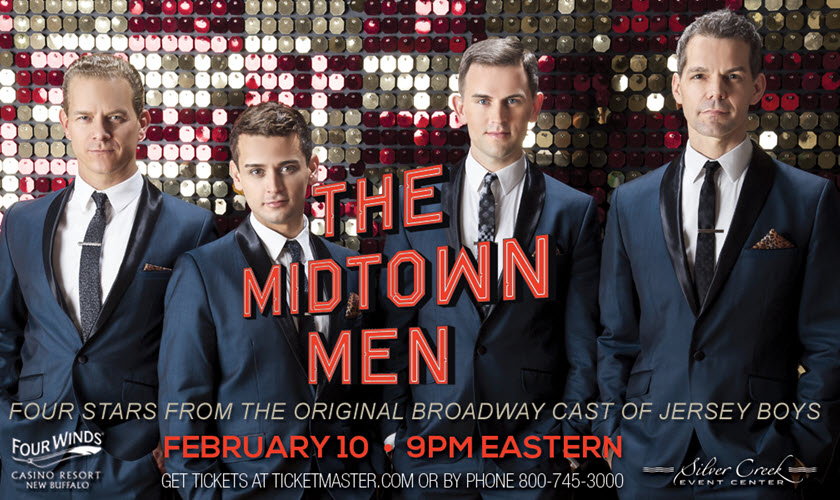 Interview with The Midtown Men
Date of Post: Feb 9, 2017
Forming from the four stars of the original cast of Broadway's Jersey Boys, The Midtown Men are giving audiences across the country a performance of the greatest rock and roll hits of the 1960s. A few of the guys took time from their crazy tour schedule to answer a few questions about life, touring, and their journey in the music industry.

Daniel, how are you enjoying the music tour as opposed to a Broadway tour?
"I think an exciting scenario for a performer is to find him or herself in a position that artistically they never expected to be. I've done several shows in New York City, but that whole time, I never thought I would be in a rock 'n' roll music group. So now seven tours later, and 600+ concerts later, I feel very satisfied to have lived on an experience that was beyond my dreams. We have played some incredible halls, and enjoyed the ups and downs of the tour life several times over. I'm always learning something." – Daniel Reichard

What was it like to be awarded a Tony?
"It was a surreal moment to hear your name and time sort of stood still. When the world started spinning again, I felt over three decades of hard work as an actor instantly affirmed and I felt like I belonged in a new way, to something bigger than myself." – Christian Hoff
"When Julie Andrews read from the envelope, "Jersey Boys!" as the Tony Award Winner for best musical, the place erupted and the entire jersey boys group ran up onto the stage of Radio City Music Hall. I remember one of our Executive Producers Joe Grano grabbing me, hugging me, and saying in my ear, "I just want you to know that we made it here because of the four of you guys!"  Obviously, that was a very nice thing to say, but a bit of an overstatement. Jersey Boys was a gigantic effort from the entire team behind and in front of the scenes to make Jersey Boys a smash long running hit." – J. Robert Spencer
Touring across the country can be stressful, what is something the group does to relax?
"I like to walk around towns we visit and explore on my own for a while. I like to find time to read a good book and then take 10 minute power naps and a big workout before the show." – J. Robert Spencer
"We like to drive together when we're on the road. We tell stories from our lives currently and stories from our past together. We listen to music and enjoy people watching and pointing out the interesting parts of each town we visit." – Daniel Reichard
 J. Robert, What is your favorite part of making a record?
"Knowing the record will be around forevermore." – J. Robert Spencer
Daniel, of all your performances, which one is the most memorable and why?
"Nothing could have prepared me for our night at the Beacon Theater in New York City. It was my birthday, and we had a quite a crowd coming. We were fortunate enough to have guest appearances by rock 'n' roll icons like Petula Clark, Gene Cornish of the Rascals, and Shirley Alston Reeves of the Shirelles. I had walked past the Beacon hundreds of times and never thought I would actually do a concert there. That night was a dream come true." – Daniel Reichard
The Midtown Men gave an amazing performance on February 10, 2017. See photos from the show here. For more upcoming events please visit our website.