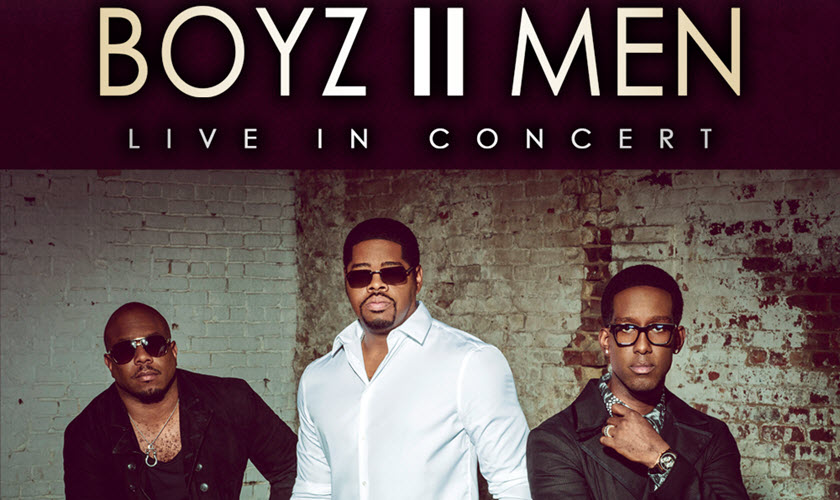 Interview With Boyz II Men
Date of Post: Jul 29, 2019
One of the most iconic R&B groups in music history will make their debut performance at Silver Creek Event Center on August 16. Boyz II Men have an impressive award list including 4 GRAMMY Awards, 9 American Music Awards, 9 Soul Train Awards, 3 Billboard Awards, a star on Hollywood Walk of Fame, and a Casino Entertainment award, and many more. The group is successful not only because of the iconic sound but their adoring fan club, ability to host sold-out performances for over 25 years and their caring hearts. The group took time out of their busy life on the road to answer a few questions: 
While creating songs like I'll Make Love To You, did you ever go "Yes, this is going to be a smash hit?"
Our goal as artists has always been to make music that will stand the test of time. We've worked to create music that fans can enjoy for years to come, but we never expected that songs like I'll Make Love To You or End of the Road would be "smash hits." We're so grateful that our fans loved the music as much as we did and made them so successful. We often say the songs are bigger than the group, which still humbles us and reminds us of when we had no idea what would happen once we record a new song.
You are all passionate about giving back. What new projects or events are coming up for the Boyz II Men House? 
We are so blessed with all that we have and we each like to give back in our way. The Boyz II Men house allows us to do so as a group. Depending on what cause we see needs support, we'll work together to give back. For me personally, I also have my own charity, Micah's Voice which provides support for families affected by autism. My son Micah is on the autism spectrum and we're extremely lucky to have all the resources we need, but many families don't so Micah's Voice helps those who don't. 
For more than 20 years you've been creating and performing. What keeps you interested in the process?
It is truly all about the fans! They keep us going every step of the way. From every song we release to every show we perform, they are what makes us want to continue moving forward. We kind of only know one speed and that is to sing the song like its the first time you've heard it live…..we live by that. 
Of all the albums you've created, which was the hardest and why?
They were all difficult in their own way. Our first album, Cooleyhighharmony was nerve-racking because it was our first and we didn't know what to expect. When it was so well-received, it never got easier. When we created our most recent albums, Collide and Under the Streetlight, we were going for a very different sound than our fans were used to so it was hard to know what they would think. 
What was your favorite part of the CMT Awards 2019?
Brett Young has always been an artist that loved our music. We had so much fun getting to know him. It was an honor to perform with him at the awards show and also to be nominated for our CMT Crossroads performance.  We really love doing different things….this was such a pleasure and man country does it RIGHT! 
What is the one thing other than water that you must have in your dressing room?
The "manager cam" that our manager Joe carries around to capture the funniest moments in our dressing room. He always seems to get us in the weirdest conversations.   We also have typical teas, hot water and some fruit….nothing too crazy. 
To see more upcoming performances at Silver Creek Event Center please visit our website.