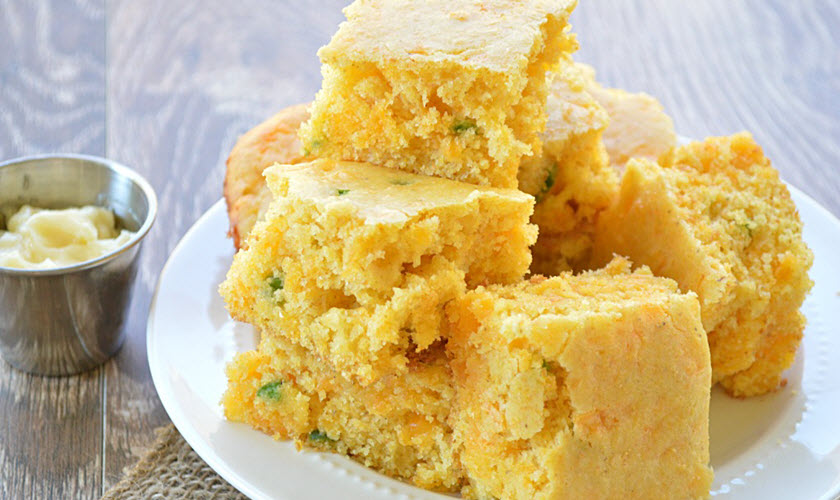 Labor Day Recipe - Sweet Chili Cornbread
Date of Post: Aug 22, 2017
Show up to the party with a side dish sure to impress all your friends and family!
Ingredients
1 lb Sugar
8 oz Lard
8 oz Butter
1/2 tsp Salt
3 C Flour – Packed
1 1/2 C Corn Meal
7 tsp Baking Powder – Level
16 oz Cream Corn
8 oz Diced Chilies – Canned, Undrained
16 Large Eggs
7 oz Shredded Jack/Cheddar Cheese
­
Preparation

1.) Combine and completely mix sugar, flour, corn meal and baking powder
2.) Slowly add corn in thirds, mixing each third in thoroughly
3.) Add chilies and then eggs into the mixture using the same technique
4.) Lastly, mix in the cheese and continue mixing until well incorporated
5.) Scrape into two greased lasagna pans and bake in a preheated 325° oven for 45 minutes

Now that you've made a side dish perfect for any Labor Day celebration, share photos of your masterpiece on social media with #FourWindsCasino or by emailing photos to social@fourwindscasino.com. Emailed or tagged photos could be featured on our Facebook, Twitter, Instagram, Pinterest, and Google+ pages!
The Culinary Team at Four Winds Casinos is dedicated to the art of preparing and serving delectable dishes. We enjoy sharing recipes with our guests and fans because we know you love our restaurants—which are some of the finest restaurants in New Buffalo, Michigan, South Bend, Indiana and the surrounding area. Four Winds Casinos offers fine dining at Copper Rock Steakhouse, modern dining with a twist at Kankakee Grille, and our popular Timbers Fast Food & Deli.