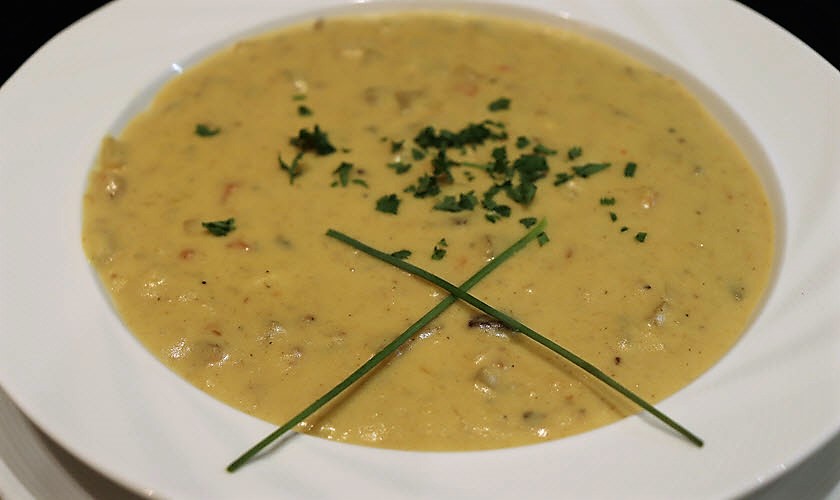 Creamy Mulligatawny Soup
Date of Post: Nov 5, 2018
The daylight is getting shorter, the leaves are starting to turn, and the cold is moving in – Fall is officially here. We think the best way to celebrate the emergence of fall is to walk through nature's beauty followed by a warm bowl of soup! The rich flavors of Creamy Mulligatawny will warm your toes from the chill of your walk and make the whole family's taste buds smile.
 Ingredients
4 1/2 oz     Whole Butter, Unsalted
8 oz           Yellow Onion, Diced
1 Tbsp       Garlic, Minced
4 oz           Carrot, Diced
3 oz           Celery, Diced
4 1/4 oz     All Purpose Flour
1/4 oz        Curry Powder
1 1/2 oz     Tomato Puree
6 oz           Water
8 oz           Russet Potato, Peeled and Diced into 1/4" Cubes
3 oz           Chicken Base (Low Sodium)
1 1/2 oz     Mango Chutney (Available in most grocery store specialty isles)
1 oz           Shredded Coconut
1 lb            Cooked Chicken, Diced
1 oz           Raisins
3 C            Heavy Whipping Cream
Salt & Black Pepper to Taste
­Preparation
1. Melt butter in a four-quart heavy bottom saucepan.
2. Add vegetables and sauté until translucent.
3. Mix in flour and curry powder and cook on low heat for five minutes, stirring occasionally.
4. Stir in tomato puree.
5. Mix in the water stirring continuously, to avoid lumps.
6. Bring to a boil and add all the remaining ingredients except for the heavy cream.
7. Simmer for 20 – 25 minutes or until potatoes are softened.
8. Stir in the heavy cream and bring back to a simmer.
9. Add salt and ground pepper to taste.  
Now that the kitchen is full of the sweet aroma of Fall enjoy your masterpiece on the porch while the sun shines on the beautiful colors of fall. Don't forget to share photos on social media with #FourWindsCasino or by emailing photos to social@fourwindscasino.com. Emailed or tagged photos could be featured on our Facebook, Twitter, Instagram, Pinterest, and Google+ pages!
The Culinary Team at Four Winds Casinos is dedicated to the art of preparing and serving delectable dishes. We enjoy sharing recipes with our guests and fans because we know you love our restaurants—which are some of the finest restaurants in New Buffalo, Michigan, South Bend, Indiana and the surrounding area. Four Winds Casinos offers fine dining at Copper Rock Steakhouse, modern dining with a twist at Kankakee Grille, and our popular Timbers Fast Food & Deli.