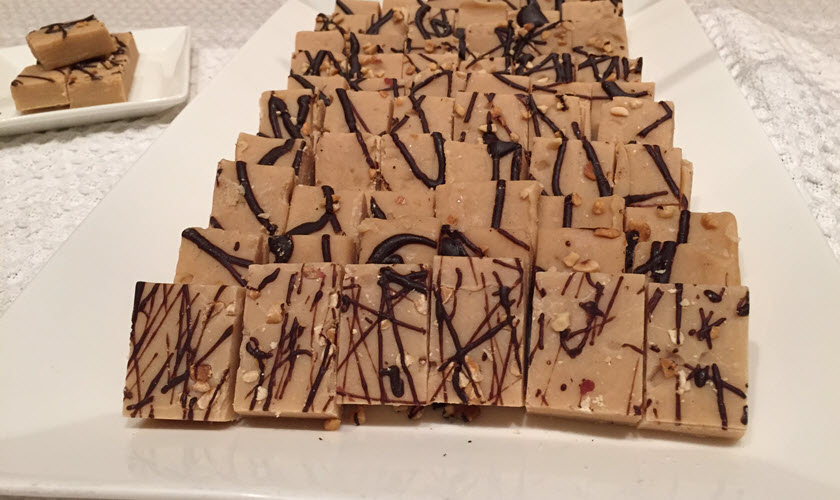 Peanut Butter Fudge Recipe
Date of Post: Apr 3, 2015
Peanut Butter Fudge
Fudge is a great sweet for a little snack or gift, so give our Peanut Butter Fudge recipe a try for your next gathering.
Creates One 8"x12" Pan
Prep Time: 20 minutes
Cook Time: 4- 6 hours
Ingredients
21 oz. sweetened condensed milk
1 c. peanut butter
1 lb. 3 oz. white chocolate
1.5 tsp. pure vanilla extract
Preparation and Cooking
1.) Butter pan and line with wax paper.
2.) Heat sweetened condensed milk and peanut butter in a double boiler over low heat until just warm enough to melt chocolate.
3.) Slowly stir in white chocolate and vanilla while mixing over a double boiler.
4.) Once all ingredients are mixed well, evenly pour mixture into lined pan.
5.) Place pan in refrigerator for 4-6 hours to set.
Presentation
Take pan out of refrigerator and cut into pieces of desired shapes and sizes.

Now that you've made a delicious party treat, share photos of your masterpiece on social media with #FourWindsCasino or by emailing photos to social@fourwindscasino.com. Emailed or tagged photos could be featured on our Facebook, Twitter, Instagram, Pinterest, and Google+ pages!

The Culinary Team at Four Winds Casinos is dedicated to the art of preparing and serving delectable dishes. We enjoy sharing recipes with our guests and fans because we know you love our restaurants—which are some of the finest restaurants in New Buffalo, Michigan and the surrounding area. Just a short drive from Chicago and South Bend, Four Winds New Buffalo offers fine dining at Copper Rock Steakhouse, an incomparable Buffet, Southwest Michigan's only Hard Rock Cafe and our popular Timbers Fast Food & Deli.