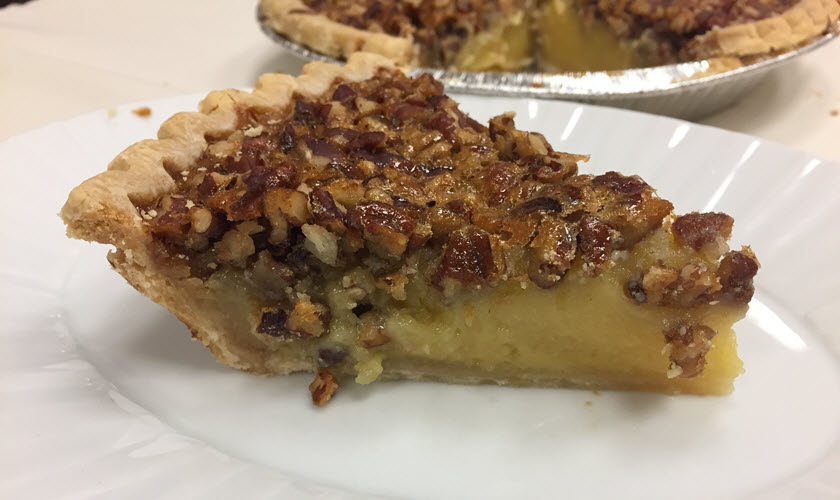 Pecan Pie
Date of Post: Dec 20, 2017
Fill the kitchen with the sweet aroma of a handcrafted pie! This simple, delicious dessert is perfect for the upcoming holidays, so give it a try and don't forget to share your photos!
Ingredients
5 Large Eggs
1 C Corn Syrup
1 C Granulated Sugar
1/2 tsp Vanilla Extract
2 oz Unsalted Butter
1 Tbsp Myers Rum
1 Egg Yolk
1 1/2 C Pecans
1 Pie Crust
­Preparation
1.) Pre-bake your pie crust by placing it in your pie pan and crimping the edge of the dough. Bake for 6 minutes at 425°F. Shake the pan to deflate, cool, and repeat until the crust is evenly golden brown and looks crisp.
2.) Warm the sugar, corn syrup, butter, vanilla, and rum in a pot. (Do not heat above 140°F)
3.) Slowly pour sugar mixture into the whole eggs, whisking as you pour to temper the eggs. If you pour the hot sugar mixture into the eggs too fast they will scramble.
4.) Brush the pie crust with the egg yolk and pour 1 ½ cups of pecans into the pie shell.
5.) Pour batter over pecans and bake immediately at 375°F for 10 minutes. Then drop the oven temperature to 300°F and cook for another 10 minutes or until set.
Now that you've filled your home with the enticing aroma of pecan pie, share photos of your masterpiece on social media with #FourWindsCasino or by emailing photos to social@fourwindscasino.com. Emailed or tagged photos could be featured on our Facebook, Twitter, Instagram, Pinterest, and Google+ pages!

The Culinary Team at Four Winds Casinos is dedicated to the art of preparing and serving delectable dishes. We enjoy sharing recipes with our guests and fans because we know you love our restaurants—which are some of the finest restaurants in New Buffalo, Michigan, South Bend, Indiana and the surrounding area. Four Winds Casinos offers fine dining at Copper Rock Steakhouse, modern dining with a twist at Kankakee Grille, and our popular Timbers Fast Food & Deli.