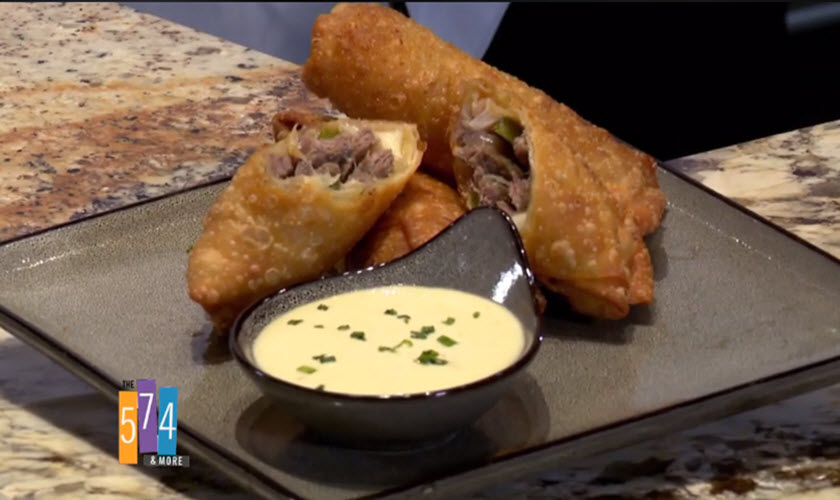 Philly Cheese Steak Egg Rolls
Date of Post: Nov 4, 2019
The perfect game night appetizer with endless possibilities! 
Ingredients
Rolls
10                    Egg Roll Wrappers
2 C                  Cooked Sirloin Steak Strips
1/2                  Green Bell Pepper, Thinly Sliced
1/2                  Red Onion, Thinly Sliced
3 Tbsp            Butter
1/2 tsp           Garlic Powder
5 slices           Provolone Cheese, Halved
1                      Egg, Lightly Beaten
Canola Oil for Frying
Sauce
1/2 C               Mayo
1/2 C               Sour Cream
2 Tbsp             Milk
1 tsp                Lemon Juice
2 tsp                Horseradish
1/4 tsp            Garlic Powder
1/8 tsp            Fresh Cracked Pepper
Preparation
1.) Fill your fryer or pot with at least 1 inch deep of canola oil. Heat to 375 degrees. 
2.) In a sauté pan melt butter over medium high heat. Add the pepper strips and onions and cook until soft and tender (about 5 minutes). Then, toss in the steak and garlic powder, stir to combine. Remove from heat and let cool to room temperature.
3.) Once cool, place an egg roll wrapper on a clean dry surface and brush all the edges with the lightly beaten egg. Place a couple strips of the steak, pepper and onions on an angle in the center of the wrapper and top with half of a slice of provolone cheese. Fold the bottom corner of the wrapper over the filling then fold in the right side and left side. Roll towards the remaining corner and seal closed.
4.) Repeat with remaining egg roll wrappers and filling.
5.) Place two to three egg rolls in the hot oil at a time. Cook and turn for 3 to 5 minutes or until all sides are golden brown. Drain on a paper towel lined plate.
6.) Combine the sauce ingredients in a small bowl and whisk till combined. Add more horseradish if you want more of a kick.
7.) Serve egg rolls hot with a side of sauce. Enjoy!