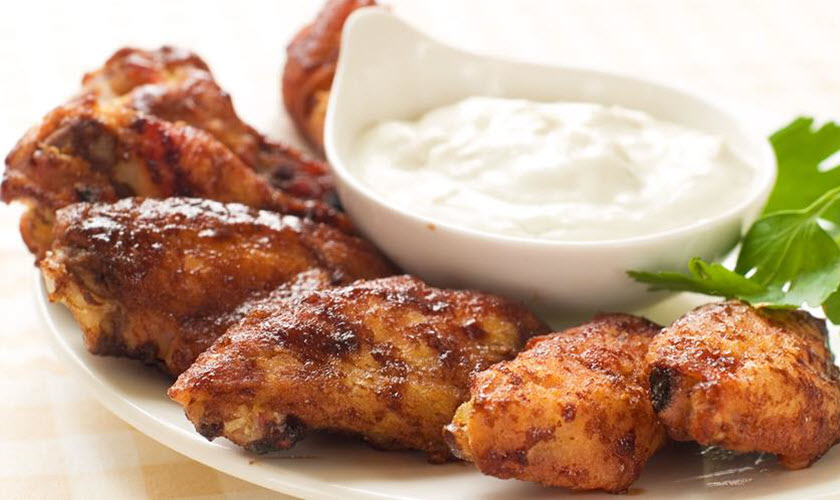 Grilled Pickle Chicken Wings with Bleu Cheese Dressing
Date of Post: Sep 24, 2019
Casey and Brandon add two of your favorite things into one tasty dish perfect for tailgate season. 
Ingredients
            For Wings
2 lb       Wings 
1 C       Pickle Juice
Salt and Pepper
For Bleu Cheese Dipping Sauce
1/2 C     Sour Cream
1/2 C     Mayonnaise
1/2 C     Buttermilk
6 oz      Crumbled Bleu Cheese
1/2 tsp  Black Pepper
1/2 tsp Garlic Powder
1 Tbsp  Steak Sauce
1 tsp     Worcestershire Sauce
Pinch of salt
 Preparation
1. A minimum of 4 hours in advanced but up to 24 hours, marinate your chicken wings in a plastic bag with your pickle juice.
2. When ready to cook, preheat grill to medium-low.
3. Add a sprinkle of salt and pepper to the wings right before grilling to ensure proper seasoning.
4. Grill wings on each side for 5-6 minutes until golden and cooked through. You may have to reduce your grill temperature to low (around 300 degrees) so that you don't burn your wings.
5. While the wings are cooking, combine all the dipping sauce ingredients, except for Bleu Cheese crumbles, in a bowl and whisk until combined well. Lightly stir in Bleu Cheese crumbles. Set aside.
6. When wings are cooked through, remove from heat and serve with Bleu Cheese Dressing.