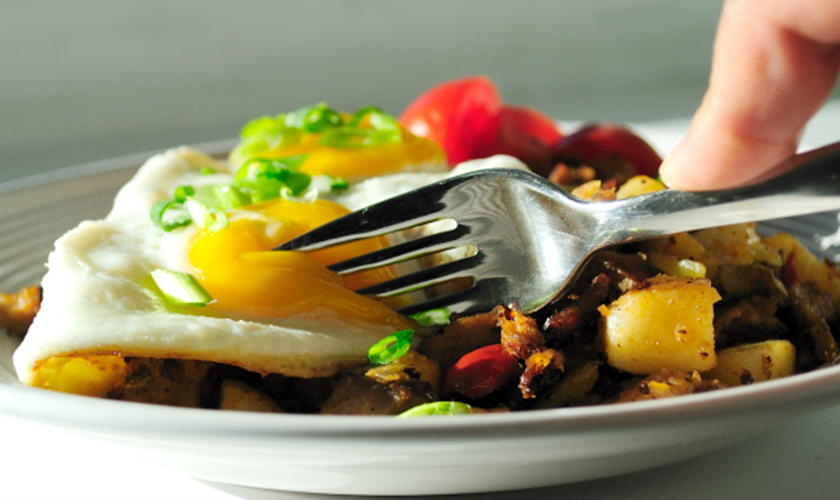 Pulled Pork Hash
Date of Post: Sep 16, 2019
Not quite sure what to do with your pulled pork leftovers? We do! Make this savory dish and all that will be left to say in the morning will be "Is there any more?" 
Ingredients
1 Tbsp             Vegetable Oil, or EVOO
1                      Red Onion, diced
1                      Orange Pepper, diced
1/4 C               Red Pepper, diced
2                      Cloves Garlic, diced
1 C                  Pulled Pork
5                      Large Potatoes, boiled and then diced into cubes (peeling optional)
1 tsp                Kosher Salt
1 tsp                Pepper
1 C                  Cheddar Cheese
3                      Large Eggs
Preparation
1. Set 12-inch skillet over medium heat. Add oil.
2. Add onion and peppers and heat for about 3-5 minutes.
3. Add in garlic and cook for an additional 3-5 minutes.
4. Add the pulled pork and stir well.
5. Add salt and pepper and stir, making sure everything is fully incorporated.
6. Add potatoes and stir. Try to make sure that there are some potatoes on the bottom, touching the pan. Let potatoes crisp for at least 5 minutes, up to 10 minutes. (Depending on how crispy you like your potatoes.)
7. Once the potatoes are crisp to your liking and everything is hot, top with eggs cooked to your preference, sprinkle with cheese. Garnish with scallions and jalapeno.
8. Serve immediately.