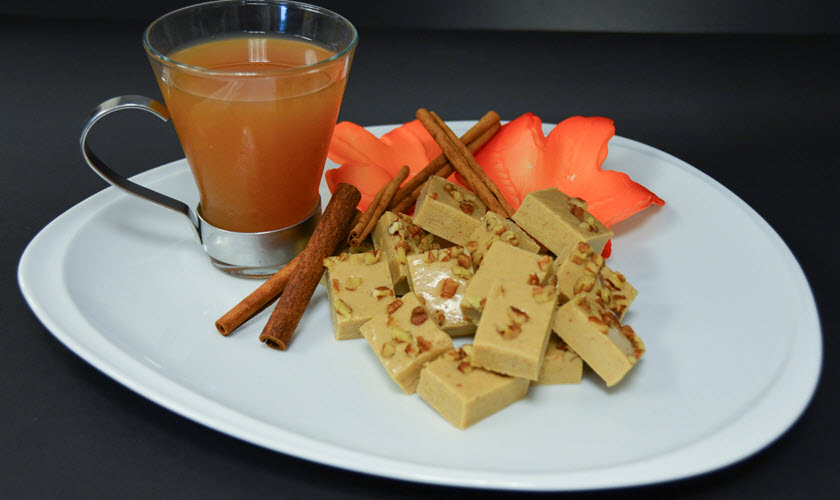 Pumpkin Fudge
Date of Post: Oct 19, 2016
'Tis the season for pumpkin! Give our pumpkin fudge a try for a delicious festive treat.  
Ingredients
1 lb        Granulated Sugar
8 oz       Light Brown Sugar
6 oz       Butter
5 oz       Heavy Whipping Cream
4 oz       Pumpkin Puree
2 tsp     Pumpkin Spice
12 oz    Premium White chocolate – Chopped or Coins
7 oz       Marshmallow Cream
4 oz       Chopped Pecans – Toasted
1 tsp     Pure Vanilla       
­Preparation 
1.) Combine sugar, brown sugar, heavy cream, pumpkin, butter and spice in appropriately sized, heavy-duty saucepan.
2.) Bring to a full, rolling boil over medium heat, stirring constantly. Boil, stirring constantly for 10-12 minutes or until candy thermometer reaches 234° F. 
3.) Remove from heat and quickly stir in white chocolate, marshmallow cream, nuts, and vanilla extract.
4.) Stir vigorously for 1 minute or until chocolate is melted.
5.) Immediately pour into prepared pan(s) and spread evenly with a spatula.
6.) Let stand on a rack for 2 hours or until completely cooled.
7.) Refrigerate tightly covered until ready to serve.
Now that you've made a delicious treat, share with friends and family or freeze to keep a piece for yourself! Don't forget to share photos of your masterpiece on social media with #FourWindsCasino or by emailing photos to social@fourwindscasino.com. Emailed or tagged photos could be featured on our Facebook, Twitter, Instagram, Pinterest, and Google+ pages!

The Culinary Team at Four Winds Casinos is dedicated to the art of preparing and serving delectable dishes. We enjoy sharing recipes with our guests and fans because we know you love our restaurants—which are some of the finest restaurants in New Buffalo, Michigan, South Bend, Indiana and the surrounding area. Four Winds Casinos offers fine dining at Copper Rock Steakhouse, modern dining with a twist at Kankakee Grille, and our popular Timbers Fast Food & Deli.