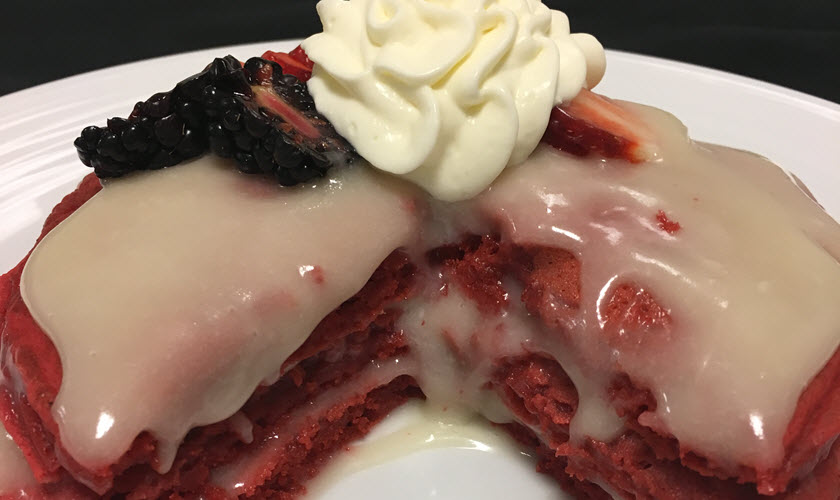 Red Velvet Pancakes
Date of Post: Feb 8, 2017
Add some romance to breakfast this Valentine's Day with this delicious recipe.
Pancake Ingredients
3 Eggs
1 1/2 tsp Salt
1 1/2 tsp Vanilla Extract
1 1/2 tsp Distilled White vinegar
1 Tbsp Red Food Coloring
1 Tbsp Baking Powder
1 Tbsp and 1 1/2 tsp. Unsweetened Cocoa Powder
3 Tbsp White Sugar
1/4 C and 2 Tbsp Milk
1/4 C and 2 Tbsp Melted Butter
1 1/2 C Buttermilk
1 1/4 C All-Purpose Flour
Topping Ingredients
1/2 (4 ounces) Packaged Cream Cheese, Softened
1 1/2 tsp Vanilla Extract
1 Tbsp Milk, or as needed
1 1/2 C Confectioners' Sugar, Sifted
­Directions
1.)   Prepare the cream cheese glaze by beating the cream cheese, confectioners' sugar, and vanilla extract in a bowl until smooth.
2.)  Thin glaze with 1 tablespoon milk or as needed to achieve a pourable consistency; set aside.
3.)  Prepare the pancakes by whisking the flour, white sugar, baking powder, cocoa powder, and salt together in a bowl until evenly blended; set aside.
4.)  Beat the eggs in a separate mixing bowl until smooth and then whisk in milk, buttermilk, vanilla extract, vinegar, and food coloring.
5.)  Stir in the flour mixture until moistened.
6.)  Drizzle in the melted butter and stir until the butter has incorporated and no small lumps of flour remain.
7.)  Heat a lightly oiled griddle over medium-high heat.
8.)  Drop batter by large spoonful onto the griddle and cook until bubbles form and the edges are dry.
9.) Flip and cook until browned on the other side. Repeat with remaining batter.
10.) Drizzle warm pancakes with the cream cheese glaze to serve.
Now that your masterpiece is created, enjoy or add to the romance with fresh fruit and whipped cream on top! Share photos of your romantic breakfast entree on social media with #FourWindsCasino or by emailing photos to social@fourwindscasino.com. Emailed or tagged photos could be featured on our Facebook, Twitter, Instagram, Pinterest, and Google+ pages!

The Culinary Team at Four Winds Casinos is dedicated to the art of preparing and serving delectable dishes. We enjoy sharing recipes with our guests and fans because we know you love our restaurants—which are some of the finest restaurants in New Buffalo, Michigan, South Bend, Indiana and the surrounding area. Four Winds Casinos offers fine dining at Copper Rock Steakhouse, modern dining with a twist at Kankakee Grille, and our popular Timbers Fast Food & Deli.