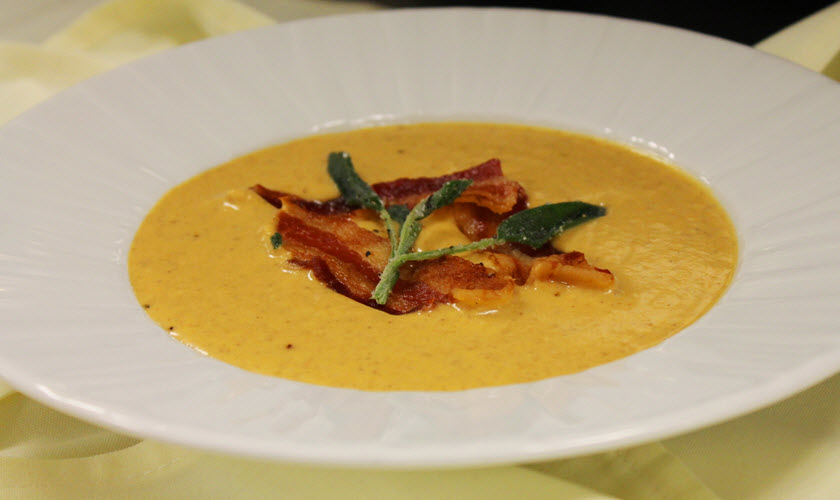 Roasted Pumpkin Bisque
Date of Post: Nov 19, 2015
Get ready for the cold weather and holiday season with this festive holiday dish.
Items Needed
Oven
2 Baking sheets
Spoon and Knife
Whisk
Immersion Blender
Strainer
Ingredients
 1 Fresh Sugar or Pie Pumpkin to yield 38oz. of Pumpkin (note 38oz. of canned pumpkin can be used as a substitute) 
1/4 oz Oil Olive Blend 80/20
1 1/4 sticks Butter
1 Yellow Onion, Diced
2 stalks Celery, Diced
2 Carrots, Diced
1 tsp Garlic, Minced
1 Bay Leaf
1/2 C All Purpose Flour
1/2 C Dry Sherry
2 1/2 qt Chicken Stock
1 tsp Kosher Salt
1/2 tsp Black Pepper
2 C Whipping Cream
Preparation
1.) Preheat oven to 350°F (If using canned pumpkin skip to step 7)
2.) Cut pumpkin in half and scrape out seeds with a serving spoon.
3.) Divide the oil in half. Drizzle one half on the baking sheet(s) and reserve the other half.
4.) Place the pumpkin halves on the pan, placing cut side down, and drizzle remaining oil evenly over the pumpkin.
5.) Roast pumpkin in oven for 35 minutes or until the pumpkin flesh is tender.
6.) Scoop the flesh of the pumpkin out using a serving spoon.
7.) In a large pot set on medium-high heat, melt one stick of butter. Once melted add the onion, celery, carrot, garlic, and bay leaf, and sir on medium heat until the onions are translucent.
8.) Deglaze the pot with the first portion of sherry and reduce to a simmer and cook 5 minutes.
9.) Add the flour and mix well. Once mixed, simmer for 10 minutes stirring occasionally to prevent burning.
10.) Add pumpkin and mix together.
11.) Slowly add the chicken stock whisking vigorously to prevent lumping.
12.) Simmer for an additional 30 minutes.
13.) Remove bay leaf.
14.) Blend mixture with an immersion blender until smooth.
15.) Season with salt and pepper.
16.) Slowly add the cream and mix thoroughly.
17.) Finish with the last portion of sherry and break the last portion of cold butter into small pieces and whisk into the bisque.
18.) Drain through a strainer and serve hot.

Now that you've made a delicious soup sure to impress, share photos of your masterpiece on social media with #FourWindsCasino or by emailing photos to social@fourwindscasino.com. Emailed or tagged photos could be featured on our Facebook, Twitter, Instagram, Pinterest, and Google+ pages!

The Culinary Team at Four Winds Casinos is dedicated to the art of preparing and serving delectable dishes. We enjoy sharing recipes with our guests and fans because we know you love our restaurants—which are some of the finest restaurants in New Buffalo, Michigan, South Bend, Indiana and the surrounding area. Four Winds Casinos offers fine dining at Copper Rock Steakhouse, modern dining with a twist at Kankakee Grille, and our popular Timbers Fast Food & Deli.