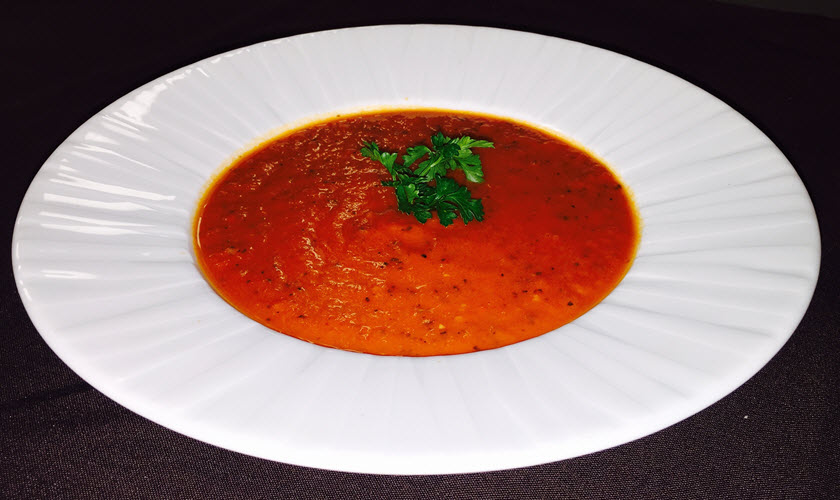 Roasted Red Pepper & Mascarpone Cheese Soup
Date of Post: Feb 22, 2016
It's a great feeling on a cold day to indulge in a warm cup of our Roasted Red Pepper & Mascarpone Cheese Soup.
Ingredients
4 1/4 tbs  Butter
1 lrg Stalk Celery, diced
1/4 Onion, diced
1 Tbsp Garlic & Shallot, minced
2 Tbsp Chicken Base (low sodium)
8 C Tap Water
15 Roasted Red Peppers
20 oz Diced Tomatoes
1 /12 tsp Canned Chipotle Peppers
Black Pepper (To Taste)
2 tsp Sugar
Kosher Salt (To Taste)
20 oz Mascarpone Cheese
6 Tbsp Sour Cream
­Preparation
1.) Preheat oven to 450° and roast peppers until they blister.
2.) Remove peppers from oven and once they are cool enough to handle, remove skin, stem and seeds.
3.) Sauté the celery and onions in the butter until translucent.
4.) Add 8 cups of water and everything else except for the mascarpone and sour cream.
5.) Bring to a simmer for 10 minutes then blend with a stick blender. Continue simmering for 20 minutes.
6.) Add the sour cream and mascarpone cheese and blend until soup is velvety smooth.
7.) Adjust thickness to desired level using water to loosen.
Now that you've made a soup perfect for a cold winter day, share photos of your masterpiece on social media with #FourWindsCasino or by emailing photos to social@fourwindscasino.com. Emailed or tagged photos could be featured on our Facebook, Twitter, Instagram, Pinterest, and Google+ pages!

The Culinary Team at Four Winds Casinos is dedicated to the art of preparing and serving delectable dishes. We enjoy sharing recipes with our guests and fans because we know you love our restaurants—which are some of the finest restaurants in New Buffalo, Michigan, South Bend, Indiana and the surrounding area. Four Winds Casinos offers fine dining at Copper Rock Steakhouse, modern dining with a twist at Kankakee Grille, and our popular Timbers Fast Food & Deli.