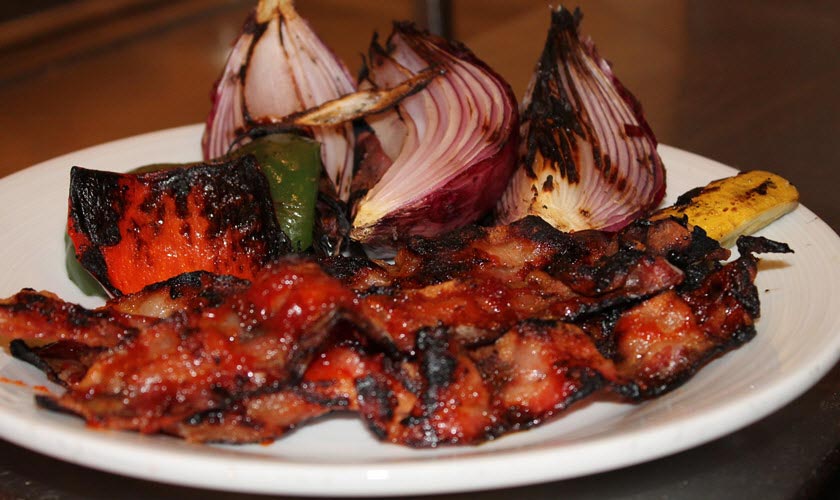 Spicy BBQ Bacon
Date of Post: Jun 14, 2017
Kick-up your grilling game with our Sriracha Barbeque Sauce! Whether it be on chicken, steak, or bacon, this is the perfect recipe for a Father's Day Feast.
Ingredients
1 tsp Onion Powder
1 tsp Garlic Powder
1 tsp Kosher Salt
1 C Firmly Packed Golden Brown Sugar
1 32 oz Bottle of Ketchup
1 Tbsp Olive Oil
1 C Apple Cider Vinegar
1/2 C Apple Juice
1/2 C Honey
6 Tbsp Sriracha Sauce
­
Preparation

1.) Rub together dry ingredients in a stainless steel pot
2.) Whisk wet ingredients into the dry ones and set to simmer
3.) Stir occasionally for 30 minutes or until sugar is dissolved
4.) Add the sauce to your favorite items and enjoy!

Now that you have a recipe to help you become the grill master, share photos of your grilling creations on social media with #FourWindsCasino or by emailing photos to social@fourwindscasino.com. Emailed or tagged photos could be featured on our Facebook, Twitter, Instagram, Pinterest, and Google+ pages!
The Culinary Team at Four Winds Casinos is dedicated to the art of preparing and serving delectable dishes. We enjoy sharing recipes with our guests and fans because we know you love our restaurants—which are some of the finest restaurants in New Buffalo, Michigan, South Bend, Indiana and the surrounding area. Four Winds Casinos offers fine dining at Copper Rock Steakhouse, modern dining with a twist at Kankakee Grille, and our popular Timbers Fast Food & Deli.