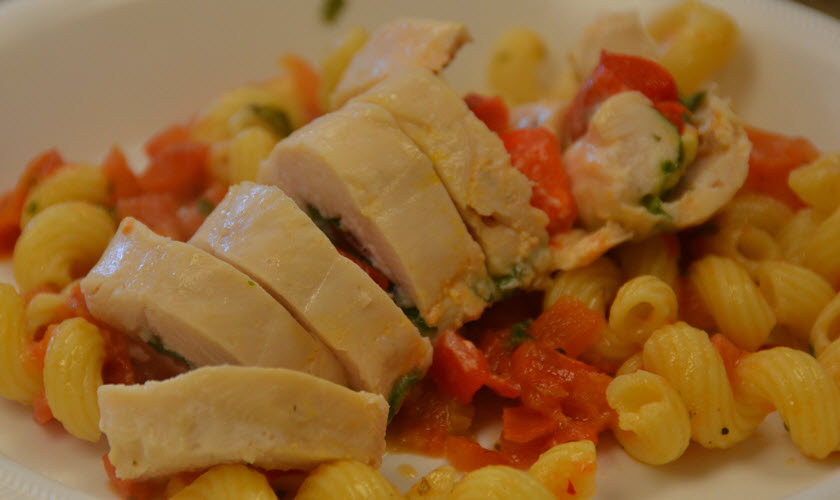 Spinach & Roasted Red Pepper Stuffed Chicken with Herb Sauce
Date of Post: Dec 6, 2013
If you're looking for a simple meal bursting with flavor, this chicken and pasta dish using fresh ingredients like tomato, basil and parsley is sure to please. It's one of Chef Brandon's (Hard Rock® Cafe) favorites to prepare when he's entertaining, and he wanted to share it with our guests!
Spinach & Roasted Red Pepper Stuffed Chicken
(Makes 4 servings)
Ingredients
4 each, 5-ounce boneless, skinless chicken breasts
1 cup fresh spinach leaves
1 cup roasted red peppers (long strips)
Non-stick cooking spray
½ cup provolone cheese
4 pieces of aluminum foil (10"x10")
Salt and pepper to taste
Preparation
Preheat an oven to 350 degrees F (175 degrees C).
Place your chicken breasts between two pieces of plastic wrap and pound with a mallet or a small frying pan so the chicken breasts flatten out evenly.
Lay foil pieces flat, spray with pan spray until one side of the foil is covered, and lay the chicken breast in the middle of the foil.
Season the chicken breast with salt and pepper.
Lay the spinach evenly on top of the seasoned chicken.
Lay the peppers and provolone on top of the spinach.
Starting on one edge of the breast, roll chicken up tightly. Roll chicken breast in the aluminum foil forming a tight rolled cylinder. Wrap rolled chicken breast with foil and twist each end to seal.
Place in the oven for 25 minutes or until the internal temperature reaches 165 degrees F.
Once the chicken is fully cooked remove from the oven, unwrap from the foil, and slice into small medallions. Serve immediately with pasta and sauce.
Pasta
You can use your favorite pasta for this dish, but we recommend paccheri, large macaroni or fusilli for this dish. Prepare your pasta according to the instructions on the box (or if you're really brave, make it homemade!).
Tomato Herb Sauce
Ingredients
4 large ripe tomatoes
¼ cup extra virgin olive oil
2 cloves minced garlic
¼ cup fresh chopped basil
¼ cup fresh chopped parsley
½ teaspoon crushed red pepper flakes
¼ teaspoon salt
¼ teaspoon pepper
¼ cup Romano cheese
¼ cup white wine
The juice from half of a lemon
Preparation
Heat a large sauté pan with the olive oil. Place the tomatoes, garlic, crushed peppers, salt and pepper, and Romano into the pan and cook till the tomatoes soften and liquid begins to form in the pan.
Add the white wine and lemon juice to deglaze the pan.
Add the basil and parsley.
Remove from heat and pour precooked pasta immediately.
Now that you've prepared everything, it's time to plate your delicious pasta meal. Place several chicken medallions on your plate, add some pasta and sauce and top with the Romano cheese.
If you want to share photos of your masterpiece, email them to social@fourwindscasino.com and we could feature them on Facebook!
The Culinary Team at Four Winds Casinos is dedicated to the art of preparing and serving delectable dishes. We enjoy sharing recipes with our guests and fans because we know you love our restaurants—which are some of the finest restaurants in New Buffalo, Michigan, South Bend, Indiana and the surrounding area. Four Winds Casinos offers fine dining at Copper Rock Steakhouse, modern dining with a twist at Kankakee Grille, and our popular Timbers Fast Food & Deli.