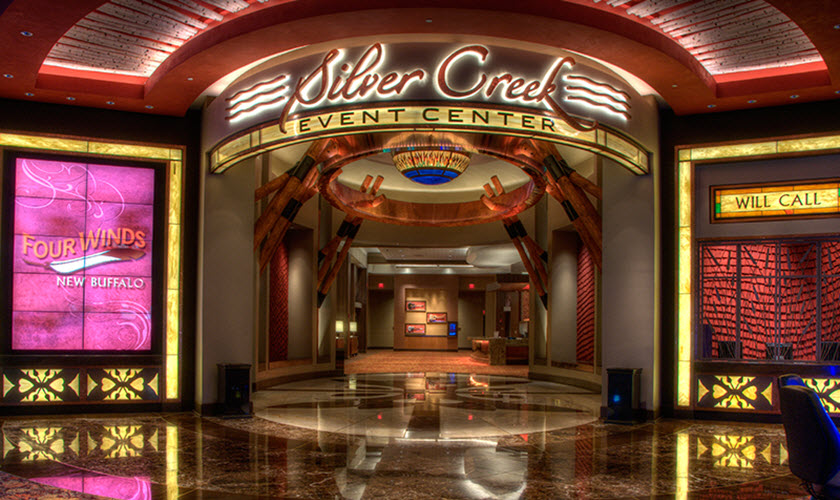 Stars At Silver Creek
Date of Post: Jan 17, 2018
Silver Creek Event Center is the place to go for legendary concerts and comedians! Enhance your Silver Creek experience with a dinner and hotel package. Package details vary based on event and can be purchased through Ticketmaster.com. Here is the current schedule; watch for more concert announcements by following us on Facebook and Twitter.  
Happy Together Tour - August 9 
Music fans have been enjoying the hits of the sixties and seventies since the Summer of Love and beyond. They get to relive those moments on the renowned Happy Together Tour 2019, which is going on its 10th consecutive year. This summer, the Happy Together Tour returns with six headline artists who delivered the biggest hits of the era: The Turtles, Chuck Negron, formerly of Three Dog Night, Gary Puckett & The Union Gap, The Buckinghams, The Classics IV and The Cowsills.
- The Turtles continue to be the signature headliners of the Happy Together Tour. As always, Mark Volman will bring his famous antics to the stage along with the Archie's Ron Dante (who will again be replacing Howard Kaylan). Together they will be performing all of the Turtles' magical Top 40 Hits including "It Ain't Me Babe," "Elenore," "She'd Rather Be With Me," "You Showed Me", The Archies' mega-hit "Sugar Sugar," and the title of the tour "Happy Together."
- Chuck Negron, formerly of Three Dog Night, is back on the Happy Together Tour due to popular demand. He brings Three Dog Night's biggest hits to the stage, including "Joy To The World," "Mama Told Me Not To Come," "Shambala," "One", "Easy To Be Hard" among others.
- Gary Puckett & The Union Gap is thrilled to be on the Happy Together Tour again. Gary's trademark voice will be belting out his hits one more time. Fans will affectionately remember "Young Girl," "Over You" "Woman, Woman", "This Girl Is A Woman Now", "Lady Willpower", "Don't Give In To Him" and more.
- The Buckinghams will be back on the tour for the first time in five years! The band formed in 1966, and went on to become one of the top-selling acts of 1967, including their #1 hit "Kind of a Drag," and other hits "Don't You Care", "Mercy, Mercy, Mercy" and "Hey Baby, They're Playing Our Song." With three chart hits at one time on two labels, in 1967, Billboard Magazine named them "The Most Listened to Band in America."
- The Classics IV is the newest addition to the Happy Together lineup. With their southern soft rock sound, they are one of the most popular and influential pop groups of the 60s and 70s. They achieved phenomenal success with multiplatinum hits "Spooky," "Stormy," "Traces," and Everyday With You Girl."
- The Cowsills have been dazzling crowds the last four years on the Happy Together Tour with their effervescent brand of contagious pop magic. Bob, Paul and Susan Cowsill are a family singing group and the original inspiration for television's, The Partridge Family. Best known for songs "The Rain, The Park and Other Things," "Hair," "Indian Lake" and "Love American Style." The Cowsills appeared on numerous TV shows including The Ed Sullivan Show and The Tonight Show with Johnny Carson.
Share
Boyz II Men - August 16 
Boyz II Men remains one of the most truly iconic R&B groups in music history. The group redefined popular R&B and continues to create timeless hits that appeal to fans across all generations, the band has penned and performed some of the most celebrated classics of the past two decades. The group's 4 Grammy Awards are just the tip of the iceberg: throughout their 25-year career, Boyz II Men have also won a whopping 9 American Music Awards, 9 Soul Train Awards, 3 Billboard Awards, and a 2011 MOBO Award for Outstanding Contribution to Music, a star on the Hollywood Walk of Fame, as well and a Casino Entertainment Award for their acclaimed residency at the Mirage Resort and Casino in Las Vegas, which has been ongoing since 2013. The trio holds the distinction of being the best-selling R&B group of all time, with an astounding 60 million albums sold. Boyz II Men's past hits include: "End of the Road," "I'll Make Love to You," "One Sweet Day," "Motownphilly" and many others.
Jon Anderson of Yes - August 16
Jon Anderson is undoubtedly one of the most recognizable voices in progressive rock as the lead vocalist and creative force behind Yes. Anderson was the author and a major creative influence behind the ground-breaking album 'Fragile' as well as the series of epic, complex pieces such as "Awaken", "Gates of Delirium" and especially "Close to the Edge" which were central to the band's success. Additionally, Anderson co-authored the group's biggest hits, including "I've Seen All Good People", "Roundabout", and "Owner Of A Lonely Heart". In addition, Anderson had great success with a series of albums he did with Vangelis, and most recently released the critically-acclaimed solo album entitled 'Survival and Other Stories'. Anderson was born John Roy Anderson in Accrington, Lancashire, England. In addition to music, one of Jon Anderson's passions is painting, and he uses his art as yet another channel for his creativity and self-expression. His artwork has been shown in galleries and is available to view on his official website. The worldwide commercial release date of Anderson's new album 1000 Hands will be announced later this summer.
Terry Fator - August 24
Terry Fator is a singer, comedian, ventriloquist and celebrity impressionist who won "America's Got Talent" in 2007. It's a long journey from Corsicana Texas to the Las Vegas stage, but Fator made it to the top as the headliner at the Mirage Hotel in Vegas for the past 10 years. Terry can impersonate over 100 voices with favorites being Karen Carpenter, Elton John, Garth Brooks, Justin Timberlake, Elvis, Meghan Trainor and Bruno Mars. His cast of characters includes: Winston the Impersonating Turtle; the World's Greatest Elvis Impersonator; Elton John; Vicki the Cougar; President Donald Trump and annoying neighbor Duggie. But even with all his time performing, he always finds time to enjoy life with his beautiful wife Angie and to give of his time to the cause he passionately believes in, helping America's veterans. More information on Terry Fator can be found at terryfator.com.
Theresa Caputo - August 30 & 31
"The Experience" brings Theresa face-to-face with her fans, as she lets spirit guide her through the audience. A video display ensures everyone in the venue has an up-close-hands-on experience regardless of seat location. "The experience isn't about believing in mediums. It's about witnessing something life-changing" says Theresa Caputo. "It's like Long Island Medium live, witnessing first-hand spirit communication."
The highly-rated show Long Island Medium follows Theresa's life as a typical Long Island mom with one very big difference…she can communicate with the dead. Since she cannot "turn off" this gift, messages from departed loved ones can come through at any time, which lead to spontaneous readings with those she encounters. In addition to her television show, Theresa has appeared on such programs as The Tonight Show with both Jay Leno and Jimmy Fallon, The Steve Harvey Show, Live with Kelly and Michael, Dr. Oz, and The Today Show.
Theresa's latest book Good Grief: Heal Your Soul, Honor Your Loved Ones, and Learn to Live Again was released in 2017 and debuted on the New York Times bestseller list at No. 3. With her energetic, positive and encouraging tone, Theresa uses the lessons from Spirit to guide the reader through grief toward a place of solace and healing. Theresa's second book You Can't Make This Stuff Up was released in September 2014 and debuted at No. 9 on the New York Times bestseller list. Her first book There's More to Life Than This was released in the fall of 2013. 
Theresa has been a practicing medium for over 20 years. She helps individuals find closure by delivering healing messages. For Theresa, this is not just her job... this is her life. Learn more about Theresa at www.theresacaputo.com.
Air Supply - September 6 
Graham Russell and Russell Hitchcock, the men of Air Supply, met in 1975 in Sydney, Australia. They became instant friends with their common love for The Beatles and, of course, singing. The duo began playing pizza parlors, coffee bars and night clubs with just one guitar and two voices. They quickly gained a reputation for great harmonies and for original songs that Graham was constantly writing. After their song "Lost in Love" went to No. 1 in Australia, they began to open for Rod Stewart across Australia and then throughout the U.S. and Canada. In 1980, music industry executive Clive Davis in New York signed Air Supply to Arista Records, and "Lost in Love" became the fastest selling single in the world, leaping to the top of all of the charts. The second single "All Out of Love," went up the charts even quicker. Seven top-five singles later, Air Supply at that time had equaled The Beatles' run of consecutive top five singles. The albums Lost in Love, The One That You Love, Now & Forever, and The Greatest Hits sold in excess of 20 million copies. "Lost in Love" was named Song of the Year in 1980, and, with the other singles, sold more than 10 million copies. Air Supply celebrated their 40th anniversary in 2015 and continue to delight audiences all over the world.
Ultimate Queen Celebration - September 7 
Queen's Roger Taylor and Brian May handpicked singer Marc Martel to take on the lead vocals for their Queen tribute tour. His audition video of "Somebody to Love" garnered 13 million views on YouTube. Marc not only sounds dead-on like Freddie Mercury, but he embodies the heart-and-soul Freddie poured into every song that he performed. The Ultimate Queen Celebration is an evening you'll be talking about long after the lights go down. It's dozens of songs that Queen made famous including "Radio Gaga", "Tie Your Mother Down", "Fat Bottomed Girls", "Killer Queen", "Somebody to Love", "Bohemian Rhapsody" and more. The Ultimate Queen Celebration is comprised of lead vocalist Martel, Brandon Ethridge (keys), Tristan Avakian (guitar), Jason Gianni (Drums), and Mike Cohen (bass), among others. To learn more about Marc Martel and The Ultimate Queen Celebration, visit www.camatalent.com/queen.
Chaka Khan - September 13
A songwriter, actor, author, philanthropist, entrepreneur and activist, Chaka Khan has influenced generations of recording artists. A 10-time Grammy winner, she has the rare ability to sing in seven music genres: R&B, pop, rock, gospel, country, world music and classical. Throughout her legendary career, Chaka has released 22 albums and racked up 10 #1 Billboard magazine charted songs, seven RIAA certified gold singles and 10 RIAA certified gold and platinum albums. Chaka's recorded music has produced over 2,000 catalog song placements. Chaka's latest body of work, Hello Happiness, a 7-track album executive produced by English production powerhouse Switch, was released on February 15th, 2019 under Diary Records/Island Records.
Early on, she caught the attention of music icon Stevie Wonder, who penned her first smash hit with Rufus, "Tell Me Something Good." With Chaka as the group's dynamic center, Rufus became one of the most popular acts around with songs such as "Sweet Thing," "Everlasting Love," "Do You Love What You Feel?" and "Ain't Nobody." In 1978, Chaka blazed onto the music scene as a solo artist with the release of the smash hit "I'm Every Woman." However, the song that made Chaka Khan a household name and propelled her to superstardom the world over was "I Feel For You." In 2011, she was honored for her legendary career with a star on the Hollywood Walk of Fame.
Chaka Khan is also an entrepreneur. In March 2019, in she launched a full collection of Chaka Khan inspired wigs and hair pieces for the everyday, modern female consumer, powered by Indique Hair and in collaboration with her long-term hair stylist and creative director, turned manager, George Robert Fuller.
38 Special - September 27
After more than four decades together, 38 Special continues to bring a signature blast of Southern Rock to over 100 cities a year. With sales in excess of 20 million, most associate the band with their arena-rock pop smashes, "Hold On Loosely," "Rockin' Into the Night," "Caught Up in You," "Fantasy Girl," "If I'd Been the One," "Back Where You Belong," "Chain Lightnin'," and "Second Chance." The band is comprised of guitarist/vocalist Don Barnes, bassist Barry Dunaway, drummer Gary Moffatt and keyboardist/vocalist Bobby Capps. The most recent addition to the band is legendary virtuoso guitarist and vocalist Jerry Riggs. Since 1976, the band has released more than 15 albums.
Steve Martin and Martin Short - September 28
Steve Martin is one of the most well-known talents in entertainment. His work has earned him an Academy Award®, five Grammy® awards, an Emmy®, the Mark Twain Award, and the Kennedy Center Honors. Martin began his career on "The Smothers Brothers Comedy Hour" (1967-1969), for which he earned his first Emmy Award for Outstanding Writing Achievement in Comedy, Variety or Music in 1969. In the mid-1970s, Martin shone as a stand-up on "The Tonight Show Starring Johnny Carson" and "Saturday Night Live." Martin's films are widely popular successes and include The Jerk (1979), Planes, Trains & Automobiles (1987), Parenthood (1989), and Father of the Bride (1991). In 2013, Martin released histhird full-length album called Love Has Come For You, a unique collaboration with songwriter Edie Brickell. Love Has Come For You, won a Grammy® for "Best American Roots Song" for the title track and inspired their musical Bright Star. Bright Star received five Tony Award nominations and also received Outstanding New Broadway Musical and Outstanding New Score at the Outer Critics Circle Awards. As an author, Martin's work includesthe novel An Object of Beauty, the play Picasso at the Lapin Agile, a collection of comic pieces, Pure Drivel, a bestselling novella, Shopgirl, and his memoir Born Standing Up. His play Meteor Shower premiered on Broadway in 2017.
Martin Short, a celebrated comedian and actor, has won fans and accolades in television, film and theater since his breakout season on "Saturday Night Live" over 30 years ago. His popularity and exposure on "SNL" led Short to cross over quickly into feature films, including Three Amigos, Innerspace and Father of the Bride. An accomplished stage actor, Short won a Tony, Theatre World Award and an Outer Critics Circle Award for his role in the revival of "Little Me." A two-time primetime Emmy winner and multinominated for both primetime and daytime Emmys, Short returned to television in 1998 for the miniseries "Merlin" and host of "The Martin Short Show." Short's New York Times bestselling memoir, "I Must Say: My Life as a Humble Comedy Legend, "was published in 2014. In 1994, Short was awarded the Order of Canada—the Canadian equivalent to British knighthood. He was also inducted into the Canadian Walk of Fame in June 2000. In 2017 he received a Lifetime Artistic Achievement Award from the Governor-general of Canada.
In 2018, Martin and Short's Netflix special titled "An Evening You Will Forget For The Rest Of Your Life" received four Emmy nominations.
Dennis DeYoung - October 4
In 1977, history was made upon the release of THE GRAND ILLUSION album. DENNIS DEYOUNG AND THE MUSIC OF STYX celebrate that history by performing the album in its entirety plus all eight Top Ten hits LADY, BABE, COME SAIL AWAY, TOO MUCH TIME ON MY HANDS, BEST OF TIMES, MR. ROBOTO plus classic rock anthems RENEGADE, BLUE COLLAR MAN, SUITE MADAME BLUE and many more. DENNIS DEYOUNG is a founding member of STYX and the lead singer and songwriter on seven of the bands eight top ten hits. DENNIS is a legendary singer, songwriter, keyboardist, composer and record producer with a career spanning over 40 years. His voice is one of the most recognizable in the music world today and continues to inspire new generations of fans. THE ORIGINAL VOICE....ALL THE CLASSIC HITS….ALL THE MEMORIES....ONE UNFORGETTABLE EVENING.
Engelbert Humperdinck - October 19 
In a career spanning almost 50 years, Engelbert has generated sales in excess of 140 million records, including 64 gold albums and 35 platinum, four Grammy nominations, a Golden Globe, and stars on the Hollywood Walk of Fame, Las Vegas Walk of Fame, and Leicester Walk of Fame. He has performed for the Queen four times, several presidents and many heads of state. He has recorded everything from the most romantic ballads to movie theme songs, disco, rock, and even gospel. His unique voice has charmed millions of fans around the globe. However, it's not just the voice, but the man himself, with his endearing sense of humor and self-deprecating jokes. Engelbert has managed to strike a new chord with a younger generation after appearing on MTV several times.
Chris D'Elia - Follow The Leader - November 8
Chris D'Elia has become one of the most in-demand performers in comedy. As a stand-up, D'Elia is currently touring the United States and Canada with his show, Follow the Leader. D'Elia has three comedy specials available on Netflix, Man on Fire (2017), Incorrigible (2015) and he was chosen as one of four comics to represent the US in Netflix's 2019 series, Comedians of the World which features 47 comedians from 13 regions in eight different languages. His first special, White Male. Black Comic, debuted on Comedy Central in 2013 and he can also be seen on Comedy Central's Roast of Justin Bieber (2015). D'Elia also hosts the highly successful podcast Congratulations with Chris D'Elia which has been a mainstay on iTunes' comedy podcast charts since its debut in February 2017. On screen, D'Elia is most known for his starring role in the NBC's comedy series Undateable. D'Elia can be seen in the upcoming season 2 of You on Netflix. He can also be seen in the Netflix feature Little Evil opposite Adam Scott and Evangeline Lilly. D'Elia currently lives in Los Angeles.
Purchase Tickets
Jason Mraz & Raining Jane - November 22
Last year, as Jason Mraz celebrated the 15th anniversary of his Platinum-certified debut album Waiting For My Rocket To Come, he began to ponder the meaning of his time in the spotlight since getting his start in coffeehouses in San Diego. While amassing a global fan base for his positive message and soulful, folk-pop sound, Mraz has earned numerous diamond and platinum certifications for his various releases, including his classic singles "I Won't Give Up," "Lucky," and the record-breaking "I'm Yours." He has won two Grammy Awards, received the prestigious Songwriter Hall of Fame Hal David Award, and sold out such fabled venues as The Hollywood Bowl, Madison Square Garden, and London's O2 Arena.
Straight No Chaser - November 29
Straight No Chaser's latest studio album, "ONE SHOT" has SNC doing what they do best with distinctive takes on classic pop and soul favorites, including Ricky Martin's "Livin La Vida Loca," Fleetwood Mac's "Go Your Own Way," James Brown's "Papa's Got a Brand New Bag," and the LP's first single, an energetic mash-up of Boyz II Men and Montell Jordan entitled "Motownphilly/This Is How We Do It." 
"ONE SHOT" is further highlighted by a richly harmonized version of Simon & Garfunkel's "Homeward Bound" in which the hard-touring group expresses their deep yearning for the comforts of family life. In addition, the LP features alongside seven entertaining conversational interludes wherein the nine members of Straight No Chaser trace their unlikely rise from an undergraduate singing group at Indiana University to a beloved Atlantic Records act with a devoted international fanbase.