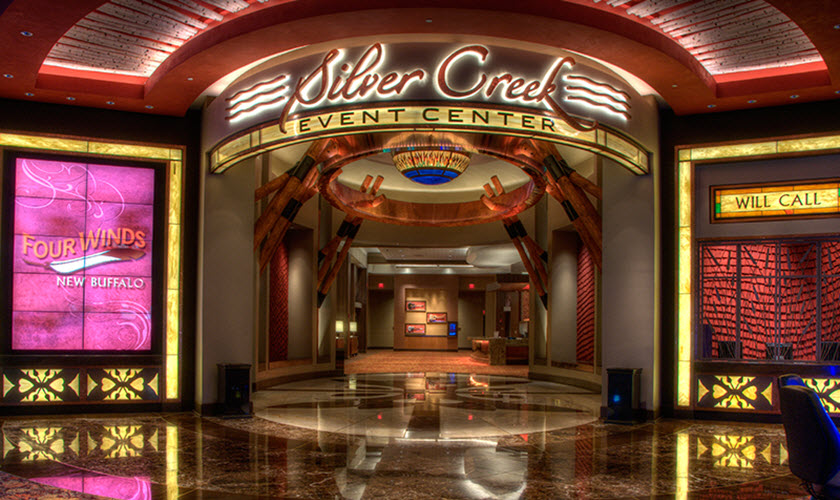 Stars At Silver Creek
Date of Post: Jan 17, 2018
Silver Creek Event Center is the place to go for legendary concerts and comedians! Enhance your Silver Creek experience with a dinner and hotel package. Package details very based on event and can be purchased through Ticketmaster.com. Here is the current schedule; watch for more concert announcements by following us on Facebook and Twitter.  
The Temptations & The Four Tops - April 20 
For more than 50 years, The Temptations have prospered, propelling popular music with a series of smash hits, and sold-out performances throughout the world. An essential component of the original Motown machine, The Temptations began their musical life in Detroit in the early sixties. It wasn't until 1964 however, that the Smokey Robinson written-and-produced "The Way You Do the things You Do" turned the guys into stars. An avalanche of hits followed... "My Girl," "It's Growing," "Since I Lost My Baby;," "Get Ready," "Ain't Too Proud to Beg," "Beauty Is only Skin Deep," "I Wish It Would Rain".
The classic lineup was Otis Williams, Melvin Franklin, Paul Williams, Eddie Kendricks and David Ruffin. Beyond the fabulous singing, The Temptations became known for smooth stepping and flawless presentations. The Temptations Walk became a staple of American style. Millions of fans saw their Temptations as cultural heroes. Other stellar singers...Richard Street, Ali-Ollie Woodson, Theo Peoples...joined and adding their luster to the groups' growing fame. The current lineup consists of Otis Williams, Ron Tyson, Terry Weeks, Larry Braggs, and Willie Greene Jr. In 1989, the band was inducted into the Rock and Roll Hall of Fame, and in 2013 received the Grammy Lifetime Achievement Award.
The Four Tops, originally called the Four Aims, made their first single for Chess in 1956, and spent seven years on the road and in nightclubs, singing pop, blues, Broadway, but mostly jazz—four-part harmony jazz. When Motown's Berry Gordy Jr. found out they had hustled a national "Tonight Show" appearance, he signed them without an audition to be the marquee act for the company's Workshop Jazz label. Their first Motown hit, "Baby I Need Your Loving" in 1964, made them stars. "I Can't Help Myself (Sugar Pie, Honey Bunch)," a no. 1 R&B and Pop smash in 1965, is one of Motown's longest-running chart toppers. It was quickly followed by a longtime favorite, "It's The Same Old Song". Their commercial peak was highlighted by a romantic trilogy, "Reach Out I'll Be There," "Standing In The Shadows Of Love" and "Bernadette".
In 1990, with 24 Top 40 pop hits to their credit, the Four Tops were inducted into the Rock & Roll Hall of Fame. Though they would no longer have hits on record, the group continued to be a hit in concert, touring incessantly. The band's current lineup is Ronnie McNeir, Roquel Payton, Harold "Spike" Bonhart and Abdul "Duke" Fakir, the only surviving founding member of the group.
Eddie Money - May 4
In 1968, after serving as a New York City police officer for two years, Eddie Money (born Edward Mahoney) put his law enforcement career on hold to pursue music. After signing a recording contract with Columbia Records, Money burst onto the scene with his eponymous debut album in 1977. Fans immediately fell in love with Money's sound, and the album, which went double platinum, featured hits like "Baby Hold On" and "Two Tickets to Paradise." Money followed the success of his debut album with a stream of Top 40 hits, as well as some of the era's most creative videos for songs like "Think I'm in Love" and "Shakin." In 1986, Money released Can't Hold Back, which featured the classic, Grammy-nominated duet with Ronnie Spector, "Take Me Home Tonight." The song reached number 4 on the Billboard Hot 100. The album went platinum and also featured the hit "I Wanna Go Back." These days, Money continues to delight new and old fans alike at venues throughout the country.
The Clairvoyants - May 11
Thommy Ten and Amelie Van Tass (The Clairvoyants) were born and raised in Austria and now reside both there and in America. When they met in 2011, they began to develop their "second sight" act, and two months later brought it to the stage for the first time. In 2014, they received their first long-term contract in America when they performed in the show The Illusionarium by Jeff Hobson. They were subsequently offered a featured spot in The Illusionists, the largest touring magic show in the world, produced by Simon Painter. With The Illusionists they toured Australia, Mexico and the Middle East and since that time have also appeared in The Illusionists 2.0, The Illusionists—Live From Broadway and The Illusionists—Turn of the Century on Broadway. In 2016, they were finalists on "America's Got Talent", chosen from more than 100,000 contestants. Van Tass and Ten were awarded the "German Champions of Mentalism", "Magicians of the Year, 2015" and, were enthusiastically chosen as the "World Champions of Mentalism, 2015", a prize that hadn't been awarded in 30 years. They are currently touring America and Europe with continued sold out shows and standing ovations.
Billy Gardell – May 25
Emmy®-nominated actor and comedian Billy Gardell starred in the CBS television series "Mike and Molly" from 2010-2016 as Officer Mike Biggs. He followed that by appearing as Colonel Tom Parker, the infamous manager of Elvis Presley, in the CMT series "Sun Records." In 2016 he received a daytime Emmy-nomination as best gameshow host of "Monopoly Millionaires Club." He made his major motion picture debut alongside Anthony Quinn and Sylvester Stallone in "Avenging Angel" (2002). He has also appeared in "Bad Santa" (2003), and "You, Me & Dupree" (2006).
YES – June 8
YES are an English rock band who have achieved worldwide success with their progressive, artistic, and symphonic style of rock music. Pioneers of progressive rock, YES have achieved worldwide success with a history spanning 50 years and 21 studio albums. The band is known for its expansive songs, esoteric lyrics, elaborate album art and live stage sets. The band's current line-up consists of singer Jon Davison, guitarist Steve Howe, drummer Alan White, keyboardist Geoff Downes and bassist Billy Sherwood. YES alumni are Jon Anderson, Chris Squire, Rick Wakeman, Bill Bruford, Trevor Horn, Trevor Rabin, Tony Kaye, Peter Banks, Patrick Moraz, Benoit David, Oliver Wakeman, Igor Khoroshev and Tom Brislin.
Air Supply – June 22
Graham Russell and Russell Hitchcock, the men of Air Supply, met in 1975 in Sydney, Australia. They became instant friends with their common love for The Beatles and of course, singing. The duo began playing pizza parlors, coffee bars and night clubs with just one guitar and two voices. They quickly gained a reputation for great harmonies and for original songs that Graham was constantly writing. After their song "Lost In Love" went #1 in Australia, they began to open for Rod Stewart across Australia and then throughout the U.S. and Canada. In 1980, music industry executive Clive Davis in New York signed Air Supply to Arista Records, and "Lost in Love" became the fasted selling single in the world, leaping to the top of all the charts. The albums Lost in Love, The One That You Love, Now & Forever and The Greatest Hits sold in excess of 20 million copies. Air Supply celebrated their 40th anniversary in 2015 and continues to delight audiences all over the world.
 Jethro Tull by Ian Anderson – June 30
Early in 1968, a group of British musicians joined together in Luton, a town north of London, to form Jethro Tull. They began playing in pubs and clubs throughout southern England, eventually landing a standing gig at London's famous Marquee Club in Soho. The first album, The Was, was released in late 1968, followed by Stand Up, Benefit, Aqualung and Thick as Brick. Various band members came and went, but the charismatic front man and composer, flutist and singer Ian Anderson, continued to lead the group through its various musical incarnations. Today, with over 30 albums selling more than 50 million copies, Jethro Tull continues to perform over 100 concerts each year.
Melissa Etherdige - July 3 
Melissa Etheridge stormed onto the American rock scene in 1988 with the release of her critically acclaimed self-titled debut album, which led to an appearance on the 1989 Grammy Awards show. Known for her confessional lyrics and raspy, smoky vocals, Etheridge has remained one of America's favorite female singer-songwriters for more than two decades. In February 2007, Melissa Etheridge celebrated a career milestone with a victory in the Best Song category at the Academy® Awards for "I Need to Wake Up," written for the Al Gore documentary on global warming, "An Inconvenient Truth".  In 2016, Melissa Etheridge released Memphis Rock & Soul. "The album is a triumphant application of Etheridge's signature rasp and substantial guitar chops…," said one review, while Edge Media Network declared Melissa "is a singer who can fire it up like Janis Joplin, touch the heart like Elvis Presley and steam up the windows like her musical hero, Otis Redding."
Get The Led Out - July 6
From the bombastic and epic, to the folky and mystical, Get The Led Out (GTLO) has captured the essence of the recorded music of Led Zeppelin and brought it to the concert stage. The Philadelphia-based group consists of six, veteran musicians intent on delivering Led Zeppelin live, like you've never heard before. GTLO re-creates the songs in all their depth and glory with the studio overdubs that Zeppelin themselves never performed. When you hear three guitars on the album…GTLO delivers three guitarists on stage. No wigs or fake English accents, GTLO brings what the audience wants…a high energy Zeppelin concert with an honest, heart-thumping intensity. The band consists of Paul Sinclair - lead vocals, harmonica; Paul Hammond - electric and acoustic guitars, mandolin, Theremin; Jimmy Marchiano - electric and acoustic guitars, vocals; Andrew Lipke - keyboards, guitar, vocals, percussion; Adam Ferraioli - drums, percussion; and Phil D'Agostino – bass.
Uncork and Unwind - July 8 
At the exclusive tasting event, guests can interact with the craftsmen and women who are behind the scenes at the best Michigan wineries. Plus, Four Winds Casinos will offer seasonal food options for purchase to complement the tastings. Live music provided by Kaleidoscope Eyes and Erik Donner will enhance the tasting experience.
Advance tickets are available for purchase through Ticketmaster for $20, plus applicable fees, and includes admission, a souvenir glass and a wine tasting card that can be redeemed for up to 10 samplings. Tickets purchased at the door will be $25 and includes event admission, a souvenir glass and a wine tasting card redeemable for up to 5 samplings. Designated drivers can purchase 5 tasting tickets for $5, redeemable for food or non-alcoholic beverages.
Johnny Mathis - July 20
The fourth of seven children, John Royce Mathis was born on September 30, 1935 in Gilmer, Texas. As a small boy he learned an appreciation of music from his father Clem who taught him his first song, "My Blue Heaven". He sang in the church choir, school functions, community events, for visitors in their home as well as amateur shows in the San Francisco area.
In 1954, Johnny enrolled at San Francisco State College (now called San Francisco State University). While there, Johnny set a high jump record of 6'-5 1/2". Just as when he was in high school, Johnny's name was frequently mentioned in the sports sections of the Northern California newspapers. While there, a fellow student brought Johnny in for a Sunday afternoon jam session at a local nightclub. It was at the Black Hawk that Helen Noga, co-owner of the club, first heard him sing. She decided that she wanted to manage his career.
In early September of 1955, Johnny landed a job singing weekends at Ann Dee's 440 Club. He continued his studies at San Francisco State and gained additional fame as a high jumper. In early 1956, Johnny was asked to attend the trials for the 1956 Olympic teams that would travel to Melbourne, Australia that summer. At the same time, Columbia Records requested that Johnny come to New York to start arrangements for his first recording session. Clem helped his son decide that his future and best interests were with the recording company. So, Johnny gave up his chance to become a member of the USA Olympic Team. He went to New York to record his first album in March of 1956.
The first album was a collection of jazz-oriented renditions of popular standards, "Johnny Mathis: A New Sound In Popular Song". Soon, Columbia placed Johnny under the supervision of producer Mitch Miller. Mitch favored using Johnny's voice to sing soft, romantic ballads. At his second recording session, in the fall of 1956, Johnny recorded two singles. These songs were to become among his most popular all-time greatest hits: "Wonderful, Wonderful" and "It's Not For Me To Say." These successes were followed by the monumental single "Chances Are" which became Johnny's first #1 hit. In late 1959, Johnny recorded another song that became synonymous with the name of Johnny Mathis, "Misty".
"Johnny's Greatest Hits" went on to become one of the most popular albums of all time and spent an unprecedented 490 continuous weeks (almost 10 years) on the BILLBOARD Top Albums Chart. This record has been noted in the GUINNESS BOOK OF WORLD RECORDS.
Johnny has been inducted into the Grammy Hall of Fame three times so far for "Chances Are", "Misty", and "It's Not For Me To Say", and in 2003 received the Lifetime Achievement Award by the Academy of Recording Arts and Sciences. Most impressive of all is at 82 years old he is still touring & recording, having recently released his newest album titled "Johnny Mathis Sings The Great New American Songbook".
The Beach Boys - July 27
The amazing yet true saga of The Beach Boys is well chronicled, and by any standard it's one of the greatest and most musical stories ever told. For five decades, The Beach Boys—America's first pop band to reach the 50-year milestone—has recorded and performed the music that has become the world's favorite soundtrack to summer. Their famous harmonies and classic songs continue to travel the world bringing "Good Vibrations" everywhere.
Happy Together Tour - August 10
Music fans have been enjoying the hits of the sixties and seventies since the Summer of Love and beyond. They get to relive those moments on the renowned Happy Together Tour 2018, which is going on its 9th consecutive year. This summer, the Happy Together Tour returns with six headline artists who delivered the biggest hits of the era: The Turtles, Chuck Negron, formerly of Three Dog Night, Gary Puckett & The Union Gap, The Association, Mark Lindsay, former Lead Singer of Paul Revere & The Raiders and The Cowsills.
• The Turtles continue to be the signature headliners of the Happy Together Tour. As always, founding member and singer Mark Volman will bring his infamous antics to the stage, however, for medical reasons, this summer the voice of The Archies, Ron Dante will stand in for singer Howard Kaylan. Dante's youthful sound is best known on hits such as "Sugar, Sugar" and "Jingle Jangle," which makes him the perfect understudy for the The Turtles' chart stoppers. The Turtles have sold over 40 million records worldwide. Their hits include: "Happy Together" "She'd Rather Be With Me," "Elenore," "It Ain't Me Babe", "You Showed Me" and many more.
• Chuck Negron, formerly of Three Dog Night, is back on the Happy Together Tour due to popular demand! He brings Three Dog Night's biggest hits to the stage, including "Joy To The World," "Mama Told Me Not To Come," "Shambala," "One", "Easy To Be Hard" among others.
• Gary Puckett & The Union Gap is thrilled to be on the Happy Together Tour again. Gary's trademark voice will be belting out his hits one more time. Fans will affectionately remember "Young Girl," "Over You" "Woman, Woman", "This Girl Is A Woman Now", "Lady Willpower", "Don't Give In To Him" and more.
• The Association is one of the most popular and successful bands to have come out of the sixties. They have sold millions of records and have seven Grammy Award nominations. They are best known for their No. 1 hits, "Never My Love," "Windy", "Cherish," as well as "Along Comes Mary" and "Everything That Touches You."
• Mark Lindsay, former lead singer of Paul Revere and the Raiders made his mark with "Kicks," "Hungry," "Him Or Me (What's It Gonna Be?)," "Steppin' Out," "Good Thing," "Indian Reservation," "Arizona" and many others. Lindsay was the co-founder and lead singer of this seminal act from its inception in 1963 through 1975. His voice is heard on all of the Raiders' 16 Top 20 Hits.
• The Cowsills have been dazzling crowds the last two years on the Happy Together Tour with their effervescent brand of contagious pop magic. Bob, Paul and Susan Cowsill are a family singing group and the original inspiration for television's, The Partridge Family. Best known for songs "The Rain, The Park and Other Things," "Hair," "Indian Lake" and "Love American Style." The Cowsills appeared on The Ed Sullivan Show and The Tonight Show with Johnny Carson.
Kenny Wayne Shepherd Band - August 24
Kenny Wayne Shepherd has, over a 20-year recording career, established himself as an immensely popular recording artist, a consistently in demand live act and an influential force in a worldwide resurgence of interest in the blues. The latest KWSB release, 'Lay It On Down', debuted at #1 on the Billboard Blues Chart, #1 on the Rock Chart, #1 on the Internet Chart and #5 on the over-all Top 200 Current Album Chart and features all-new material written by Kenny and several of his friends. His band consists of Kenny Wayne Shepherd (vocals, guitar); Noah Hunt (vocals); Chris "Whipper" Layton (drums); Kevin McCormick (bass); and Joe Krown (piano, organ).
Theresa Caputo - September 1 & 2
Theresa Caputo is from TLC's hit show, Long Island Medium, which follows Theresa's life as a typical Long Island wife and mom with one very big difference…she can communicate with the dead. Since she cannot "turn off" this gift, messages from departed loved ones can come through at any time, which leads to spontaneous readings with those she encounters. During her appearance at Four Winds New Buffalo, Theresa will share personal stories about her life and explain how her gift works. She will deliver healing messages to audience members and give people comfort knowing their loved ones who passed are still with them, just in a different way.  "The Experience" brings Theresa face-to-face with her fans, as she lets the spirit guide her through the audience. A video display ensures everyone in the venue has an up-close-hands-on experience regardless of seat location. "The experience isn't about believing in mediums. It's about witnessing something life-changing," Theresa says. "It's like Long Island Medium live, witnessing first-hand spirit communication."  
Purchase Tickets for September 1
Purchase Ticekts for September 2
REO Speedwagon - November 9
Formed in 1967 at college in Champaign, IL, signed in 1971, and fronted by iconic vocalist Kevin Cronin since 1972, REO Speedwagon's non-stop touring and recording jump-started the burgeoning rock movement in the Midwest. Platinum albums and radio staples soon followed, including the number one singles "Keep on Loving You" and "Can't Fight This Feeling," plus fan favorites like "Take It on the Run," and "Ridin' The Storm Out." The band released its most successful album—Hi Infidelity—in 1980, which spent 15 weeks at #1 and has since earned the RIAA's coveted 10X Diamond Award for surpassing 10 million units in the United States. Today, REO Speedwagon has sold 40 million albums around the globe and Cronin and bandmates—Bruce Hall (bass), Neal Doughty (keyboards), Dave Amato (guitar), and Bryan Hitt (drums)—are still electrifying concert audiences worldwide.