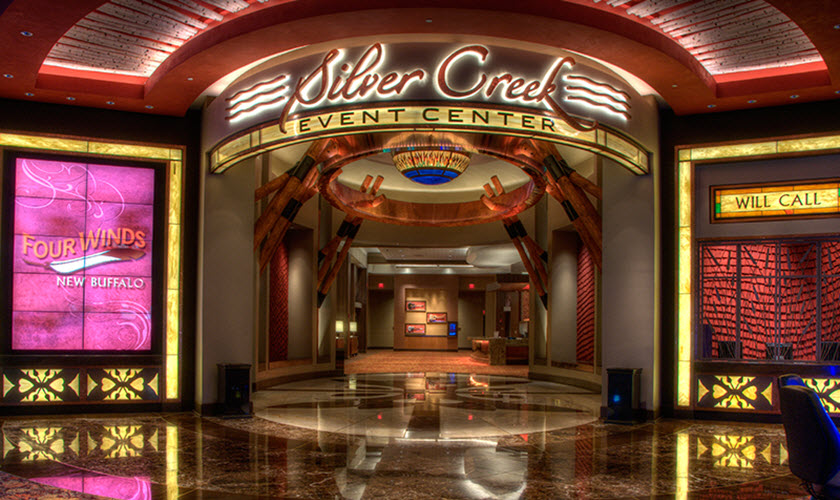 Stars At Silver Creek
Date of Post: Jan 17, 2018
Silver Creek Event Center is the place to go for legendary concerts and comedians! Enhance your Silver Creek experience with a dinner and hotel package. Package details vary based on event and can be purchased through Ticketmaster.com. Here is the current schedule; watch for more concert announcements by following us on Facebook and Twitter.  
REO Speedwagon - November 9
Formed in 1967 at college in Champaign, IL, signed in 1971, and fronted by iconic vocalist Kevin Cronin since 1972, REO Speedwagon's non-stop touring and recording jump-started the burgeoning rock movement in the Midwest. Platinum albums and radio staples soon followed, including the number one singles "Keep on Loving You" and "Can't Fight This Feeling," plus fan favorites like "Take It on the Run," and "Ridin' The Storm Out." The band released its most successful album—Hi Infidelity—in 1980, which spent 15 weeks at #1 and has since earned the RIAA's coveted 10X Diamond Award for surpassing 10 million units in the United States. Today, REO Speedwagon has sold 40 million albums around the globe and Cronin and bandmates—Bruce Hall (bass), Neal Doughty (keyboards), Dave Amato (guitar), and Bryan Hitt (drums)—are still electrifying concert audiences worldwide.
Chicago - November 10
Chicago, the legendary rock and roll band with horns ranked No. 9 in Billboard Magazine's list of Hot 200 All-Time Top Artists and the first American rock band to chart Top 40 albums in six consecutive decades, kicked off their 2018 summer tour in June. This is the band's 51st consecutive year of touring. At each show, the band will play Chicago II in its entirety, along with their other greatest hits.
Chicago's lifetime achievements include two Grammy Awards, multiple American Music Awards, Founding Artists of the John F. Kennedy Center for the Performing Arts, a star on the Hollywood Walk of Fame, a Chicago street dedicated in their honor, and keys to and proclamations from an impressive list of U.S. cities. Record sales top one million, and include 21 Top 10 singles, five consecutive No. 1 albums, 11 No. 1 singles and five Gold singles. An incredible 25 of their 36 albums have been certified platinum, and the band has a total of 47 gold and platinum awards.
Chicago was inducted into the 2016 Rock and Roll Hall of Fame. This was their first nomination. They've been eligible since 1994. Their first album, Chicago Transit Authority, was inducted into the Grammy Hall Of Fame in 2014. And Robert Lamm and James Pankow have become the latest inductees of the Songwriters Hall of Fame in 2017. These legendary songwriters wrote mega-hits such as, "25 or 6 to 4," "Saturday In The Park," "Feelin' Stronger Every Day," "Make Me Smile," and many others.
Donny & Marie - November 24
Donny and Marie mix the holiday songs and spirit of their early television specials and recordings with a nostalgic look back on their storied career in a dynamic stage show showcasing fan favorites including "A Little Bit Country, A Little Bit Rock 'n Roll," "Paper Roses," "Puppy Love" and "It Takes Two." 
 In addition to doing concerts in America and around the world, Donny and Marie continue an extraordinary run at the legendary Flamingo Hotel in Las Vegas. They were named Best Show by the Las Vegas Review Journal for three years in a row. Entertainment Weekly raved that their live performance is "insanely entertaining. A song and dance spectacular."
Loverboy - November 30
With their trademark red leather pants, bandannas, big rock sound and high-energy live shows, Loverboy has sold more than 10 million albums, earning four multi-platinum plaques, including the four million-selling, Get Lucky. Their string of hits includes "Working for the Weekend", "Turn Me Loose", "Heaven in Your Eyes", "The Kid Is Hot Tonight" and "Hot Girls in Love". In 2015, Loverboy celebrated 35 years together. Along with Mike Reno on vocals, Loverboy still includes original members Paul Dean on guitar, Doug Johnson on keyboards and Matt Frenette on drums. Ken "Spider" Sinnaeve replaces the late Scott Smith on bass.
Jason Bonham's Led Zeppelin Evening - December 7 
Jason Bonham is the son of drummer John Bonham, one of the original members of the legendary rock band Led Zeppelin. An accomplished musician by the age of 17, Jason began touring with his band Air Race, opening for bands like Queen, Meat Loaf, Ted Nugent and AC/DC. After his father died in 1980, Jason helped keep his memory alive by occasionally performing benefit concerts around the world. Jason represented his father when Led Zeppelin was inducted into the Rock and Roll Hall of Fame in January 1995, with his sister Zoe by his side. A series of collaborations with other musical icons followed over the next decade including a tour with the band Foreigner. Jason created the Led Zeppelin Evening and tours extensively to continue to bring the music to fans everywhere.
Christmas Wonderland - December 15 & 16
Christmas Wonderland features glittering costumes, along with a cast of singers and dancers from London and New York. With breathtaking, glittering costumes and spectacular sets and scenery, the show parades its way through the wonder of Christmas and the excitement of the holiday season. Your entire family can start Christmas in style as Santa and his merry helpers take you on an unforgettable Christmas journey with your favorite Christmas songs. Holiday favorites include: 'White Christmas,' 'Winter Wonderland,' 'Have Yourself a Merry Little Christmas,' 'Chestnuts Roasting By An Open Fire,' 'Jingle Bells,' ''Away in a Manger,' 'O Come All Ye Faithful,' 'Let it Snow,' 'Silent Night,' 'Hark the Herald Angels Sing,' 'Deck The Halls,' 'Rockin' Around the Christmas Tree,' 'O Holy Night,' and many more Christmas standards.
Purchase Tickets: December 15, December 16
STYX - December 28
The six-members of Styx draw from over four decades of chart hits. First hitting their stride with 1976's Crystal Ball, they became the first group to score four triple-platinum albums in a row: The Grand Illusion (1977), Pieces of Eight (1978), Cornerstone (1979), and Paradise Theater (1981). After 14 years, Styx's sonically sweet 16th studio album and its most ambitious, most challenging, and most rewarding album to date, The Mission, was finally released June 16, 2017 on the band's label, Alpha Dog 2T/UMe. It debuted on various Billboard charts, including: #6 top rock albums, #11 physical albums, #11 vinyl albums, #13 current albums, #14 Billboard top albums, #16 retail, #17 mass merch/non-traditional, #29 digital albums, and #45 top 200 albums (includes catalog and streaming). The band is comprised of Tommy Shaw (acoustic and electric guitars, mandolin, vocals); James "JY" Young (electric guitar and vocals); Chuck Panozzo (bass guitar); Todd Sucherman (drums, percussion, waterphone); Lawrence Gowan (piano, Hammond B3 organ, synthesizers, vocals); and Ricky Phillips (bass guitar, vocals).
Rick Springfield - February 15
Over the past four decades, Rick Springfield has worn many hats as an entertainer and performer. The creator of some of the finest power-pop of the '80s, a Grammy winning singer, songwriter, and musician who has sold 25 million albums and scored 17 U.S. Top 40 hits, including "Jessie's Girl," "Don't Talk to Strangers," "An Affair of the Heart," "I've Done Everything for You," "Love Somebody," and "Human Touch." He's an accomplished actor, starring in the feature film Ricki and the Flash, HBO's True Detective, CW's hit, Supernatural, and FX's American Horror Story. In 2014, Springfield was honored with a star on the Hollywood Walk of Fame, located around the corner from the first apartment he lived in when he first arrived in the U.S. from Australia in 1971. Rick's latest Album "The Snake King" finds Rick traveling down a dusty dirt road to explore the blues side of his rock 'n roll and marks a definite departure from the power pop he has been known for.
Jonny Lang - February 23
At 37 years old Jonny Lang has already had a successful career for two decades. He released his first platinum record at 15. Lie to Me revealed a talent that transcended the crop of blues prodigies floating around in the late '90s. What began as a bluesy sound, influenced by electric pioneers like Albert Collins, B. B. King, and Buddy Guy, Lang's style has evolved into a modern R&B style closer to Stevie Wonder and contemporary gospel music. His distinctive, blues-inflected licks appear on every album. Though he long ago left blues purism behind, Lang has never abandoned its spirit of universal catharsis through the relating of personal trials. Signs reaffirms his commitment to the blues and the guitar without sacrificing the modern approach that has made him such a singular artist.
ABBA - May 3
ABBA The Concert continues to be the top ABBA tribute group in the world, dazzling all who see with their fantastic performance while playing the most iconic hits from ABBA, including "Mamma Mia," "S.O.S," "Money, Money, Money," "The Winner Takes All," "Waterloo," "Gimme, Gimme, Gimme," and "Dancing Queen."
Tyler Henry - The Hollywood Medium - May 11
Tyler Henry is the star of E! Entertainment's hit television show, Hollywood Medium, and for the first time, audiences will be treated to his new live show entitled "Life Lessons I've Learned from The Departed". This exclusive show will feature Tyler discussing his unique gift and how it affects his everyday life, and also includes a multi-media video presentation and interactive audience Q&A. This will be an amazing evening not to be missed, so buy tickets early 
Tyler Henry was born with a unique gift that enables him to help countless people acquire closure, comfort and proof that consciousness transcends physical death. As an evidential based medium, his ability to provide detail-oriented specifics has quickly captured the attention of millions, even turning the most ardent skeptics into believers. Tyler Henry is not only the most sought-after medium in Hollywood, as witnessed on Hollywood Medium with Tyler Henry during his jaw-dropping readings to Hollywood celebrities looking for advice, connection and closure with loved ones, but also a best-selling author with his first book, Between Two Worlds – Lessons From The Other Side. For more information, visit tylerhenryhollywoodmedium.com.