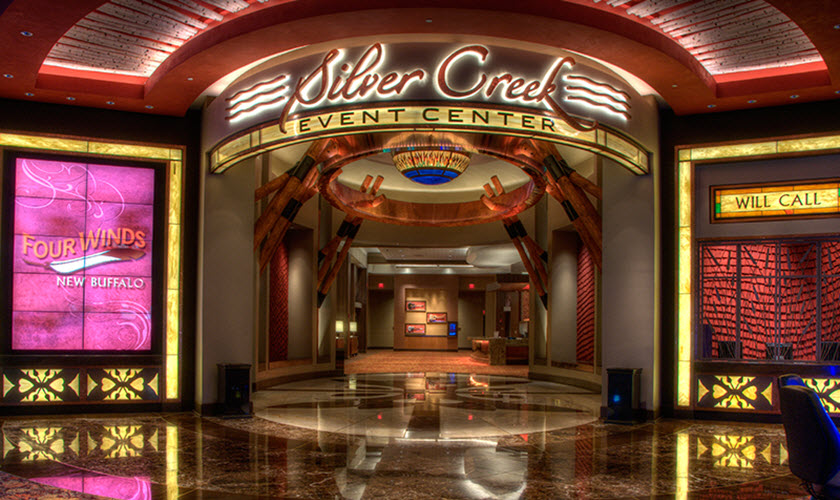 Stars At Silver Creek
Date of Post: Jan 17, 2018
Silver Creek Event Center is the place to go for legendary concerts and comedians! Enhance your Silver Creek experience with a dinner and hotel package. Package details vary based on event and can be purchased through Ticketmaster.com. Here is the current schedule; watch for more concert announcements by following us on Facebook and Twitter.  
Jonny Lang - February 23
At 37 years old Jonny Lang has already had a successful career for two decades. He released his first platinum record at 15. Lie to Me revealed a talent that transcended the crop of blues prodigies floating around in the late '90s. What began as a bluesy sound, influenced by electric pioneers like Albert Collins, B. B. King, and Buddy Guy, Lang's style has evolved into a modern R&B style closer to Stevie Wonder and contemporary gospel music. His distinctive, blues-inflected licks appear on every album. Though he long ago left blues purism behind, Lang has never abandoned its spirit of universal catharsis through the relating of personal trials. Signs reaffirms his commitment to the blues and the guitar without sacrificing the modern approach that has made him such a singular artist.
The Monkees - March 15
The Monkees are an American rock and pop band originally active between 1966 and 1971. They were formed in Los Angeles in 1965 by Bob Rafelson and Bert Schneider for the American television series The Monkees which aired from 1966 to 1968. The musical acting quartet was made up of Micky Dolenz (drummer, lead vocals), Michael Nesmith (guitar, vocals), Peter Tork (bass guitar, vocals) and Davy Jones (lead vocals). The television show was canceled in 1968, but the band continued to record music through 1971. After Davy Jones died on February 29, 2012, the surviving members continue to tour. The band performing at Four Winds New Buffalo includes Micky Dolenz and Michael Nesmith.
Aaron Lewis - March 22
Aaron Lewis is known for his outspokenness, outlaw Country tunes and impassioned live show. And today he announced that he will be hitting the road again for THE STATE I'M IN TOUR in advance of new music coming in 2019. Giving fans something different, THE STATE I'M IN TOUR will feature acoustic songs + stories from Lewis as he shares personal tales from the stage. 
Frankie Valli & The Four Seasons - March 30 
The original Jersey boy himself, Frankie Valli is a true American legend. His incredible career with the Four Seasons, as well as his solo success, has spawned countless hit singles. With unforgettable tunes like "Sherry," "Walk Like A Man," "Big Girls Don't Cry," "Rag Doll," "December '63 - Oh What A Night," "Can't Take My Eyes Off of You," and of course, "Grease." His songs have been omnipresent in other iconic movies such as The Deer Hunter, Dirty Dancing, Mrs. Doubtfire, Conspiracy Theory and The Wanderers. As many as 200 artists have done cover versions of Frankie's "Can't Take My Eyes Off You," from Nancy Wilson's jazz treatment to Lauryn Hill's hip-hop makeover.
Frankie Valli and the Four Seasons have sold over 175 million records worldwide. They continue to tour throughout the U.S. and abroad to packed houses receiving nightly standing ovations from thrilled fans of multiple generations. Valli's long-lasting career has led to the overwhelming success of the Broadway
musical JERSEY BOYS, which has been seen by over 25 million worldwide. The musical chronicles Frankie Valli and the Four Seasons incredible career and features all of their greatest hits.
Larry The Cable Guy- April 5 
Larry the Cable Guy is a multiplatinum recording artist, Grammy nominee, Billboard award winner and one of the top comedians in the country. Larry has created The Git-R-Done Foundation, which was named after Larry's signature catchphrase, and has donated more than 7 million dollars to various charities. Emphasizing on children's and veteran's causes, The Git-R-Done Foundation has donated to great organizations such as The Arnold Palmer Hospital, Operation Homefront and Madonna Rehabilitation Hospital.
Larry is also a prolific television and movie presence. He co-starred in the Tyler Perry movie A Madea Christmas, "Only in America with Larry the Cable Guy", "Bounty Hunters", Cars, Cars 2 , Tooth Fairy 2, Witless Protection, Delta Farce and his first feature Larry the Cable Guy: Health Inspector (2006). Larry won Billboard's 2005 Comedy Artist of the year and Comedy Album of the Year and he received the Billboard Top Comedy Tour Award in 2006. He is the author of Git-R-Done and was named to Forbes Celebrity 100 list in 2006, 2007, 2011 and 2012.
Howie Mandel - April 13
Howie Mandel has remained a constant force in show business for more than 30 years. Mandel currently serves as executive producer and host of the game show "Deal or No Deal," which returned with new episodes in December 2018 on CNBC. He can also be seen as a judge on the global winter edition of the series, "America's Got Talent: The Champions," airs Mondays on NBC. Mandel has served as a judge for nine seasons on NBC's hit summer talent competition series, "America's Got Talent," which recently wrapped its milestone 13th season. Mandel will also release his first solo special in 20 years "Howie Mandel Presents Howie Mandel at the Howie Mandel Comedy Club" on Showtime on Friday, January 18th. His additional work as a host, actor, and/or executive producer include "Take It All" and "Howie Do It" for NBC, "Deal With It" for TBS and "Mobbed" for Fox. Previously, Mandel received an Emmy Award nomination for Outstanding Host for a Reality or Reality-Competition Program for "Deal or No Deal" and a Daytime Emmy nomination for Outstanding Game Show Host for the syndicated version of the show. Mandel's versatile career has encompassed virtually all aspects of the entertainment spectrum, including television, film and stage. From his work on the Emmy Award-winning "St. Elsewhere," to the international animated children's series "Bobby's World," Mandel has become a mainstay of the American comedy scene. In 2009, Mandel added author to his resume when he released his frank, funny and no-holds-barred memoir, "Here's the Deal: Don't Touch Me." The memoir revealed his ongoing struggle with OCD and ADHD, and how it has shaped his life and career. It made The New York Times bestseller list on its first week and remained on the list for several consecutive weeks. Mandel has done countless comedy specials both on cable and network television. He has also hosted his own syndicated talk show, "The Howie Mandel Show," and continues to be a mainstay on the talk show circuit. He also continues to perform as many as 200 stand-up comedy shows each year throughout the U.S. and Canada.
Uncork and Unwind - April 14
At the exclusive tasting event, guests can interact with the craftsmen and women who are behind the scenes at the best Michigan wineries. Plus, Four Winds Casinos will offer seasonal food options for purchase to complement the tastings. Live music provided by acoustic guitarist Dave Hiltebrand and pop/rock/jazz/world rhythm band El Trio de Equilibrio will enhance the tasting experience. 
Advance tickets are available for purchase through Ticketmaster for $20, plus applicable fees, and includes admission, a souvenir glass and a wine tasting card that can be redeemed for up to 10 samplings. Tickets purchased at the door will be $25 and includes event admission, a souvenir glass and a wine tasting card redeemable for up to 5 samplings.
ABBA The Concert - May 3
ABBA The Concert continues to be the top ABBA tribute group in the world, dazzling all who see with their fantastic performance while playing the most iconic hits from ABBA, including "Mamma Mia," "S.O.S," "Money, Money, Money," "The Winner Takes All," "Waterloo," "Gimme, Gimme, Gimme," and "Dancing Queen."
Tyler Henry - The Hollywood Medium - May 11
Tyler Henry is the star of E! Entertainment's hit television show, Hollywood Medium, and for the first time, audiences will be treated to his new live show entitled "Life Lessons I've Learned from The Departed". This exclusive show will feature Tyler discussing his unique gift and how it affects his everyday life, and also includes a multi-media video presentation and interactive audience Q&A. This will be an amazing evening not to be missed, so buy tickets early 
Tyler Henry was born with a unique gift that enables him to help countless people acquire closure, comfort and proof that consciousness transcends physical death. As an evidential based medium, his ability to provide detail-oriented specifics has quickly captured the attention of millions, even turning the most ardent skeptics into believers. Tyler Henry is not only the most sought-after medium in Hollywood, as witnessed on Hollywood Medium with Tyler Henry during his jaw-dropping readings to Hollywood celebrities looking for advice, connection and closure with loved ones, but also a best-selling author with his first book, Between Two Worlds – Lessons From The Other Side. For more information, visit tylerhenryhollywoodmedium.com.
Carrot Top - May 17 
Scott "Carrot Top" Thompson has been making audiences around the world laugh for more than three decades. Since his debut on "Star Search" more than 25 years ago, Carrot Top has become one of the most recognizable entertainers in the world. Since 2005, fans have flocked to his Las Vegas headlining residency at Luxor Hotel and Casino to catch his take on pop culture, music and headlines of the day.
After building a following on the comedy circuit, his first television appearance was on "Comic Strip Live" in 1991. Things changed for Carrot Top forever in 1992 with his first appearance on "The Tonight Show." After an impressive 31 appearances, Carrot Top had the distinct honor of appearing on the very last episode of "The Tonight Show with Jay Leno." In addition to his appearance on hundreds of television programs, Carrot Top also starred in his own movies "Chairman of the Board" and "Dennis the Menace Strikes Again." Most recently, he appeared in "Sharknado: The 4th Awakens," "The Hangover," and the Trailer Park Boys' film "Swearnet: The Movie."
Foreigner - May 25
With 10 multi-platinum albums and 16 Top 30 hits, Foreigner is universally hailed as one of the most popular rock acts in the world, with album sales exceeding 75 million. Foreigner is responsible for some of rock and roll's most enduring anthems including "Juke Box Hero," Feels Like the First Time," "Urgent," "Head Games," "Hot Blooded," "Cold as Ice," "Dirty White Boy," "Waiting For a Girl Like You," and the worldwide #1 hit "I Want to Know What Love Is."
MJ Live - June 22
MJ Live, the No. 1 Michael Jackson tribute show in the nation, captures the spirit of the famed superstar in this high-energy tribute show. Housed at the Stratosphere Hotel & Casino in Las Vegas, the production also performs at theaters across the country. Featuring the talented Jalles Franca as Michael Jackson, MJ Live includes Jackson's biggest hits Bad, Billie Jean, Beat It, Dangerous, Smooth Criminal, Black & White, I Want You Back and many others.
The Brazilian born Franca moved to the United States at the age of 16, and at the age of 21, began a seven-year residency as a performer, dancer and percussionist at Studio 54 Nightclub at the MGM Hotel & Casino. A long-time fan of the 'King Of Pop,' Franca began imitating the star's signature dance moves during his routines at Studio 54 and various other venues. Soon after the passing of his idol, Franca began dedicating his talents to pay tribute to the late superstar. Franca has won numerous contests for "Best Michael Jackson Impersonator," best overall look and "Best Moonwalk." Billing himself as "MJ THE LEGEND" Franca has thrilled audiences at private and corporate events, festivals and tribute shows throughout Las Vegas, Hollywood, Dubai and more. For more information on MJ Live, visit mjliveshow.com.
The Beach Boys - August 2
As The Beach Boys mark more than a half-century of making music, the group continues to ride the crest of a wave unequaled in America's musical history.  The Beach Boys have become synonymous with the California lifestyle and have become an American icon to fans around the world.  Since lead-singer man Mike Love penned the lyrics to The Beach Boys' first hit, "Surfin'" (1961), dozens of the bands chart toppers have become eternal anthems of American youth:  "Surfin' USA," "Surfer Girl," "Fun, Fun, Fun," "I Get Around," "California Girls," "Help Me Rhonda," "Barbara Ann," "Good Vibrations," "Wouldn't It Be Nice," "Rock and Roll Music" and "Kokomo."                                                                        
The Beach Boys have sold over 100 million records worldwide and have received more than 33 RIAA Platinum and Gold record awards. The Rock and Roll Hall of Famers where also honored at the 2001 Grammy Awards with the Lifetime Achievement Award. With more than five decades of touring under their belts, The Beach Boys have performed more concerts than any major rock band in history.  Sounds Of Summer: The Very Best Of The Beach Boys, Capitol/EMI's 30-track collection of the band's biggest hits, has achieved triple-platinum success with sales of more than three million copies in the U.S. since its release.
The Beach Boys are led by Mike Love and Bruce Johnston, who along with Jeffrey Foskett, Tim Bonhomme, John Cowsill, Keith Hubacher, Scott Totten and Christian Love continue the legacy of America's iconic band. This concert will not feature Brian Wilson, Al Jardine or David Marks.
Happy Together Tour - August 9 
Music fans have been enjoying the hits of the sixties and seventies since the Summer of Love and beyond. They get to relive those moments on the renowned Happy Together Tour 2019, which is going on its 10th consecutive year. This summer, the Happy Together Tour returns with six headline artists who delivered the biggest hits of the era: The Turtles, Chuck Negron, formerly of Three Dog Night, Gary Puckett & The Union Gap, The Buckinghams, The Classics IV and The Cowsills.
- The Turtles continue to be the signature headliners of the Happy Together Tour. As always, Mark Volman will bring his famous antics to the stage along with the Archie's Ron Dante (who will again be replacing Howard Kaylan). Together they will be performing all of the Turtles' magical Top 40 Hits including "It Ain't Me Babe," "Elenore," "She'd Rather Be With Me," "You Showed Me", The Archies' mega-hit "Sugar Sugar," and the title of the tour "Happy Together."
- Chuck Negron, formerly of Three Dog Night, is back on the Happy Together Tour due to popular demand. He brings Three Dog Night's biggest hits to the stage, including "Joy To The World," "Mama Told Me Not To Come," "Shambala," "One", "Easy To Be Hard" among others.
- Gary Puckett & The Union Gap is thrilled to be on the Happy Together Tour again. Gary's trademark voice will be belting out his hits one more time. Fans will affectionately remember "Young Girl," "Over You" "Woman, Woman", "This Girl Is A Woman Now", "Lady Willpower", "Don't Give In To Him" and more.
- The Buckinghams will be back on the tour for the first time in five years! The band formed in 1966, and went on to become one of the top-selling acts of 1967, including their #1 hit "Kind of a Drag," and other hits "Don't You Care", "Mercy, Mercy, Mercy" and "Hey Baby, They're Playing Our Song." With three chart hits at one time on two labels, in 1967, Billboard Magazine named them "The Most Listened to Band in America."
- The Classics IV is the newest addition to the Happy Together lineup. With their southern soft rock sound, they are one of the most popular and influential pop groups of the 60s and 70s. They achieved phenomenal success with multiplatinum hits "Spooky," "Stormy," "Traces," and Everyday With You Girl."
- The Cowsills have been dazzling crowds the last four years on the Happy Together Tour with their effervescent brand of contagious pop magic. Bob, Paul and Susan Cowsill are a family singing group and the original inspiration for television's, The Partridge Family. Best known for songs "The Rain, The Park and Other Things," "Hair," "Indian Lake" and "Love American Style." The Cowsills appeared on numerous TV shows including The Ed Sullivan Show and The Tonight Show with Johnny Carson.
Share
Engelbert Humperdinck - October 19 
In a career spanning almost 50 years, Engelbert has generated sales in excess of 140 million records, including 64 gold albums and 35 platinum, four Grammy nominations, a Golden Globe, and stars on the Hollywood Walk of Fame, Las Vegas Walk of Fame, and Leicester Walk of Fame. He has performed for the Queen four times, several presidents and many heads of state. He has recorded everything from the most romantic ballads to movie theme songs, disco, rock, and even gospel. His unique voice has charmed millions of fans around the globe. However, it's not just the voice, but the man himself, with his endearing sense of humor and self-deprecating jokes. Engelbert has managed to strike a new chord with a younger generation after appearing on MTV several times.