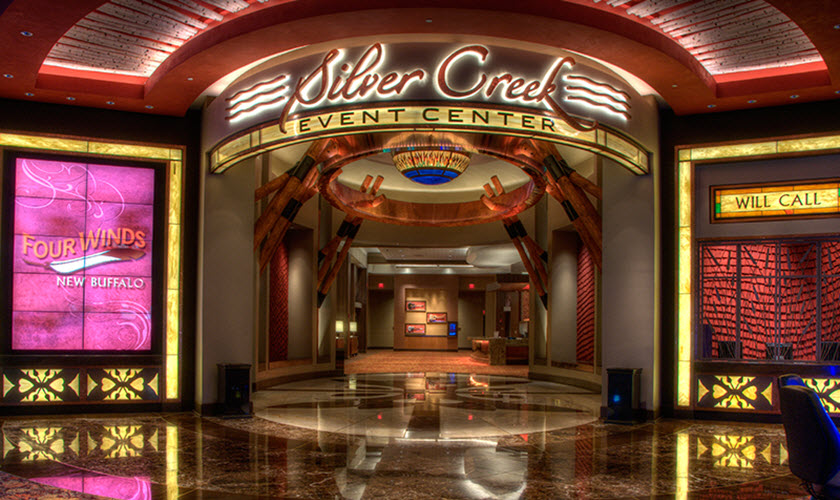 Stars At Silver Creek
Date of Post: Jan 17, 2018
Silver Creek Event Center is the place to go for legendary concerts and comedians! Enhance your Silver Creek experience with a dinner and hotel package. Package details very based on event and can be purchased through Ticketmaster.com. Here is the current schedule; watch for more concert announcements by following us on Facebook and Twitter.  
Rick Springfield – February 23
Over the past three decades, Rick Springfield has worn many hats as an entertainer and performer. The creator of some of the finest power-pop of the 80s, a Grammy® winning singer, songwriter, and musician who has sold 25 million albums and scored 17 U.S. Top 40 hits, including "Jessie's Girl," "Don't Talk to Strangers," "An Affair of the Heart," "I've Done Everything for You," " Love Somebody," and "Human Touch." He's an accomplished actor who most recently starred opposite Meryl Streep in the feature film Ricki and the Flash, gave a chameleonic performance as the creepy Dr. Pitlor in HBO's prestige drama True Detective and is earning great reviews for his portrayal of Lucifer this season on the CW hit, Supernatural. In 2014, Springfield was honored with a star on the Hollywood Walk of Fame, located around the corner from the first apartment he lived in when he first arrived in the U.S. from Australia in 1971.
Styx – March 3
Styx is an American rock band from Chicago that formed in 1972 and became famous for its albums released in the late 70s and early 80s. Known for hits like "Come Sail Away," "Renegade," and "Lady," the band had four consecutive albums certified Triple Platinum – The Grand Illusion (1977); Pieces of Eight (1978); Cornerstone (1979); and Paradise Theatre (1981), as well as 16 Top 40 singles in the United States, eight in the Top 10. Never known for resting on their laurels, in June 2017, Styx released The Mission, the band's 16th studio album and most ambitious, most challenging, and most rewarding release to date. The band is comprised of James "JY" Young (lead vocals and guitar); Tommy Shaw (lead vocals and guitar); Chuck Panozzo (bass and percussion); Lawrence Gowan (lead vocals and keyboards); and Ricky Phillips (bass, guitar and vocals). 
 Earth Wind & Fire – March 17
Earth, Wind & Fire has become one of the world top-selling musical groups of all-time since its formation in Chicago in 1969. The band sold over 100 million albums worldwide. Earth, Wind & Fire has a signature sound that is beyond music category. The EWF music journey became the soundtrack of many lives over 4 decades and will have a lasting impact on popular culture for many generations to come. The band's founders have been inducted into the Rock and Roll Hall of Fame® (2000). The National Academy of Recording Art & Science (NARAS) bestowed its highest honor, the Grammy Lifetime Achievement Award ® to them in 2016, totaling nine Grammy Awards.
Kansas – March 24
With a legendary career spanning more than four decades, Kansas has firmly established itself as one of America's iconic classic rock bands. This garage band from Topeka released their debut album in 1974 and have gone on to sell more than 30 million albums worldwide. Composing a catalogue that includes 15 studio albums and five live albums, Kansas has produced eight Gold albums, three sextuple –Platinum albums, one Platinum live album, and two one million-selling Gold singles.
Foreigner – April 7
With 10 multi-Platinum albums and 16 Top 30 hits, Foreigner is universally hailed as one of the most popular rock acts in the world, with album sales exceeding 75 million. Celebrating its 40th anniversary, Foreigner is responsible for some of Rock and Roll's most enduring anthems including "Juke Box Hero," "Feels Like the First Time," "Urgent," "Head Games," "Hot Blooded," "Cold as Ice," "Dirty White Boy," "Waiting for a Girl Like You," and the worldwide #1 hit "I Want to Know What Love is."
Billy Gardell – May 25
Emmy®-nominated actor and comedian Billy Gardell starred in the CBS television series "Mike and Molly" from 2010-2016 as Officer Mike Biggs. He followed that by appearing as Colonel Tom Parker, the infamous manager of Elvis Presley, in the CMT series "Sun Records." In 2016 he received a daytime Emmy-nomination as best gameshow host of "Monopoly Millionaires Club." He made his major motion picture debut alongside Anthony Quinn and Sylvester Stallone in "Avenging Angel" (2002). He has also appeared in "Bad Santa" (2003), and "You, Me & Dupree" (2006).
Air Supply – June 22
Graham Russell and Russell Hitchcock, the men of Air Supply, met in 1975 in Sydney, Australia. They became instant friends with their common love for The Beatles and of course, singing. The duo began playing pizza parlors, coffee bars and night clubs with just one guitar and two voices. They quickly gained a reputation for great harmonies and for original songs that Graham was constantly writing. After their song "Lost In Love" went #1 in Australia, they began to open for Rod Stewart across Australia and then throughout the U.S. and Canada. In 1980, music industry executive Clive Davis in New York signed Air Supply to Arista Records, and "Lost in Love" became the fasted selling single in the world, leaping to the top of all the charts. The albums Lost in Love, The One That You Love, Now & Forever and The Greatest Hits sold in excess of 20 million copies. Air Supply celebrated their 40th anniversary in 2015 and continues to delight audiences all over the world.
 Jethro Tull by Ian Anderson – June 30
Early in 1968, a group of British musicians joined together in Luton, a town north of London, to form Jethro Tull. They began playing in pubs and clubs throughout southern England, eventually landing a standing gig at London's famous Marquee Club in Soho. The first album, The Was, was released in late 1968, followed by Stand Up, Benefit, Aqualung and Thick as Brick. Various band members came and went, but the charismatic front man and composer, flutist and singer Ian Anderson, continued to lead the group through its various musical incarnations. Today, with over 30 albums selling more than 50 million copies, Jethro Tull continues to perform over 100 concerts each year.