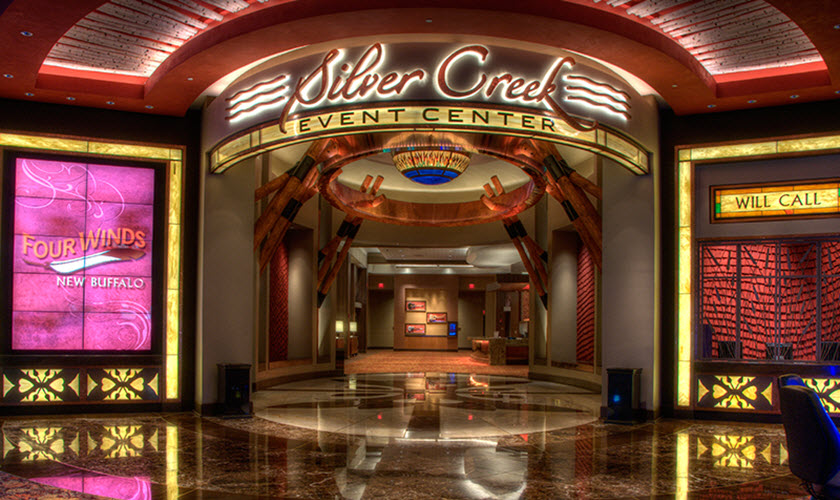 Stars At Silver Creek
Date of Post: Jan 17, 2018
Silver Creek Event Center is the place to go for legendary concerts and comedians! Enhance your Silver Creek experience with a dinner and hotel package. Package details vary based on event and can be purchased through Ticketmaster.com. Here is the current schedule; watch for more concert announcements by following us on Facebook and Twitter.  
Stone Temple Pilots - June 1 
Unpredictability has shaped the Grammy®-winning group since it emerged as one of the best-selling bands of the 1990s. More than 25 years later, the band is reborn once again on its seventh studio album—its first with singer Jeff Gutt, a veteran of the Detroit music scene. Gutt joined STP founding members Dean DeLeo, Robert DeLeo and Eric Kretz on stage for the first time at the Troubadour in Los Angeles in 2016. The band began their current North American tour in 2018.
Todd Rundgren - June 7 
interactive artist (re-designated TR-i), Rundgren has made a lasting impact on both the form and content of popular music. Born and raised in Philadelphia, Rundgren began playing guitar as a teenager, founded the band The Nazz, before launching a solo career. 1972's Something/Anything? prompted the press to dub him 'Rock's New Wunderkind'. It was followed by several albums and hit singles, among them I Saw The Light, Hello It's Me, Can We Still Be Friends, and Bang The Drum. As a producer, Rundgren has worked with Patti Smith, Cheap Trick, Psychedelic Furs, Meatloaf, XTC, Grand Funk Railroad, and Hall And Oates. He composed all the music and lyrics for Joe Papp's 1989 Off-Broadway production of Joe Orton's Up Against It and composed the music for a number of television series, including Pee Wee's Playhouse and Crime Story. In 1998 Rundgren debuted his new PatroNet technology which for the first time allowed fans of a musical artist to subscribe directly to the artist's musical output via the Internet, a technology that continues widespread use today. His recently released autobiography The Individualist is available now at Amazon and Barnes & Noble.
Kenny Wayne Shepherd Band - June 15 
Kenny Wayne Shepherd has, over a 20-year recording career, established himself as an immensely popular recording artist, a consistently in demand live act and an influential force in a worldwide resurgence of interest in the blues. Shepherd's 2017 release, Lay It On Down, debuted at #1 on the Billboard Blues Chart, #1 on the Rock Chart, #1 on the Internet Chart and #5 on the over-all Top 200 Current Album Chart. The band's new CD is expected to be released this Spring. His band consists of Kenny Wayne Shepherd (vocals, guitar); Noah Hunt (vocals); Chris "Whipper" Layton (drums); Scott Nelson (bass); and Joe Krown (piano, organ).
Scott Stapp - June 21
Scott Stapp is known as a Grammy winning songwriter and front man for Creed (over 50 million albums sold worldwide), and for his work as a solo artist who released the platinum-certified The Great Divide (2005) and Proof of Life (2013) which featured his first solo Billboard #1, "Slow Suicide." His next solo venture reflects a new outlook after the biggest fight of his life—five years and counting. With a new single "Purpose For Pain," one of rock's biggest names roars back to the scene with a driving, introspective new single. It is the first song from Stapp's upcoming album, The Space Between the Shadows, set for July 2019 release on Napalm Records. Stapp's evolution, both personally and professionally, now reflects a powerful vocal style from an artist with a strong sense of purpose in sharing the silver lining of his survival. As such, he is an inspiration to others who struggle with the often-overlapping illnesses of addiction and depression. Stapp's With Arms Wide Open Foundation helps military vets and their families with issues of drug addiction, PTSD-triggered mental health issues and suicide prevention. In 2017, the Florida Association of Broadcasters awarded Scott Stapp with the Florida Service Award and in 2018 he was inducted into the Florida Music Hall of Fame.
MJ Live - June 22
MJ Live, the No. 1 Michael Jackson tribute show in the nation, captures the spirit of the famed superstar in this high-energy tribute show. Housed at the Stratosphere Hotel & Casino in Las Vegas, the production also performs at theaters across the country. Featuring the talented Jalles Franca as Michael Jackson, MJ Live includes Jackson's biggest hits Bad, Billie Jean, Beat It, Dangerous, Smooth Criminal, Black & White, I Want You Back and many others.
The Brazilian born Franca moved to the United States at the age of 16, and at the age of 21, began a seven-year residency as a performer, dancer and percussionist at Studio 54 Nightclub at the MGM Hotel & Casino. A long-time fan of the 'King Of Pop,' Franca began imitating the star's signature dance moves during his routines at Studio 54 and various other venues. Soon after the passing of his idol, Franca began dedicating his talents to pay tribute to the late superstar. Franca has won numerous contests for "Best Michael Jackson Impersonator," best overall look and "Best Moonwalk." Billing himself as "MJ THE LEGEND" Franca has thrilled audiences at private and corporate events, festivals and tribute shows throughout Las Vegas, Hollywood, Dubai and more. For more information on MJ Live, visit mjliveshow.com.
Daughtry - July 5
As the front man for the band bearing his name, Chris Daughtry has become one of the most visible and consistent rock & roll torchbearers of the 21st Century. Since rising to prominence on the fifth season of American Idol, he has released four albums, all of which reached the Billboard Top Ten and have combined sales over 8 million copies in the U.S. Daughtry's self-titled debut was the best-selling album of 2007, which contained four top 20 hit singles including the Grammy-nominated smash "It's Not Over." Leave This Town also reached number one in 2009, while 2011's Break the Spell was certified gold. His group's most recent record, 2013's Baptized, features the platinum-selling "Waiting for Superman".
Daughtry and his band have been performing together for over a decade. He has collaborated with artists from Timbaland to Vince Gill to Carlos Santana and took on the role of Judas Iscariot in the 2016 live television performance of The Passion, and even fulfilled a lifelong dream by drawing the cover of a Batman comic which was rated one of the top 25 covers of the year by BatmanNews.com.
Leonid & Friends - July 6
In just three short years, Moscow-based Leonid & Friends have blown the minds of legions of fans with their uncanny ability to capture the spirit, musicality and fire of American super-group Chicago. Leonid Vorobyev's goal was a studio project in dedication to Chicago under the motto "musicians for musicians". Their first video went viral, but they really gained traction when Chicago itself published the video on its official website. This incredible 11-piece tribute band has over 200,000+ followers across social media and has had an astonishing 30 million+ video views… before ever touring outside of Russia.
Pat Benatar & Neil Giraldo - July 12
40TH ANNIVERSARY TOUR
Pat Benatar and Neil Giraldo have been making music together for four decades. They met in 1979 in a small rehearsal room at SIR Studios in New York City. The rest, as they say, "is history." Pat Benatar's staggering vocals and take-no-prisoners attitude, along with Neil Giraldo's trailblazing artistry as a guitarist, producer and songwriter forged the undeniable chemistry and unique sound that created some of rocks most memorable hits including: "We Belong," "Invincible," "Love Is A Battlefield," "Promises In The Dark," "We Live For Love." Together they have created two multi-platinum, five platinum and three gold albums, as well as 19 Top 40 hits. They have sold over 30 million records worldwide and have won four consecutive Grammy awards. Married since 1982, Benatar and Giraldo have two grown daughters. Their musical career has endured for 40 years and this summer for their 40th Anniversary, the duo will embark on a multi-city tour, undoubtedly thrilling their fans everywhere.
Chris D'Elia - Follow The Leader - July 19
Chris D'Elia has become one of the most in-demand performers in comedy. As a stand-up, D'Elia is currently touring the United States and Canada with his show, Follow the Leader. D'Elia has three comedy specials available on Netflix, Man on Fire (2017), Incorrigible (2015) and he was chosen as one of four comics to represent the US in Netflix's 2019 series, Comedians of the World which features 47 comedians from 13 regions in eight different languages. His first special, White Male. Black Comic, debuted on Comedy Central in 2013 and he can also be seen on Comedy Central's Roast of Justin Bieber (2015). D'Elia also hosts the highly successful podcast Congratulations with Chris D'Elia which has been a mainstay on iTunes' comedy podcast charts since its debut in February 2017. On screen, D'Elia is most known for his starring role in the NBC's comedy series Undateable. D'Elia can be seen in the upcoming season 2 of You on Netflix. He can also be seen in the Netflix feature Little Evil opposite Adam Scott and Evangeline Lilly. D'Elia currently lives in Los Angeles.
Dave Koz & Friends Summer Horns Tour - July 26
Dave Koz and Friends Summer Horns tour features Gerald Albright (alto sax), Rick Braun (trumpet), Kenny Lattimore (vocals) and Aubrey Logan (trombone and vocals). In a career that spans more than three decades, saxophonist Dave Koz has racked up an impressive array of honors and achievements: nine GRAMMY® nominations, nine No. 1 albums on Billboard's Current Contemporary Jazz Albums chart, numerous world tours, playing for multiple presidents, a star on the Hollywood Walk of Fame and more. A platinum-selling artist, Koz is also known as a humanitarian, entrepreneur, radio host, instrumental music advocate and restaurateur.
The Beach Boys - August 2
As The Beach Boys mark more than a half-century of making music, the group continues to ride the crest of a wave unequaled in America's musical history.  The Beach Boys have become synonymous with the California lifestyle and have become an American icon to fans around the world.  Since lead-singer man Mike Love penned the lyrics to The Beach Boys' first hit, "Surfin'" (1961), dozens of the bands chart toppers have become eternal anthems of American youth:  "Surfin' USA," "Surfer Girl," "Fun, Fun, Fun," "I Get Around," "California Girls," "Help Me Rhonda," "Barbara Ann," "Good Vibrations," "Wouldn't It Be Nice," "Rock and Roll Music" and "Kokomo."                                                                        
The Beach Boys have sold over 100 million records worldwide and have received more than 33 RIAA Platinum and Gold record awards. The Rock and Roll Hall of Famers where also honored at the 2001 Grammy Awards with the Lifetime Achievement Award. With more than five decades of touring under their belts, The Beach Boys have performed more concerts than any major rock band in history.  Sounds Of Summer: The Very Best Of The Beach Boys, Capitol/EMI's 30-track collection of the band's biggest hits, has achieved triple-platinum success with sales of more than three million copies in the U.S. since its release.
The Beach Boys are led by Mike Love and Bruce Johnston, who along with Jeffrey Foskett, Tim Bonhomme, John Cowsill, Keith Hubacher, Scott Totten and Christian Love continue the legacy of America's iconic band. This concert will not feature Brian Wilson, Al Jardine or David Marks.
Happy Together Tour - August 9 
Music fans have been enjoying the hits of the sixties and seventies since the Summer of Love and beyond. They get to relive those moments on the renowned Happy Together Tour 2019, which is going on its 10th consecutive year. This summer, the Happy Together Tour returns with six headline artists who delivered the biggest hits of the era: The Turtles, Chuck Negron, formerly of Three Dog Night, Gary Puckett & The Union Gap, The Buckinghams, The Classics IV and The Cowsills.
- The Turtles continue to be the signature headliners of the Happy Together Tour. As always, Mark Volman will bring his famous antics to the stage along with the Archie's Ron Dante (who will again be replacing Howard Kaylan). Together they will be performing all of the Turtles' magical Top 40 Hits including "It Ain't Me Babe," "Elenore," "She'd Rather Be With Me," "You Showed Me", The Archies' mega-hit "Sugar Sugar," and the title of the tour "Happy Together."
- Chuck Negron, formerly of Three Dog Night, is back on the Happy Together Tour due to popular demand. He brings Three Dog Night's biggest hits to the stage, including "Joy To The World," "Mama Told Me Not To Come," "Shambala," "One", "Easy To Be Hard" among others.
- Gary Puckett & The Union Gap is thrilled to be on the Happy Together Tour again. Gary's trademark voice will be belting out his hits one more time. Fans will affectionately remember "Young Girl," "Over You" "Woman, Woman", "This Girl Is A Woman Now", "Lady Willpower", "Don't Give In To Him" and more.
- The Buckinghams will be back on the tour for the first time in five years! The band formed in 1966, and went on to become one of the top-selling acts of 1967, including their #1 hit "Kind of a Drag," and other hits "Don't You Care", "Mercy, Mercy, Mercy" and "Hey Baby, They're Playing Our Song." With three chart hits at one time on two labels, in 1967, Billboard Magazine named them "The Most Listened to Band in America."
- The Classics IV is the newest addition to the Happy Together lineup. With their southern soft rock sound, they are one of the most popular and influential pop groups of the 60s and 70s. They achieved phenomenal success with multiplatinum hits "Spooky," "Stormy," "Traces," and Everyday With You Girl."
- The Cowsills have been dazzling crowds the last four years on the Happy Together Tour with their effervescent brand of contagious pop magic. Bob, Paul and Susan Cowsill are a family singing group and the original inspiration for television's, The Partridge Family. Best known for songs "The Rain, The Park and Other Things," "Hair," "Indian Lake" and "Love American Style." The Cowsills appeared on numerous TV shows including The Ed Sullivan Show and The Tonight Show with Johnny Carson.
Share
Boyz II Men - August 16 
Boyz II Men remains one of the most truly iconic R&B groups in music history. The group redefined popular R&B and continues to create timeless hits that appeal to fans across all generations, the band has penned and performed some of the most celebrated classics of the past two decades. The group's 4 Grammy Awards are just the tip of the iceberg: throughout their 25-year career, Boyz II Men have also won a whopping 9 American Music Awards, 9 Soul Train Awards, 3 Billboard Awards, and a 2011 MOBO Award for Outstanding Contribution to Music, a star on the Hollywood Walk of Fame, as well and a Casino Entertainment Award for their acclaimed residency at the Mirage Resort and Casino in Las Vegas, which has been ongoing since 2013. The trio holds the distinction of being the best-selling R&B group of all time, with an astounding 60 million albums sold. Boyz II Men's past hits include: "End of the Road," "I'll Make Love to You," "One Sweet Day," "Motownphilly" and many others.
Terry Fator - August 24
Terry Fator is a singer, comedian, ventriloquist and celebrity impressionist who won "America's Got Talent" in 2007. It's a long journey from Corsicana Texas to the Las Vegas stage, but Fator made it to the top as the headliner at the Mirage Hotel in Vegas for the past 10 years. Terry can impersonate over 100 voices with favorites being Karen Carpenter, Elton John, Garth Brooks, Justin Timberlake, Elvis, Meghan Trainor and Bruno Mars. His cast of characters includes: Winston the Impersonating Turtle; the World's Greatest Elvis Impersonator; Elton John; Vicki the Cougar; President Donald Trump and annoying neighbor Duggie. But even with all his time performing, he always finds time to enjoy life with his beautiful wife Angie and to give of his time to the cause he passionately believes in, helping America's veterans. More information on Terry Fator can be found at terryfator.com.
Theresa Caputo - August 30 & 31
"The Experience" brings Theresa face-to-face with her fans, as she lets spirit guide her through the audience. A video display ensures everyone in the venue has an up-close-hands-on experience regardless of seat location. "The experience isn't about believing in mediums. It's about witnessing something life-changing" says Theresa Caputo. "It's like Long Island Medium live, witnessing first-hand spirit communication."
The highly-rated show Long Island Medium follows Theresa's life as a typical Long Island mom with one very big difference…she can communicate with the dead. Since she cannot "turn off" this gift, messages from departed loved ones can come through at any time, which lead to spontaneous readings with those she encounters. In addition to her television show, Theresa has appeared on such programs as The Tonight Show with both Jay Leno and Jimmy Fallon, The Steve Harvey Show, Live with Kelly and Michael, Dr. Oz, and The Today Show.
Theresa's latest book Good Grief: Heal Your Soul, Honor Your Loved Ones, and Learn to Live Again was released in 2017 and debuted on the New York Times bestseller list at No. 3. With her energetic, positive and encouraging tone, Theresa uses the lessons from Spirit to guide the reader through grief toward a place of solace and healing. Theresa's second book You Can't Make This Stuff Up was released in September 2014 and debuted at No. 9 on the New York Times bestseller list. Her first book There's More to Life Than This was released in the fall of 2013. 
Theresa has been a practicing medium for over 20 years. She helps individuals find closure by delivering healing messages. For Theresa, this is not just her job... this is her life. Learn more about Theresa at www.theresacaputo.com.
Air Supply - September 6 
Graham Russell and Russell Hitchcock, the men of Air Supply, met in 1975 in Sydney, Australia. They became instant friends with their common love for The Beatles and, of course, singing. The duo began playing pizza parlors, coffee bars and night clubs with just one guitar and two voices. They quickly gained a reputation for great harmonies and for original songs that Graham was constantly writing. After their song "Lost in Love" went to No. 1 in Australia, they began to open for Rod Stewart across Australia and then throughout the U.S. and Canada. In 1980, music industry executive Clive Davis in New York signed Air Supply to Arista Records, and "Lost in Love" became the fastest selling single in the world, leaping to the top of all of the charts. The second single "All Out of Love," went up the charts even quicker. Seven top-five singles later, Air Supply at that time had equaled The Beatles' run of consecutive top five singles. The albums Lost in Love, The One That You Love, Now & Forever, and The Greatest Hits sold in excess of 20 million copies. "Lost in Love" was named Song of the Year in 1980, and, with the other singles, sold more than 10 million copies. Air Supply celebrated their 40th anniversary in 2015 and continue to delight audiences all over the world.
Ultimate Queen Celebration - September 7 
Queen's Roger Taylor and Brian May handpicked singer Marc Martel to take on the lead vocals for their Queen tribute tour. His audition video of "Somebody to Love" garnered 13 million views on YouTube. Marc not only sounds dead-on like Freddie Mercury, but he embodies the heart-and-soul Freddie poured into every song that he performed. The Ultimate Queen Celebration is an evening you'll be talking about long after the lights go down. It's dozens of songs that Queen made famous including "Radio Gaga", "Tie Your Mother Down", "Fat Bottomed Girls", "Killer Queen", "Somebody to Love", "Bohemian Rhapsody" and more. The Ultimate Queen Celebration is comprised of lead vocalist Martel, Brandon Ethridge (keys), Tristan Avakian (guitar), Jason Gianni (Drums), and Mike Cohen (bass), among others. To learn more about Marc Martel and The Ultimate Queen Celebration, visit www.camatalent.com/queen.
38 Special - September 27
After more than four decades together, 38 Special continues to bring a signature blast of Southern Rock to over 100 cities a year. With sales in excess of 20 million, most associate the band with their arena-rock pop smashes, "Hold On Loosely," "Rockin' Into the Night," "Caught Up in You," "Fantasy Girl," "If I'd Been the One," "Back Where You Belong," "Chain Lightnin'," and "Second Chance." The band is comprised of guitarist/vocalist Don Barnes, bassist Barry Dunaway, drummer Gary Moffatt and keyboardist/vocalist Bobby Capps. The most recent addition to the band is legendary virtuoso guitarist and vocalist Jerry Riggs. Since 1976, the band has released more than 15 albums.
Engelbert Humperdinck - October 19 
In a career spanning almost 50 years, Engelbert has generated sales in excess of 140 million records, including 64 gold albums and 35 platinum, four Grammy nominations, a Golden Globe, and stars on the Hollywood Walk of Fame, Las Vegas Walk of Fame, and Leicester Walk of Fame. He has performed for the Queen four times, several presidents and many heads of state. He has recorded everything from the most romantic ballads to movie theme songs, disco, rock, and even gospel. His unique voice has charmed millions of fans around the globe. However, it's not just the voice, but the man himself, with his endearing sense of humor and self-deprecating jokes. Engelbert has managed to strike a new chord with a younger generation after appearing on MTV several times.
Straight No Chaser - November 29
Straight No Chaser's latest studio album, "ONE SHOT" has SNC doing what they do best with distinctive takes on classic pop and soul favorites, including Ricky Martin's "Livin La Vida Loca," Fleetwood Mac's "Go Your Own Way," James Brown's "Papa's Got a Brand New Bag," and the LP's first single, an energetic mash-up of Boyz II Men and Montell Jordan entitled "Motownphilly/This Is How We Do It." 
"ONE SHOT" is further highlighted by a richly harmonized version of Simon & Garfunkel's "Homeward Bound" in which the hard-touring group expresses their deep yearning for the comforts of family life. In addition, the LP features alongside seven entertaining conversational interludes wherein the nine members of Straight No Chaser trace their unlikely rise from an undergraduate singing group at Indiana University to a beloved Atlantic Records act with a devoted international fanbase.