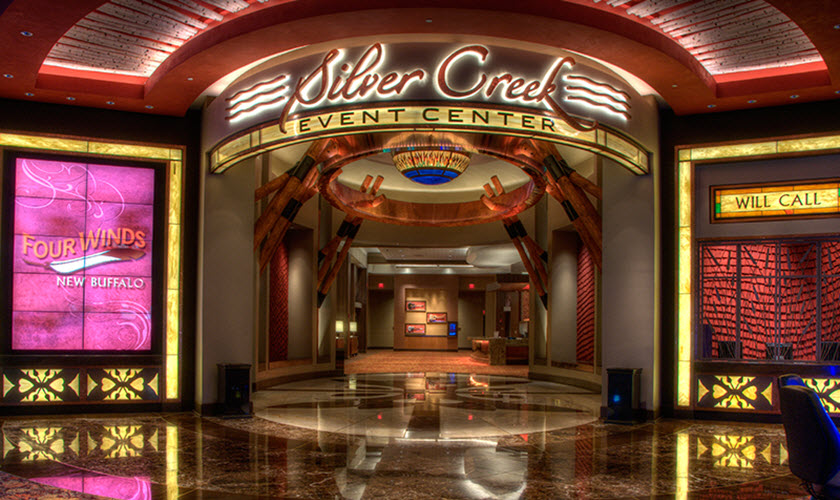 Stars At Silver Creek
Date of Post: Jan 17, 2018
Silver Creek Event Center is the place to go for legendary concerts and comedians! Enhance your Silver Creek experience with a dinner and hotel package. Package details vary based on event and can be purchased through Ticketmaster.com. Here is the current schedule; watch for more concert announcements by following us on Facebook and Twitter.  
Chris D'Elia - Follow The Leader - November 8
Chris D'Elia has become one of the most in-demand performers in comedy. As a stand-up, D'Elia is currently touring the United States and Canada with his show, Follow the Leader. D'Elia has three comedy specials available on Netflix, Man on Fire (2017), Incorrigible (2015) and he was chosen as one of four comics to represent the US in Netflix's 2019 series, Comedians of the World which features 47 comedians from 13 regions in eight different languages. His first special, White Male. Black Comic, debuted on Comedy Central in 2013 and he can also be seen on Comedy Central's Roast of Justin Bieber (2015). D'Elia also hosts the highly successful podcast Congratulations with Chris D'Elia which has been a mainstay on iTunes' comedy podcast charts since its debut in February 2017. On screen, D'Elia is most known for his starring role in the NBC's comedy series Undateable. D'Elia can be seen in the upcoming season 2 of You on Netflix. He can also be seen in the Netflix feature Little Evil opposite Adam Scott and Evangeline Lilly. D'Elia currently lives in Los Angeles.
REO Speedwagon - November 9
Formed in 1967 at college in Champaign, IL, signed in 1971, and fronted by iconic vocalist Kevin Cronin since 1972, REO Speedwagon's non-stop touring and recording jump-started the burgeoning rock movement in the Midwest. Platinum albums and radio staples soon followed, including the number one singles "Keep on Loving You" and "Can't Fight This Feeling," plus fan favorites like "Take It on the Run," and "Ridin' The Storm Out." The band released its most successful album—Hi Infidelity—in 1980, which spent 15 weeks at #1 and has since earned the RIAA's coveted 10X Diamond Award for surpassing 10 million units in the United States. Today, REO Speedwagon has sold 40 million albums around the globe and Cronin and bandmates—Bruce Hall (bass), Neal Doughty (keyboards), Dave Amato (guitar), and Bryan Hitt (drums)—are still electrifying concert audiences worldwide.
Jason Mraz & Raining Jane - November 22
Last year, as Jason Mraz celebrated the 15th anniversary of his Platinum-certified debut album Waiting For My Rocket To Come, he began to ponder the meaning of his time in the spotlight since getting his start in coffeehouses in San Diego. While amassing a global fan base for his positive message and soulful, folk-pop sound, Mraz has earned numerous diamond and platinum certifications for his various releases, including his classic singles "I Won't Give Up," "Lucky," and the record-breaking "I'm Yours." He has won two Grammy Awards, received the prestigious Songwriter Hall of Fame Hal David Award, and sold out such fabled venues as The Hollywood Bowl, Madison Square Garden, and London's O2 Arena.
Straight No Chaser - November 29
Straight No Chaser's latest studio album, "ONE SHOT" has SNC doing what they do best with distinctive takes on classic pop and soul favorites, including Ricky Martin's "Livin La Vida Loca," Fleetwood Mac's "Go Your Own Way," James Brown's "Papa's Got a Brand New Bag," and the LP's first single, an energetic mash-up of Boyz II Men and Montell Jordan entitled "Motownphilly/This Is How We Do It." 
"ONE SHOT" is further highlighted by a richly harmonized version of Simon & Garfunkel's "Homeward Bound" in which the hard-touring group expresses their deep yearning for the comforts of family life. In addition, the LP features alongside seven entertaining conversational interludes wherein the nine members of Straight No Chaser trace their unlikely rise from an undergraduate singing group at Indiana University to a beloved Atlantic Records act with a devoted international fanbase.
Cirque Dreams Holidays - December 14 & 15
Broadway Director and Cirque Dreams Founder, Neil Goldberg, has searched the world to assemble a remarkable cast of incomparable cirque artists, singers, dancers and talent to mesmerize audiences with new acts, holiday scenes, theatrical innovation and much more in 2019.  Set in a multi-million-dollar wonderland of elaborate scenes and dozens of original holiday production numbers, audiences nationwide will celebrate the most wonderful time of the year as they experience spectacular costumes and the world's most astonishing acts.  Broadway singers perform original music along with a new twist on seasonal favorites such as "Deck The Halls," "Winter Wonderland," and "Jingle Bell Rock."  On the edge-of-your-seat feats are performed by toy soldiers, snowmen, penguins, candles, reindeer, gingerbread, carolers, Santa and colossal ornaments balancing and stretching imaginations in this groundbreaking holiday stage spectacular.  More information is available at www.cirqueproductions.com.
Purchase Tickets - December 14
Purchase Tickets - December 15
Grand Funk Railroad - December 27
Originating from Flint, Michigan in 1969, Grand Funk Railroad is a top selling American rock group that is touring in 2019 to mark a 50 year milestone. After playing to millions of fans on the band's tours from 1996 to 2018, Grand Funk's 2019 American Band Tour will continue to reach both new and long-time fans. Known as "The American Band," the high-energy five-piece group includes original founding members Don Brewer, who sings vocals, plays the drums, and is writer and singer of the multi-million selling hit, "We're An American Band," and bassist Mel Schacher, who is known as "The God Of Thunder." Joining Don and Mel are singer Max Carl, lead guitarist Bruce Kulick, and keyboardist Tim Cashion. Grand Funk Railroad's hit songs include "We're An American Band," "I'm Your Captain/Closer To Home," "Locomotion," and "Some Kind Of Wonderful," which still receive continuous airplay on Classic Rock radio. More information on Grand Funk Railroad is available at https://www.grandfunkrailroad.com.
KC and the Sunshine Band - December 28 
KC and The Sunshine Band has celebrated over 40 years of creating iconic disco music.  They gave a voice to a generation, helped define an entire culture and continue to make an impact today.  With over four decades of success, the group, led by Harry Wayne "KC" Casey, has been in a state of constant renewal in their niche of cultural relevancy, thanks in part to their music being featured in numerous motion picture soundtracks, television shows, and national advertising campaigns.  KC and The Sunshine Band formed in 1973 with one single purpose – to create instant happiness through music – and the group has done just that, topping the charts with  singles including "That's the Way (I Like It)," "Get Down Tonight," and "(Shake, Shake, Shake) Shake Your Booty," tallying worldwide sales of over 100 million albums sold, and receiving numerous awards.  More information is available at www.heykcsb.com.
America - January 18
Almost 50 years ago, the Grammy Award-winning band was formed by Gerry Beckley, Dewey Bunnell and Dan Peek, who departed the band in 1977 and passed away in 2011, after meeting as sons of U.S. Air Force personnel stationed in London, where they began performing live.  AMERICA released their debut album on Capitol Records in 1971, which hit number one in the United States and featured the number one Billboard pop hit "Horse With No Name."  AMERICA has influenced generations of musicians with their distinctive brand of acoustic-driven, harmony-rich rock, mixed with pop smarts, in soul-searching classic songs that reflected the times they were living in.
The band's huge radio success throughout the '70s and early '80s at times overshadowed the lyrical depth of their songs such as the questing "Horse With No Name" (with its environmental message at the end); the frank romantic politics of "Sister Golden Hair"; the war paranoia of "Sandman" (written in part from conversations with returning airmen from Vietnam); and the cautionary life advice of "Don't Cross The River."
Great White & Slaughter - January 31
Great White is a Grammy nominated band and hard rock band legend.  Its hit songs include "Once Bitten, Twice Shy," "Rock Me," "Mista Bone," "Save Your Love," "House of Broken Love," and "Lady Red Light."  The band has sold over 10 million albums worldwide, has six Top 100 Billboard hits, nine Top 200 Billboard albums, and two platinum albums.  The band is made up of Mitch Malloy on vocals, Mark Kendall on guitars, Michael Lardie on guitars and keyboards, Audie Desbrow on drums, and Scott Snyder on bass.  More information is available at www.officialgreatwhite.com.
Slaughter is a multi-platinum selling band and American Music Award recipient known for hit songs including "Up All Night" and "Fly To The Angels."  Members of the band include co-founders Mark Slaughter on lead vocals and guitar, and Dana Strum playing bass guitar and providing backup vocals.  Jeff Blando is the lead guitarist and backup vocalist, and Zoltan Chaney plays the drums.  More information is available at www.slaughterusa.com.
"The Beat Goes On," A CHER Tribute Show, featuring Lisa McClowry as CHER - February 1
The international touring show, "The Beat Goes On" features American singer and actress Lisa McClowry's portrayal of the Goddess of Pop in her one-woman Broadway-style live stage show. Lisa is completely convincing as CHER with every aspect of playing Cher down pat including her singing and speaking voice, the walk, the talk, the costumes, the makeup, and the mannerisms. In addition, the show incorporates a live band, LED walls, video, multiple costume changes, dynamic dialogue, humor, and fun audience participation. You can expect to hear Cher's hits spanning from the 1960's to now including: "I Got You Babe," "Gypsies, Tramps, and Thieves," "I Found Someone," "If I Could Turn Back Time," songs from ABBA - from Cher's "Dancing Queen" album, "Woman's World," "Welcome to Burlesque," "Believe," and so much more! The show has been met with incredible reviews, multiple sell-outs, and standing ovations!
Lisa McClowry is a life-long singer and entertainer with over thirty years in the entertainment industry as a trusted, reliable source and talent with twenty-five music albums, multiple lead roles in theatrical productions, movies, and commercials. Her original music plays on radio today. More information on "The Beat Goes On" is available at  http://thebeatgoesonshow.com, www.chertributeglobal.com, and www.lisamcclowry.com/.
Rick Springfield - February 15
Over the past four decades, Rick Springfield has worn many hats as an entertainer and performer. He is the creator of some of the finest power-pop of the '80s, a Grammy winning singer, songwriter, and musician who has sold 25 million albums and scored 17 U.S. Top 40 hits, including "Jessie's Girl," "Don't Talk to Strangers," "An Affair of the Heart," "I've Done Everything for You," "Love Somebody," and "Human Touch." He's an accomplished actor who has starred opposite Meryl Streep in the feature film "Ricki and the Flash," gave a chameleonic performance as the creepy Dr. Pitlor in HBO's prestige drama "True Detective," earned great reviews for his portrayal of Lucifer on the CW hit "Supernatural" and most recently played Pastor Charles on "American Horror Story." In 2014, Springfield was honored with a star on the Hollywood Walk of Fame, located around the corner from the first apartment he lived in when he first arrived in the United States from Australia in 1971. Rick's most recent album "Orchestrating My Life" was released in 2019. More information is available at www.rickspringfield.com/.
Supertramp's Roger Hodgson - February 22
Roger Hodgson is recognized as one of the most gifted composers, songwriters and lyricists of our time. Hodgson co-founded the progressive rock band Supertramp in 1969 and was with them for 14 years. As the legendary voice, writer and arranger of most of Supertramp's greatest hits that led to more than 60 million record sales, he gave us amazingly enduring songs such as "The Logical Song," "Breakfast in America," "Give a Little Bit," "Take the Long Way Home," "Dreamer," "It's Raining Again," "School," "Fool's Overture" and so many others that have become the sound track of our lives. Hodgson has twice been recognized by ASCAP (American Society of Composers, Authors, and Publishers) for his songs being in the top played songs in their repertory.