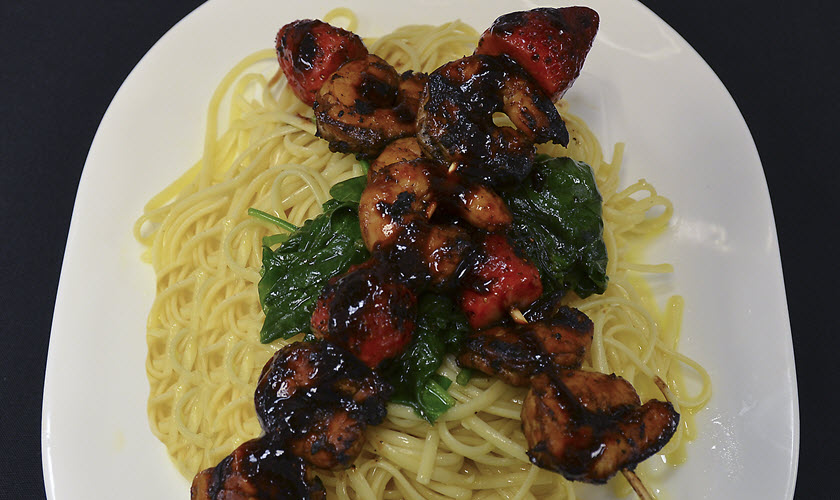 Strawberry Balsamic Shrimp Pasta
Date of Post: Feb 9, 2015
Make your special someone a dinner this Valentine's Day that they will never forget.
Ingredients
1/4 C Light Brown Sugar
1/2 C White Granulated Sugar
1/2 C Balsamic Vinegar
1 qt Fresh Strawberries – Caps Removed
3 Tbsp Strawberry Jam
2 Tbsp and 1 C Olive Oil
2 Tbsp Fresh Minced Garlic
4 C Fresh Spinach
1 lb Cooked Paste (Spaghetti or Fettuccine)
1.5 lb Uncooked Jumbo Shrimp, Peeled and Deveined
Salt to Taste
Preparation
1.) Whisk both the sugars into the balsamic vinegar.
2.) Add the strawberry jam and cook over low heat until mixture begins to thicken, about 5 minutes.
3.) Soak the shrimp overnight in the balsamic mixture.
Cooking
1.) Skewer the shrimp and strawberries.
2.) Drizzle with remaining balsamic mixture and grill for about 3 minutes on each side, until the shrimp are opaque.
3.) In a sauté pan, heat 2 tbs. of olive oil. Once hot, cook the spinach for about 2 minutes or just until the leaves start to wilt.
4.) In another pan, sauté the garlic and 1 tbs. of olive oil until golden brown in color. Remove from heat and add the remaining cup of olive oil.
5.) Toss garlic sauté and pasta together and season with desired amount of salt.
Presentation
Place pasta on the plate and add the wilted spinach centered on top. To finish the plate, place two skewers of shrimp on top of the entrée.

Now that you've made this impressive entrée, enjoy your Valentine's Day and share photos of your masterpiece on social media with #FourWindsCasino or by emailing photos to social@fourwindscasino.com! Emailed or tagged photos could be featured on our Facebook, Twitter, Instagram, Pinterest, and Google+ pages!

The Culinary Team at Four Winds Casinos is dedicated to the art of preparing and serving delectable dishes. We enjoy sharing recipes with our guests and fans because we know you love our restaurants—which are some of the finest restaurants in New Buffalo, Michigan, South Bend, Indiana and the surrounding area. Four Winds Casinos offers fine dining at Copper Rock Steakhouse, modern dining with a twist at Kankakee Grille, and our popular Timbers Fast Food & Deli.