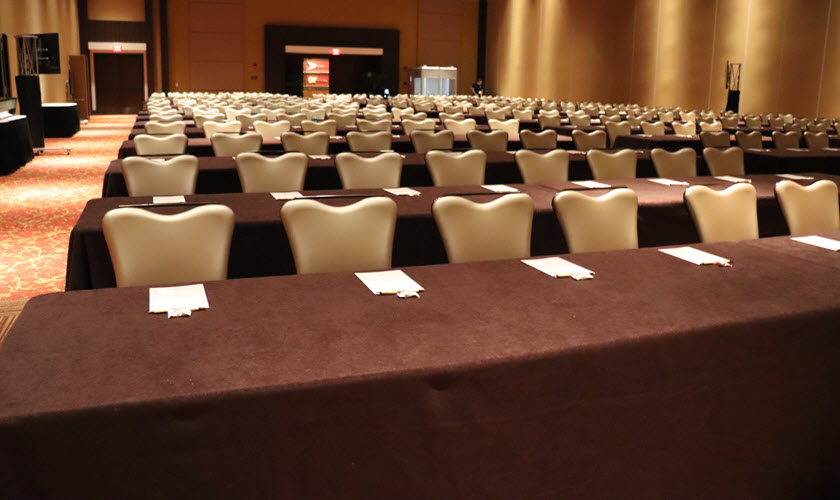 Sullair International Conference 2018
Date of Post: Aug 8, 2018
Planning an international conference is already complicated but when you make it a weeklong event with attendees from multiple continents, complex doesn't cover the basics.
We were the proud host of the 2018 Sullair International Conference held in May 2018. The weeklong event of over 500 attendees included meetings, luncheons, banquets, group trips and more.
Why did Sullair choose to hold their 2018 event at Four Winds Casino New Buffalo?
"We wanted to host our event close to our factory and main offices in Michigan City, IN, and Four Winds was not only convenient to our Michigan City location, but also the meeting facilities, room accommodations, and dining options were of the high quality our meeting attendees expect and appreciate."
The Sullair International Conference was a time for employees and distributors to learn about technology advancements, new products, distribution and more. With a variety of topics, many of the conference sessions needed to be at the same time – The Four Winds Team created multiple classroom settings and a lecture hall inside Silver Creek Event Center. The different rooms created an intimate setting for smaller groups and a larger, but not overwhelming, hall for product features and demonstrations.
How did the conference space meet Sullair's needs?
"Perfect. The meeting facilities were exactly what we needed for our event and group size, and the team at Four Winds was very accommodating and flexible in the months and days leading up to the event."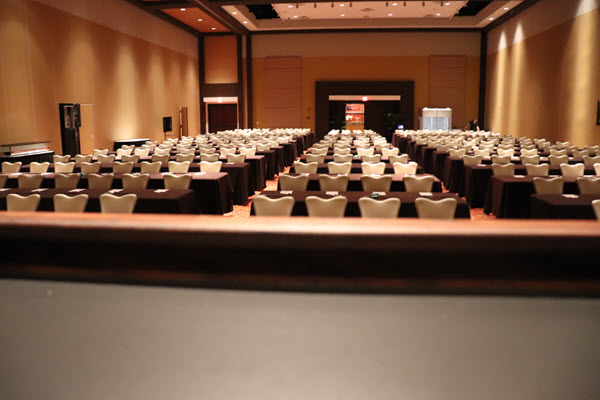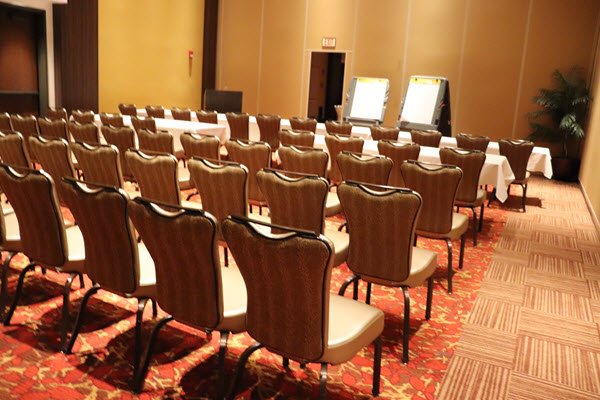 When Silver Creek Event Center was not being used for meetings it was transformed into a dining and banquet reception where the entire conference enjoyed a memorable dinner featuring ice sculptures, themed cocktails at cocktail hour, five-course meal, and live entertainment.
"The dinner that we had in the event center on May 22, which also included a performance by David Ranalli, received a lot of compliments. Our attendees thoroughly enjoyed the food (surf and turf) that evening, along with the entertainment provided by David."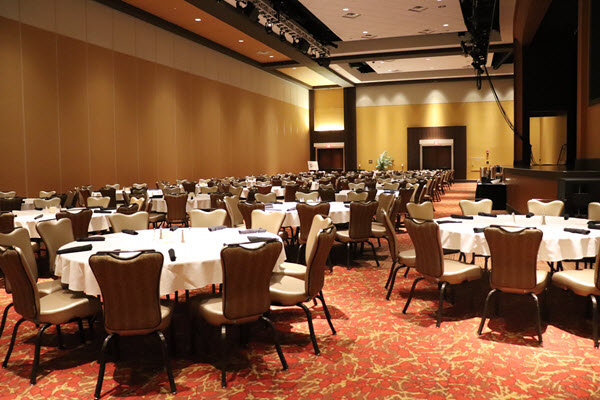 Even though the main focus was on products and education, the group took time to enjoy networking during on and off-property events. To kick-off the conference attendees were welcomed with a private party at Hard Rock Cafe Four Winds. Hors d'oeuvres, carving, and desserts stations were placed throughout the restaurant and on the patio full of delicious items for international tastes.
"The food was exceptional, the atmosphere was fun and energetic. It's a great venue, and we received many, many positive comments about this kick-off event."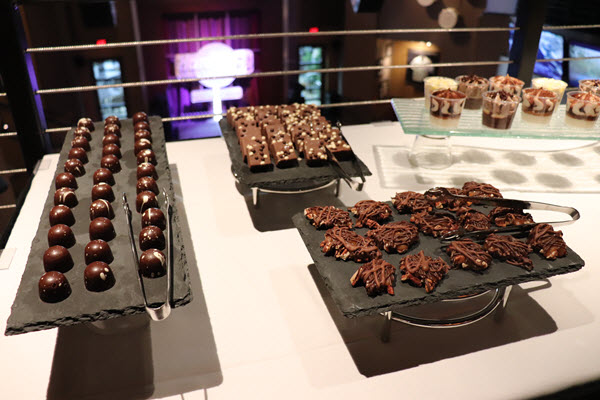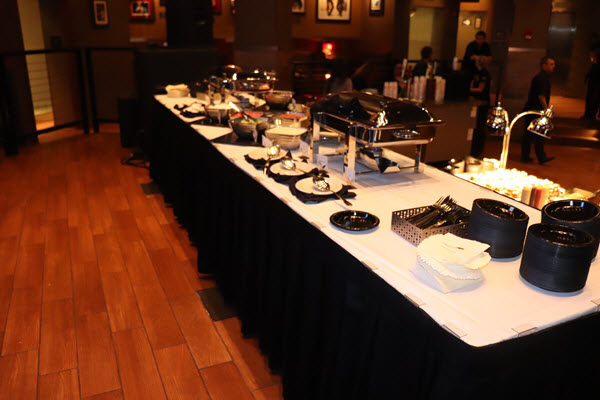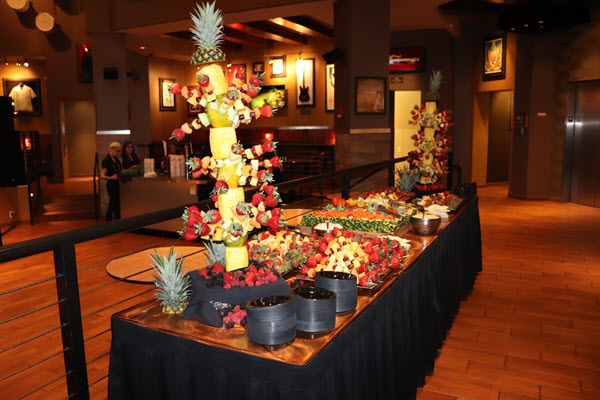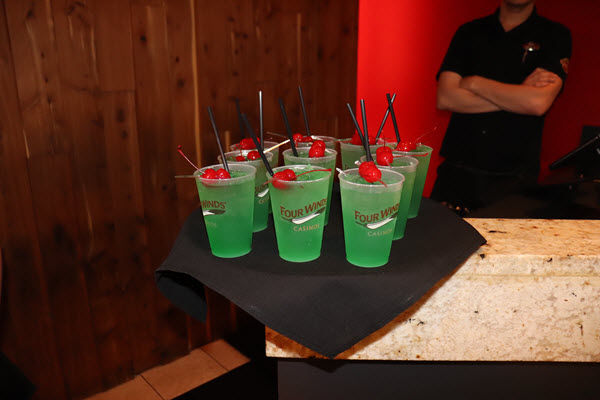 During the week attendees were able to go off-property to enjoy local attractions like golfing, clay shooting and local wineries, as well as a tour of the Sullair headquarters located a few towns over.
"Timothy and Georgia were outstanding – they went above and beyond to assist us every step of the way. With their assistance we hosted off-property events at Whitaker Woods, Deer Creek Hunt Club, and also did a winery tour with Grape & Grains."
The attendees gave Four Winds Casino great feedback and we're thrilled to have received high remarks for hotel accommodations, staff, dining, and facilities.
So, would Sullair hold their conference with us again?
"Yes, most definitely. Sullair varies the location of our large conference from year-to-year in order to accommodate the attendees who travel from far away, so some years we have it on the East Coast, some years on the West Coast, and other years we'll have it locally so that our attendees may visit our factory. When doing the event locally, we would definitely consider having it at Four Winds again."
What else did Sullair have to say?
"We cannot emphasize enough how much we enjoyed working with the team at Four Winds. The level of service provided went beyond our expectations, not only during the event itself but also in the months leading up to the event. Timothy and Georgia worked with us to make sure that no detail was missed. Thank you again!"
If you are planning a wedding, conference or birthday party, Four Winds Casinos has great options like Silver Creek Event Center, Kankakee Grille, Copper Rock Steakhouse, and The Buffet. Four Winds Casinos' meeting facilities can host events ranging from 80 to 2,000 guests. To start planning your event at Four Winds Casinos or for more information, contact our Sales Team.