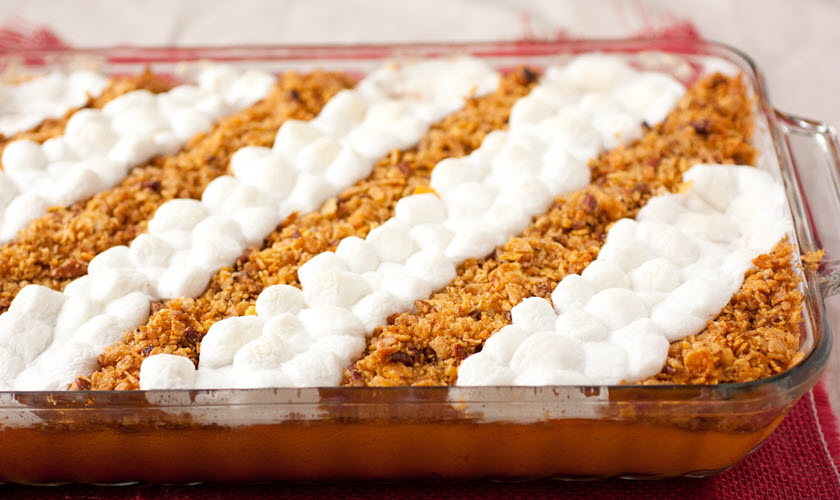 Sweet Potato Casserole
Date of Post: Nov 13, 2014
Enjoy a little bit of sweetness during your Thanksgiving dinner with a great side dish.  
Casserole Base
Ingredients
2 lb Boiled and Mashed Sweet Potatoes
1/2 C Unsalted Sweet Creamery Butter
1/2 C Granulated Cane Sugar
1/4 C Golden Brown Sugar
1/4 tsp Sea Salt
3 Large Eggs
1/3 C Heavy Cream
1/4 tsp Cinnamon
1/2 Orange for Orange Zest
Preparation
1) Finely chop ½ of orange peel for orange zest. Set aside.
2) Melt butter in a saucepan and stir with a rubber spatula until slightly browned.
3) Mix together the browned butter, granulated sugar, brown sugar, salt, cinnamon and orange zest with the mashed sweet potatoes, until well combined.
4) In a separate bowl, whisk the eggs and cream together. Then, slowly stir into the sweet potato mixture.
5) Pour entire mixture into a buttered 13 x 9 glass baking dish and spread into an even layer.
Casserole Topping
Ingredients
5 C Corn Flakes – Crushed
1/4 C Unsalted Sweet Creamery Butter
1/4 C Golden Brown Sugar
3 C   Mini Marshmallows
Preparation
1.) Brown butter in saucepan.
2.) Combine the crushed corn flakes and brown sugar in a bowl and pour the browned butter over the cereal mixture and mix together thoroughly.
3.) Spread the cereal mixture into diagonal rows over the mashed sweet potato mixture leaving approximately a 2 finger wide gap between the rows.
Baking
1.) Preheat oven to 350 degrees.
2.) Bake for 30 minutes.
3.) Remove from oven and spread marshmallows between the rows of cereal topping.
4.) Return to the oven and bake for about 8-12 minutes or until marshmallows are lightly golden.
5.) Serve while still hot.
Now that you've made this impressive side dish, please enjoy and share photos of your masterpiece. You can email photos to social@fourwindscasino.com and we may feature them on our Facebook, Twitter, Instagram, Pinterest, and Google+ pages!
The Culinary Team at Four Winds Casinos is dedicated to the art of preparing and serving delectable dishes. We enjoy sharing recipes with our guests and fans because we know you love our restaurants—which are some of the finest restaurants in New Buffalo, Michigan, South Bend, Indiana and the surrounding area. Four Winds Casinos offers fine dining at Copper Rock Steakhouse, modern dining with a twist at Kankakee Grille, and our popular Timbers Fast Food & Deli.