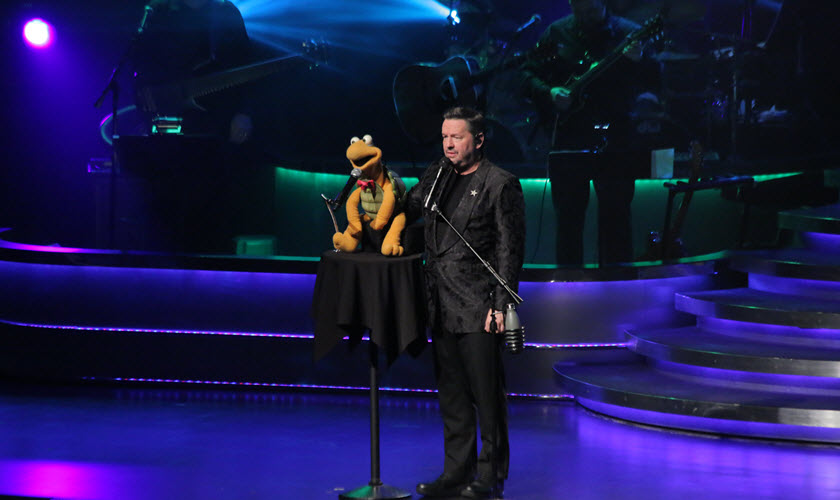 Interview with Terry Fator
Date of Post: Jul 23, 2019
Comedian, impressionist, singer and ventriloquist, Terry Fator, shares the joy of laughter to audiences all around the country in a unique and ever-changing performance. Terry will be bringing his cast to Silver Creek Event Center on August 24, 2019. We had a moment to catch up with Terry to talk about life and the journey in comedy.
Most kids aspire to become a firefighter, doctor or race car driver, what made Terry want to become a ventriloquist?
"Clearly the fast cars, the wild lifestyle, the fact that women love ventriloquists…okay, here's the truth. I always knew I wanted to be an entertainer but didn't know what type until I found a book on ventriloquism (Ventriloquism for Fun and Profit by Paul Winchell) in my school library when I was 10 years old. I put away my other interests like magic and hypnosis and started to focus on learning and mastering ventriloquism."
Performers can be upstaged by co-workers and Winston can certainly steal a show! What was his inspiration for creating the famous Winston?
"When I was on America's Got Talent I wanted to do a Kermit the Frog song but the Muppets never let anyone do a Kermit puppet but the real Kermit. Then I came up with an idea: what if there was a turtle who could impersonate anybody and could do a perfect Kermit? Next thing you know I'm the right-hand man to Winston."
From the stage of America's Got Talent to a residency at The Mirage in Las Vegas, Terry has performed on some big stages. But where was the most memorable performance for this wise guy?
"My honeymoon. Oh wait. You mean paid performance. 
I think one of the most interesting was when I did Showtime at the Apollo. It was a bucket list dream of mine to perform there as it is not only a legendary venue, but the audience itself is legendary. They are fair and tough, and you have to win them over in the first 20 seconds or they will boo you off the stage.  I brought my Maynard and Julius cast members and got a standing ovation!"
Did you know that Terry's not only funny but romantic? He showed his softer side when we asked, what is something other than phone calls that you do to bring a piece of home on the road with you?
"It's not even a close call. My amazing wife Angie who travels with me.  She's my home, my center, she is the calm I need on the road"
Being a comedian is hard and a ventriloquist even harder. No one in the entertainment industry wants to be greeted by the dreadful "dead air" at the completion of a performance. This results in many performers becoming perfectionists and Terry is no exception to that rule. We asked him if he ever thought he had a voice down pat but friends and family said no way?
"I'm such a perfectionist that when I do a new voice I'll spends hours and hours mastering it. And I'll know when I've nailed it, but once in a while, I'll finish and Winston the Impersonating Turtle will pull me aside and, do the voice perfectly and tell me just to let him handle it."
Terry has 19 cast members with different personalities, so you never know what your going to get at a performance. Which cast members is Fater most excited to have on tour right now?
"That's a hard one. I love the fact that there are cast members who take a break from my show in Vegas just to tour with me. Like Berry Fabulous who is a Broadway legend.
And speaking of legends, Frank Sinatra is on the road with me, If you like the Rat Pack and the great songs of the Chairman of the Board, you're gonna love Frank."
For 20 years before his Vegas residency Terry performed everywhere from schools to county fairs developing connections with his audience. If you follow any of Terry's social outlets you have seen some fantastic shout outs. But how weird do the shout out requests get?
"Let's just say that there are a few couples who come to my show who are obsessed with Vikki the Cougar and Fernando V Francisco. But I will not allow either to talk dirty! Several men have proposed to their girlfriends onstage. (It was arranged beforehand and I brought them onstage and turned them into my dummy.)"
Not only does Terry show his love for and care of the fans with shout outs, he is also super involved in charities locally and nationally. 100% of the profits from his merchandise sales at shows and at his online store go to charity. The Terry Fator Foundation supports numerous organizations including the American Cancer Society, the Nevada Blind Children Foundation, Shriners Hospitals for Children and numerous military-based charities. Terry is continuing to give and be generous with a new commitment,
"One of my new charity commitments is an event I sponsor, the USA Hockey Warrior Classic this coming October. It's an event and organization dedicated to injured and disabled US Military Veterans who have served our country and play the sport of ice hockey." 
For more details on upcoming concerts at Silver Creek Event Center please visit our website.