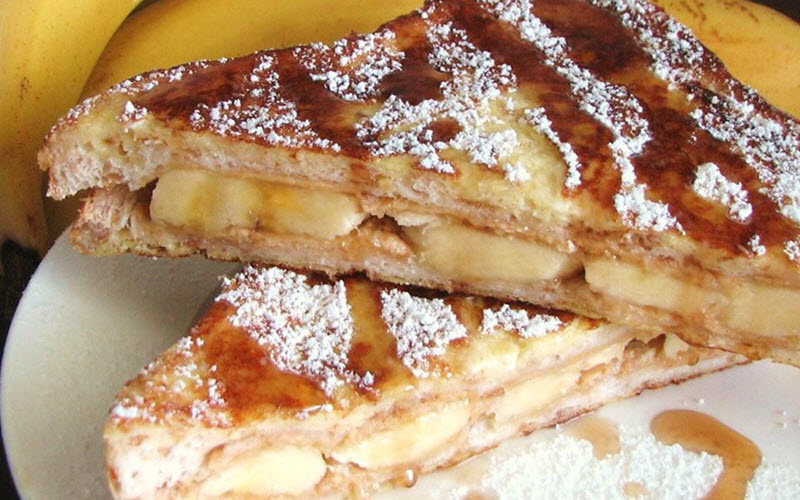 The Elvis Sandwich - French Toast Edition
Date of Post: Sep 9, 2019
Did you know that Elvis' favorite sandwich was a sweet treat also known as Peanut Butter Banana French Toast? Make your breakfast "All Shook Up" with this simple recipe. 
Ingredients
1                       Loaf of Brioche
8 slices            Bacon
2                       Large Bananas, sliced
4 Tbsp             Peanut Butter, divided
6                       Eggs
1/4 tsp             Vanilla Extract
1 Tbsp              Butter
Maple Syrup (optional)
Powder Sugar (optional)
Preparation 
1. Begin by cooking bacon in a skillet, until golden and crispy. Remove bacon from skillet, and transfer to a paper towel covered plate to drain the fat. Set aside.
2. Slice brioche loaf into 1 inch slices.
3. Spread 1 tablespoon of peanut butter over one side of a slice of bread. Then spread slices of banana over bread evenly and add 2 slices of bacon on top of the bananas.
4. In a shallow bowl or pie dish, whisk eggs and vanilla extract.
5. Dip each sandwich into whisked eggs to coat, then place in a skillet with butter.
6. Cook for a few minutes or until they are golden brown on each side.
7. Serve with maple syrup or sprinkle with powder sugar.