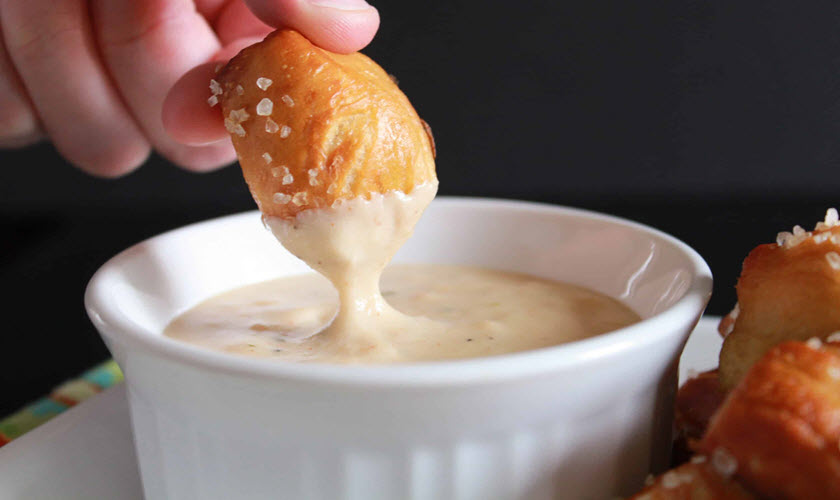 White Cheddar Beer Dip
Date of Post: Sep 4, 2019
Perfect for football season! Everything is better with cheddar.
Serves 8
Ingredients
4 Tbsp   Butter
1/4 C     Minced Onion (about 1/2 medium onion)
3 Tbsp   Flour
2 tsp      Ground Mustard
1            12 oz. Beer, like an IPA, room temp
1 C         Whole Milk or Heavy Cream, room temp
1 C         Sharp White Cheddar Cheese, grated
2 C         Cheddar Cheese, grated
1 tsp       Kosher Salt
1 tsp       Freshly Ground Pepper
1-2 tsp    Tabasco Sauce
Apple Slices
Soft Pretzels
Kielbasa Sausage 
Tortilla Chips
Preparation
1.) In a medium saucepan set over medium-high heat, melt the butter.
2.) Add the onion and sauté for 3 minutes until the onion is translucent.
3.) Add the flour and ground mustard, whisking frequently until a bubbly and a thick roux has formed, about 3 minutes.
4.) Slowly add the beer a little at a time, continuing to whisk. Slowly add the cream and whisk until it thickens a bit, about 5 minutes.
5.) Add the cheeses and whisk until smooth. Season with salt, pepper and Tabasco, adjusting to taste.