Four Winds Casinos
In February, LaSalle Bristol held their 2015 national sales meeting at Silver Creek Event Center at Four Winds New Buffalo. The 2015 event was a four-day event with food, vendors, speakers and much more. When asked about the experience, LaSalle Bristol coordinators said they chose Silver Creek Event Center because, "[It's] state of the art and [the] nicest conference facility within 100 miles of our corporate office that could accommodate our national sales meeting."
Read More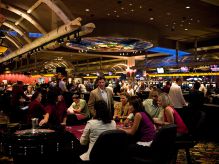 Gaming 101: Craps
February 17th @ 8:47 AM
At Four Winds Casinos, we understand that it can be intimidating to walk up to a table with seasoned players and try to...
Strawberry Balsamic Shrimp Pasta
February 9th @ 10:15 AM
Make your special someone a dinner this Valentine's Day that they will never forget...
2014 Recap!
January 20th @ 8:50 AM
From delectable entrees and relaxing getaways to exciting concerts and jackpots of all sizes, last year was one to...
2014 Four Winds Casinos Awards
January 8th @ 10:40 AM
At Four Winds Casinos, we take pride in providing a top-notch experience to all of our guests. From our gaming to our...