Four Winds Casinos
If you're looking for a simple dessert for Easter, this Angel Food Cake with Mixed Berry Compote is sure to please. It's one of Chef Drew's (Four Winds Casinos' Pastry Chef) favorites.
Read More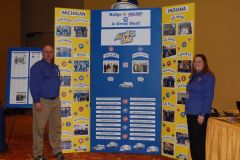 5 Top Considerations for Planning a Successful Tradeshow
December 26th @ 2:48 PM
If you're involved in a business or trade association considering a trade show, you have a lot of planning to do. From...
Holiday Cooking: Bacon Apple Walnut Dressing
December 19th @ 9:29 AM
It's the time of year when holiday cooking is in full swing. From turkey and ham to homemade cookies and treats, this...
Spinach & Roasted Red Pepper Stuffed Chicken with Herb Sauce
December 6th @ 12:45 PM
If you're looking for a simple meal bursting with flavor, this chicken and pasta dish using fresh ingredients like...
Holiday Happenings at Four Winds Casinos
November 27th @ 11:00 AM
It's the most wonderful time of the year at Four Winds Casinos and we're ready to celebrate the holidays with our...