Four Winds Casinos
February 17th @ 8:47 AM in
Gaming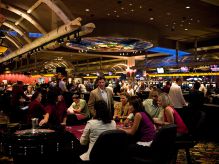 At Four Winds Casinos, we understand that it can be intimidating to walk up to a table with seasoned players and try to learn a new game, so we're going to teach you how to play the exciting game of Craps.
Read More
Strawberry Balsamic Shrimp Pasta
February 9th @ 10:15 AM
Make your special someone a dinner this Valentine's Day that they will never forget...
2014 Recap!
January 20th @ 8:50 AM
From delectable entrees and relaxing getaways to exciting concerts and jackpots of all sizes, last year was one to...
2014 Four Winds Casinos Awards
January 8th @ 10:40 AM
At Four Winds Casinos, we take pride in providing a top-notch experience to all of our guests. From our gaming to our...
Stout Beer Welsh Rarebit (Welsh-Style Cheese Fondue)
December 22nd @ 10:31 AM
Surprise your friends and family this New Year with an appetizer that is sure to impress. With simple ingredients like...