Four Winds Casinos
Hard Rock Cafe Four Winds is excited to have Anna Nalick performing on the Hard Rock Stage on Thursday, July 9 at 10:00pm! 
Read More
Grilled Eggplant Roulade
June 25th @ 9:11 AM
Surprise your friends and family at your next gathering with this delicious and beautiful appetizer! ...
Hard Rock Cafe Features Local Musicians
May 29th @ 2:58 PM
Hard Rock Cafe Four Winds is all about great food and genuine music experiences. We are excited to be offering live...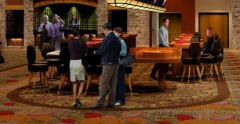 Gaming 101 - Big Raise Stud Poker
May 18th @ 11:58 AM
We would like to teach you how to play the exciting game of Big Raise Stud Poker, which is available at Four Winds...
Tuna Salad
May 7th @ 8:47 AM
Do not go to a spring or summer cookout without something tasty to share!  Give our Tuna Salad recipe a try for a quick...